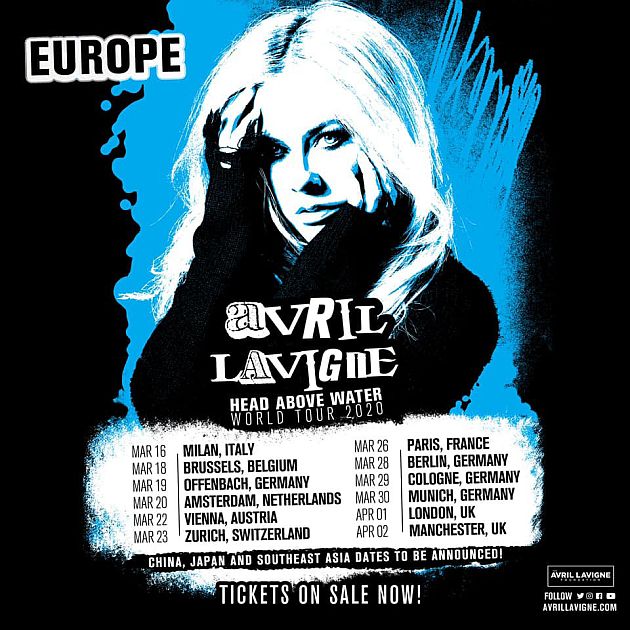 Palladium, Cologne, Germany
5th May 2023
Avril Lavigne - "Head Above Water" Tour

Attention: due to the Corona crises, this concert is rescheduled from March 2020 to February 2021 and further to March 2022 and finally to May 2023! Tickets remain valid!
With Avril Lavigne, one of the greatest Pop stars and idols of the 21st century returns to the stage. With her current album, 'Head Above Water' that was releases in February 2019, the Canadian goes on a world tour and comes to Germany in March 2020. Avril Lavigne was 18 years old, when in 2002 her debut album, 'Let Go', made her famous all over the world overnight. It took less than six months to achieve fourfold platinum status. All released singles - 'Complicated', 'Sk8er Boi', 'I'm With You' - become international hits and influence an entire generation.
Her sixth studio album, 'Head Above Water', was released in February 2019 and marks the preliminary highlight of an exceptional career including incredible 73 gold awards, 174 platinum awards, 6 diamond awards, 8 Grammy nominations, AMA awards, Bravo Otto awards, and in the end every other award that you can imagine. Regardless of all that numbers, the new album is all about her personal story. With 'Head Above Water' Avril Lavigne handles the serious borreliosis illness she suffered from and was tied to her bed for almost two years. That's why two euros of every sold ticket go to The Avril Lavigne Foundation that, among others, takes care for people with Lyme disease.
After Avril was on tour in Northern America this year, in 2020, the "Head Above Water World Tour" starts in round two. "We had a great time touring the States! I can't believe how time flies by. To look into the eyes of my fans every evening and feel their energy was exactly what I needed after that time. I really missed being on stage. It makes me so happy singing with the audience. That's why I am so pleased to announce, that next year I will tour Europe, Japan, China, and Southeast Asia." The German part of the tour is scheduled in the time from March 19 to March 30, 2020, and the shows take place in Offenbach, Berlin, Cologne, and Munich. Look forward to old hits and great new stuff!
<iframe width="560" height="315" src="https://www.youtube.com/embed/EKF6ghfcQic" frameborder="0" allow="accelerometer; autoplay; encrypted-media; gyroscope; picture-in-picture" allowfullscreen></iframe>
Additional Concert Info

Doors: 18:30
Start: 20:00
Tickets: the show is sold-out. Tickets for other shows or Fan-to-Fan tickets via
Eventim
Info: https://prime-entertainment.de/index.php?id=34&eventid=6129
More on
Avril Lavigne
Photo: David Needleman