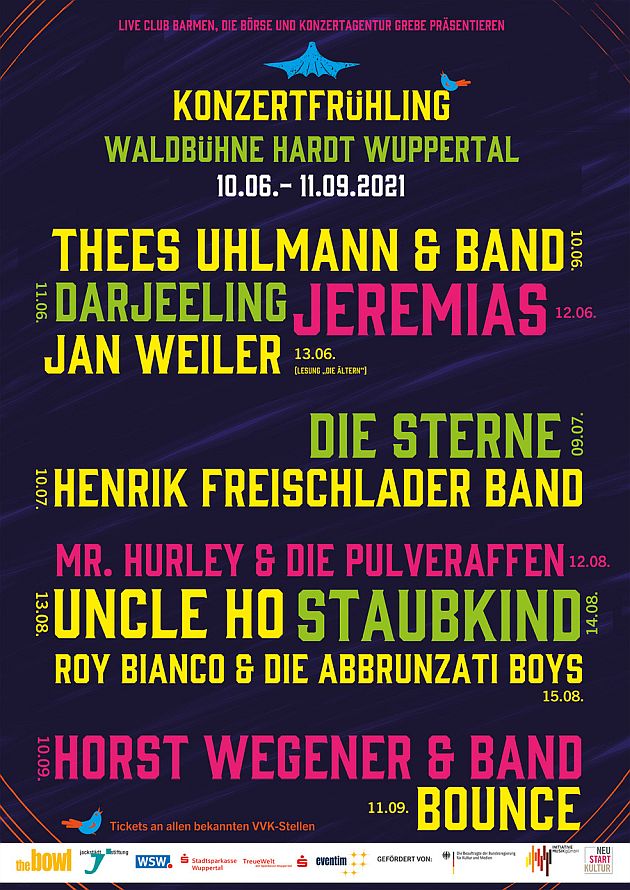 "Concert Spring" (Konzertfrühling) at the Waldbühne Hardt - live concerts as place of longing: on June 10, Wuppertal starts its second spring at The Bergisches Land - among others with UNCLE HO, STAUBKIND, JAN WEILER and BOUNCE.
The past lockdown months have not been easy for concert fans. Now the live world is slowly awakening again in spring: In the "Concert Spring" series of events from June 10 to September 11, artists such as UNCLE HO, STAUBKIND, JAN WEILER or THEES UHLMANN & BAND perform on the Waldbühne in a total of four concert blocks Hardt up.
The series of events is supported by the Neustart Kultur promotion and, with a valid hygiene concept, offers seating for 300 visitors per show. With the "Concert Spring", Wuppertal is experiencing something like its second spring: the focus is on event enjoyment 2.0 and an important step towards the concert scene. "We look forward to being allowed to continue," said organizer Marcus Grebe from Live Club Barmen and the Grebe Concert Agency in the middle of an atmospheric concert. "We are now looking back on a very long time without any events and we all want that feeling back that you only have in the middle of an atmospheric concert."
The spring concerts start on June 10 with THEES UHLMANN & BAND. The Hamburg musician and author is a founding member of the band TOMTE and is releasing his new album 'Songs & Stories II' in time for the show. On June 11, the Wuppertal band DARJEELING will perform. They have established themselves throughout Germany as a gripping alternative band somewhere between psychedelic, Indie Rock and weird Pop. On June 12, an Indie Pop newcomer will be presented with JEREMIAS. The musicians, who are only 20 years old on average, released their debut EP 'Du musst an den Frühling glauben' in 2019 and have since received praise from critics and fans alike.
On June 13th, Jan Weiler will give a reading on his book 'Die Ältern'. Jan Weiler was born in 1967 in Düsseldorf. In 2003, a short story in SZ-Magazin resulted in his first novel 'Maria, ihm schmeckt's nicht'. The book is considered to be the most successful German debut novel in the last twenty years, and the film was successfully screened in cinemas in 2009. With his current book 'Die Ältern', Weiler asks himself the question: Can adolescents released into the wild survive in the wilderness of everyday life? On DIE STERNE, which can be seen on the Waldbühne on July 9th, Jan Philipp Janzen and Phillip Tielsch, both members of the Cologne band VON SPAR, form the rhythm section. In addition to DIE STERNE live musicians Dyan Valdes and Max Knoth, there will be the KAISER QUARTETT, Carsten "Erobique" Meyer and the DÜSSELDORF DÜSTERBOYS. Krautrock layers meet Italo Pop, twisted Folk, Psychedelia and Disco. It sparkles everywhere.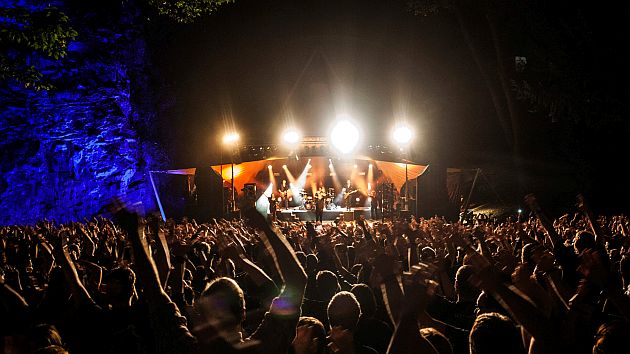 Blues fans get their money's worth on July 10 with the HENRICK FREISCHLADER BAND. The autodidact has earned his place in the blues scene over the past 15 years. With 10 studio and 6 live albums, joint appearances with BB King, Gary Moore, Peter Green and Johnny Winter, as well as countless concerts in small and large clubs, the musician introduced himself to his audience and is now happy to have a loyal fan base. August starts on the 12 with MR HURLEY & DIE PULVERAFFEN. The Folk pirates from the Caribbean Osnabrück are fittingly following their last top ten album and present with 'Leviathan' a show and a record that lets you feel the roaring breeze and taste the spray - stories of the joys and dangers of the seafaring, sometimes danceable and sometimes melancholy. On an incredible Friday the 13, UNCLO HO is guesting in Wuppertal. The band has never played on a Friday the 13 in their long history. Julian, Thorsten and Björn seek refuge between Pop and Punk, old hits and new songs and are sure: what can go wrong?
On August 14, it's time for STAUBKIND. "Come on, let's just go to the roofs of this world..." - with an eye for the good in every moment, always with enough hope and a little lightness - that is the Pop Rock project of the Berlin resident Louis Manke live again in 2021. While new pieces are being worked on, Louis Manke and his boys are drawn back to the stage. With ROY BIANCO & DIE ABBRUNZATI BOYS, August ends entertainingly on August 15. Since the beginning of their joint work, the group has submitted to a tight concept of a hit band from the 80s, disbanded in the 90s and now linked to the old successes, which has resulted in a concise, fictional microcosm over time. Musically, you will hit the nerve of the times in 2020, moving somewhere between Vico Torriani and WANDA, between SPLIFF and FALCO, between BILDERBUCH and E.A.V.
When on September 10 Horst Wegener and his band play on the Hardt, the visitors will witness an exciting career: Funded by his crowd-founding community, rapper Samy Deluxe and his Hamburg label KunstWerkStadt the Wuppertal publishes a new song and music video every month for a year and tries himself out free from musical blinkers and the claim to completeness, in the broad field of Rap - between pioneering sound experiments, contemporary New School influence and the stylish power of classic Hip Hop. Bounce will conclude the series of events on September 11. They are without a doubt the most authentic BON JOVI tribute band in Europe. In the more than 17 years of its existence, the band has cleared everything in pretty much every hip club, every concert hall, at relevant festivals and open-air shows.
Advance sales for the shows have already started. Homepage: www.lcb-online.de