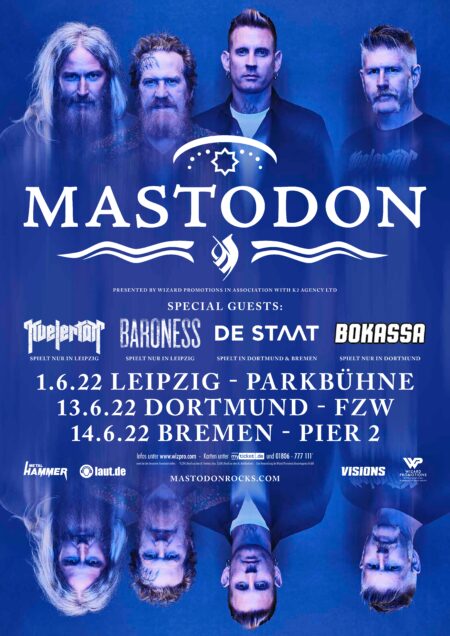 American Heavy Rock band finally back in Germany - Concerts in June 2022 in Leipzig, Dortmund and Bremen confirmed - New album 'Hushed And Grim' out on October 29, 2021 - Tickets from Tuesday, September 21, 2021, in the presale.

The last time they could be seen live on German stages in spring 2019, the American Heavy Rock quartet MASTODON has finally confirmed dates in this country again. The Grammy-winning band from Atlanta will be coming to Germany for three concerts in June 2022 as part of the promotion of their album 'Hushed And Grim', which will be released on October 29, 2021. MASTODON will play in the following cities: in Leipzig on June 1, 2022 (Parkbühne, special guests: Kvelertak & Baroness), in Dortmund on June 13, 2022 (FZW, special guests: De Staat & Bokassa) and in Bremen on June 14 2022 (Pier 2, Special Guest: De Staat).
From Tuesday, September 21, 2021 - 11 a.m., the ticket providers MyTicket and
CTS Eventim
will be offering online presales. General advance sales start on Thursday, September 23, 2021 - 11 a.m. Tickets are available at www.myticket.de and by telephone on +49 (0)1806 - 777 111 (20 cents / call - mobile phone prices max. 60 cents / call) and at the known advance booking offices.
MASTODON are more than a band for musicians, because parallel to their creativity they have increased their worldwide following with every further studio album in the course of their career. Not only for their fans, MASTODON are one of the most respected and influential creative forces in today's metal scene. Especially live, they are an attraction that Rock and Metal fans shouldn't miss. And after four years of waiting, you can look forward to plenty of new material: With 'Hushed And Grim', MASTODON present their first double album! Most recently they released the celebrated 'Emperor Of Sand' in 2017, which brought the band, which has been active for over 20 years, to the first Grammy Award after four nominations (in the category 'Best Metal Performance').
'Hushed And Grim' was made in her hometown of Atlanta over the past year. Produced by David Bottrill (including TOOL, RUSH, MUSE, PETER GABRIEL), MASTODON sound more ambitious and expansive than ever - because the 15 songs cover everything from Rock and Psychedelic to Punk and Metal to Alternative and Prog, tied by the unique chemistry that exists between these four sworn Rock virtuosos. Meanwhile, the mood is anything but exuberant when they say goodbye to their long-time companion, friend and manager Nick John, who died of cancer in autumn 2018. For MASTODON, the release of the ninth album marks a further evolutionary step: the songwriting sounds even more mature this time, their rejection of classic genre affiliations even more emphatic and unmistakable than before. They develop their trademark sound once again by showing a lot more courage to play melodies this time - which makes 'Hushed And Grim' a tough and hypnotic career milestone overall.
MASTODON (name of a prehistoric species of elephant) has been around since the turn of the millennium. Drummer Brann Dailor and guitarist Bill Kelliher played in the experimental Death Metal band LETHARGY until 1999, after which they were on TODAY IS THE DAY for an album. In early 2000, Dailor and Kelliher met Brent Hinds (g) and Troy Sanders (b) at a concert in Atlanta. The common intersection (e.g. NEUROSIS, THE MELVINS or THIN LIZZY) and two jam sessions lead to the formation of the band. The first two albums are still heavily influenced by Sludge and Hardcore Punk, especially on 'Remission' (2002) the band sounds heavier, uses distorted instruments and atypical song structures. On the second album 'Leviathan' (2004), MASTODON combine old Hard Rock with Modern Metal. Already on their third work 'Blood Mountain' (2006) they prefer clear vocals and melodies instead of guttural ones. MASTODON fans then compare their favorites with RUSH and KING CRIMSON.
On the fourth album 'Crack The Skye' (2009) then came the full turnaround to Progressive Rock of the 70s. The fifth album 'The Hunter' (2011), on the other hand, is less progressive, excess length and cerebral arrangements are replaced by short riffs and slimness. With 'Once More 'Round The Sun' they landed their second Top 10 success in a row in the USA in 2014 (number 6), in Germany the sixth MASTODON album reached number 16 in the charts, with 'Emperor Of Sand' they even charted at number 11. With the new, long-awaited 'Hushed And Grim', they should finally make the deserved entry into the Top 10 of the charts in this country as well.
Tour Dates

June 01, 2022 – LEIPZIG, Parkbühne (Special Guests: Kvelertak & Baroness)
June 13, 2022 – DORTMUND, FZW (Special Guests: De Staat & Bokassa)
June 14, 2022 – BREMEN, Pier 2 (Special Guest: De Staat)
Tickets:
CTS Eventim