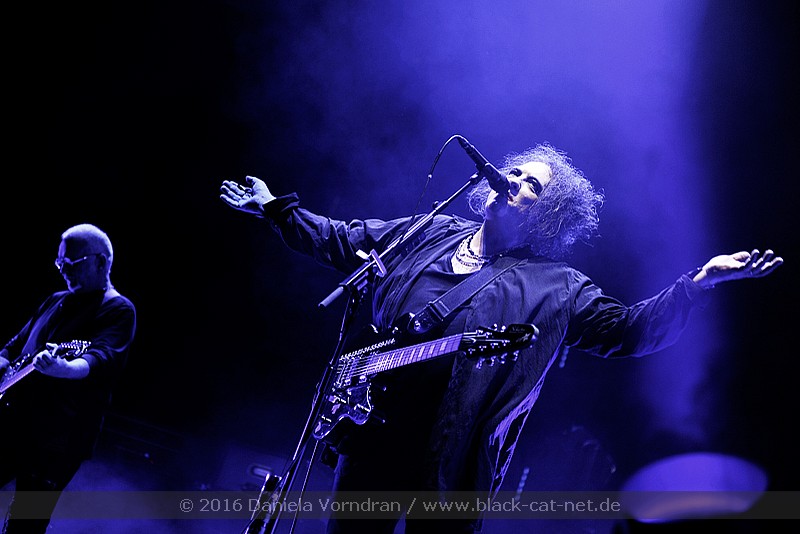 British legends for seven arena shows in Germany in autumn 2022 - Announcement of a brand-new studio album - Exclusive concerts in Hamburg, Leipzig, Berlin, Munich, Frankfurt, Stuttgart and Cologne
This is the best news for their fans in recent years: THE CURE are going on an extensive European tour in 2022 - and they even have a new, 67-minute studio album with them! The British legends around front man Robert Smith will play 44 concerts in 22 countries as part of their "Euro Tour 2022" and will also come to Germany for seven exclusive shows! See dates below.
The live show announced with a length of 135 minutes once again promises emotional moments from all creative periods of the band - and for the first time also the presentation of brand-new songs! It is already certain that old and new fans will go home happy at these concerts too. Their impressive headliner shows in the festival summer 2019 made it clear that THE CURE, even more than 40 years after its founding in 1978, show no signs of fatigue. With an immense selection of songs from 13 studio albums, including ground-breaking works such as 'Pornography' (1983), 'Disintegration' (1989) and 'Bloodflowers' (2000) as well as over 40 worldwide single hits such as 'A Forest' and 'Boys Don't Cry' or 'Friday I'm In Love', the band around frontman Robert Smith has always mastered how to make every concert a unique experience.
After countless awards, including the renowned Ivor Novello Award and two Grammy nominations, THE CURE was inducted into the "Rock'n'Roll Hall of Fame" in 2019. In the same year, the band began recording new songs for their long-awaited 14th studio album, which has now been completed and will see the light of day shortly. In October and November 2022, the band, consisting of singer and songwriter Robert Smith, Simon Gallup (bass), Jason Cooper (drums), Roger O'Donnell (keyboards) and Reeves Gabrels (guitars), will be on their "Euro Tour 2022" can finally be seen live again!
Tickets are available from December 8, 2021 at 10:00 a.m. at the KJ pre-sale: tickets.kj.de. The general nationwide advance booking starts on December 15, 2021 at 10:00 a.m. via
https://tidd.ly/3Dt0aqt
. The tour is presented by Rolling Stone & Sonic Seducer.
Tour Dates

Oct 16, 2022, 08:00 p.m. - HAMBURG Barclays Arena
Oct 17, 2022, 08:00 p.m. - LEIPZIG Quarterback Immobilien Arena
Oct 18, 2022, 08:00 p.m. - BERLIN Mercedes-Benz Arena
Oct 29, 2022, 08:00 p.m. - MUNICH, Olympiahalle
Nov 17, 2022, 08:00 p.m. - FRANKFURT Festhalle
Nov 21, 2022, 08:00 p.m. - STUTTGART Hanns-Martin-Schleyer-Halle
Nov 22, 2022, 08:00 p.m. - COLOGNE, Lanxess Arena