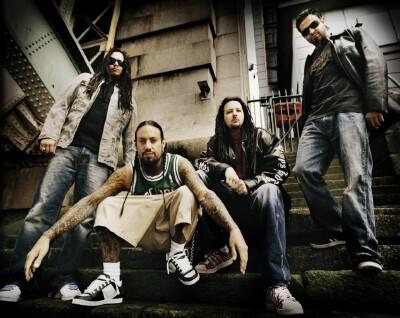 Korn – See you on the other Side Tour 2006!
07th June 2006
Gruga-Halle, Essen, Germany

The precursors of modern Metal are back and visit Essen for their only show in North-Rhine-Westphalia on 7th June 2006. Support will be 'Hatebreed' and 'Flyleaf' as well as 'Bullet for my Valentine' which will give their only concert during this tour in Essen as the main support act. 'Korn' can be count amongst the most important bands in the "Hard" music genre. Since more than ten years they are revolutionizing Metal with their fat sound und unique emotionality. 'Korn's' rare concerts are real happenings for the fans and now the Californian band comes back to Germany.
As founding member Brian Welch left the band last year, 'Korn' shrunk to a quartet. But instead of retrieving the band was searching a new challenge within the limitation and recorded the most suspenseful album since 'Follow the Leader': 'See you on the other Side' is hard as bone and an experimental masterpiece.
How will the band bring the new material on stage? How will they interpret the past hits? How will the legendary and intense show change? 'Korn' will give the answer in early summer this year with their appearance at the "Rock am Ring" and "Rock im Park" festival as well as their own headliner shows.
The presale for the show in Essen has yet started. Tickets can be purchased for 32,50 Euro plus fee at all known pre-sales offices, via the ticket hotline +49-1805-5610610 or online at
www.eventim.de
.
For more information see also the website of the promoter:
http://www.gommers.de/