Duisburg, Glückaufhalle, Germany
20th April 2013
Queensryche, The Claymore, Infinite Horizon, Distance Call

The new QUEENSRYCHE are waiting! Or maybe we should say "the old QUEENSRYCHE"? The original band around new front man Todd la Torre (Crimson Glory) and guitarist Parker Lundgren, active since 2009, will be touring with a new fantastic program. 'Operation:Mindcrime II', 'Take Cover', 'American Soldier' and 'Dedicated to Chaos' was yesterday, or better is "Geoff Tate" and will not happen during this event!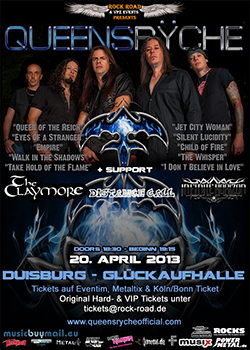 The new bombastic program will mainly offer pieces from the first long-player 'The Warning' and the EP wearing the same title. According to the band, they want to go back to their roots and play Power Metal in the style of the first albums. But of course the concert will also offer hits like 'Eye Of The Stranger', 'Silent Lucidity', 'Walk In The Shadows', 'I Don't Believe In Love' or 'Jet City Woman'. One of the first shows with the fantastic new line-up will take place on 20th April 2013 in Duisburg. Anyone who experienced CROMCON GLORY with Todd la Torre lately knows how much talent the front man has. He will make old QUEENSRYCHE songs shining in new splendour.

During their tour, QUEENSRYCHE will be supported by thee support acts: THE CLAYMORE (Power Metal), INFINITE HORIZON (progressive Heavy Metal) and THE DISTANCE CALL (Melodic Hard Rock). Tickets are available at all known tickets offices and directly at Rock Road Entertainment. By email to This email address is being protected from spambots. You need JavaScript enabled to view it. you can order original hardcover tickets as well as VIP tickets. Latter ones are limited to 50 pieces and contain an exclusive Meet & Greet with the band prior to the show (30 minutes), a VIP pass of the show, poster, free snacks and one free drink.

Additional concert info
Doors: 6:30 pm
Start: 7:15 pm
Ticket fee: 35 EUR plus Charges, VIP tickets 80 EUR (limited to 50 pieces)
Tickets: Köln/Bonn- Ticket, Eventim, Metaltix, This email address is being protected from spambots. You need JavaScript enabled to view it.
Information: www.rock-road.de