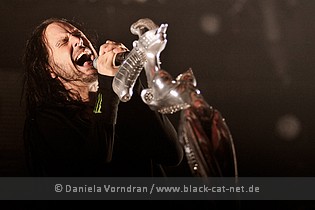 013, Tilburg, The Netherlands
12th June 2013
Korn, Hellyeah, Love and Death

KORN released their 10th album 'The Path of Totality' in 2012 and once again they succeeded in bringing new flavors to that typical KORN sound. The album combines the raw edge KORN with strong Drum N Bass and Dubstep influences from producers such as SKRILLEX and NOISIA. KORN has been around for over 20 years now, their career seriously taking off in the nineties with the albums 'Freak on a Leash' and 'Here to Stay'.


Their sound has changed with every album but has always been distinguishable with the sound that KORN stands for. Their concerts in the Netherlands are usually easily sold out, in 2011 in 013 and in 2012 in Paradiso (Amsterdam). This summer, KORN will be back at 013 with a special line-up. Former guitar player and one of the founders of KORN, Brian "Head" Welch will join the band temporarily to rock that stage once again.

Support will be taken care of by super group HELLYEAH with singer Chris Gray (MUDVAYNE), guitar players Tom Maxwell (NOTHINGFACE) and Gregg Tribbett (MUDVAYNE), bass player Bob Zilla (DAMAGEPLAN) and last but certainly not least Vinnie Paul (PANTERA). Furthermore, Brian Welch will also be playing as support act with his band LOVE AND DEATH. Pre-sale has already started, so make sure to get your tickets in time, as this show will probably sell out!

Additional concert info
Doors: 7:30 pm
Start: 8:30 pm
Ticket fee: EUR 39 (excl. service fee)
Tickets: http://www.013.nl/event/4310_korn