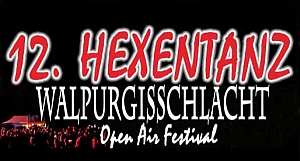 Event Area, Losheim am See, Germany
28th to 30th April 2017
Walpurgisschlacht / Hexentanz Festival 2017 with Subway to Sally, Saltatio Mortis, Haggard, Finntroll, Mono Inc., L'âme Immortelle and many more

From the 28th to the 30th of April, the Walpurgisschlacht /Hexentanz Festival takes place in Losheim am See, Germany. With a main focus on metal and rock music, the Walpurgisschlacht Festival starts on Friday, the 28th with bands like Haggard, Finntroll or Stahlmann. The next two days, the event continues with the Hexentanz part, where icons like Subway to Sally, Saltatio Mortis, L'âme Immortelle or Mono Inc. will play on the stage near the lake. Over the last years, the double-festival grew from an insider tip to a upper-class event with top acts, a wonderful location and an atmosphere like you've never seen before. Don't miss it!
Line-up 2017

Subway to Sally / Saltatio Mortis / Haggard / Finntroll / Mono Inc. / L'âme Immortelle / Versengold / Stahlmann / Lord of the Lost / Feuerschwanz / Nachtblut / Heimataerde / Ragnaroek / Unzucht / Schwarzer Engel / Vlad in Tears / Burn / Ohrenfeindt / Hammer King / Florian Grey / Microclocks

Tickets

You can get weekend tickets or day passes in the official festival web shop via
http://tickets.rockimdorf.com
. Look out for special offers!
Camping and festival area

Camping is only possible if you purchase a ticket for the festival. The price varies between 18.50€ for two, and 22€ for three days camping. Usage of the showers and a shuttle transfer to the festival ground is included. Beside the infield with the mainstage and lots of shops, there is a small medieval market outside, which you can visit from the early morning on.
Find more information on
http://www.hexentanz-festival.de