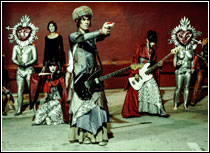 Art Rockers THE RED PAINTINGS have been spreading their alternative tunes since 1999. Steam-punkers, metal-heads, indie-rockers and many others celebrate not only the band's energetic music but also their multimedia live performances. THE RED PAINTINGS invite local painters to join them on stage to transform canvases and bodies into art. This makes every show a unique experience full of action for the band, the artists, and the audience. If theater, rock and art sounds like fun to you, come to see THE RED PAINTINGS in May as they tour across Germany.
Tour Dates

06.05.2017 Berlin – Nuke Club, DE
08.05.2017 Hanover – Bei Chez Heinz, DE
10.05.2017 Krefeld – Kulturrampe, DE
11.05.2017 Bielefeld – Forum, DE
12.05.2017 Hagen – KUZ Pelmke, DE
13.05.2017 Lübeck – Treibsand, DE
15.05.2017 Reutlingen – Franz K, DE
16.05.2017 Wiesbaden – Schlachthof, DE
17.05.2017 Münster – Gleis 22, DE
18.05.2017 Leipzig – Moritzbastei, DE
19.05.2017 Oberhausen – Druckluft, DE
20.05.2017 Hamburg – Monkeys Club, DE
29.05.2017 Vienna – Viper Room, AT
31.05.2017 Bellinzona – Pit, CH
02.06.2017 Eichstatt – Open Air, DE
Tickets are available
HERE
from 9.50 euros + charges (pre-sale).
Today, we are giving away 1x2 tickets each for the following cities:
Berlin, Hamburg, Münster and Leipzig
If you wanna take part in the raffle, please send an email with YOUR FULL NAME and the CITY you like to go until 1st May 2017 with the headline "Red Paintings" to
This email address is being protected from spambots. You need JavaScript enabled to view it.

.
Good luck!
And finally, here's the new video for 'Deleted Romantic'!
<iframe width="560" height="315" src="https://www.youtube.com/embed/y2B-eZ_NwnU" frameborder="0" allowfullscreen></iframe>
More on
The Red Paintings