Trädgår'n, Gothenburg, Sweden
May 13th 2005
SAMA – Scandinavian Alternative Music Awards 2005
The history of SAMA started in 1998 as SEMA (Swedish Electronic Music Awards). First only a Swedish award for electronic music, SAMA expanded from Sweden to cover the rest of Scandinavia and more styles of alternative music, even though electronic music is still the main issue. The ceremony was held like every year in Gothenburg. Besides the ceremony itself there were also 12 bands performing and some DJ sets happening on 3 stages - this year it was the first time they had an outdoor stage, called the Garden Stage besides the Main Stage and the Restaurant Stage. The Swedish "Zero" magazine announces the 4 nominees in each category… this year for the first time also in the category "Best club/festival". The winners are elected by the audience via the website.
www.sama.mu
The Ride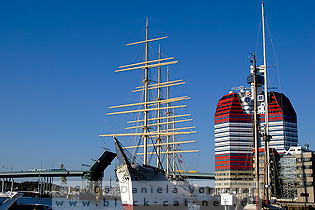 This 3rd ride in a row to SAMA was supposed to be a bit different than the others before. I woke up on Wednesday morning after 2 days of concerts to go on an 8 hours ride first up to Malmö to meet Mattias who was still busy with preparing the award presentations. At Thursday early afternoon we took our train to Gothenburg. We wanted to be there a bit earlier to meet some friends from Germany and to look around and take a walk in that beautiful city. So after a nice dinner we walked to the harbour area and enjoyed the nice weather that we ordered especially for the SAMA weekend.
The Preparations

Due the fact that Mattias was preparing the Award presentations and had to be at the venue by 1p.m., I had the luck to see and help during the preparations for the evening.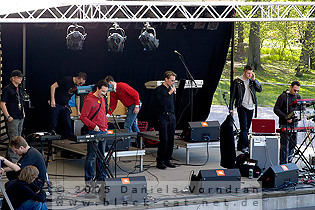 We went together with the Howard Jones crew from the hotel to the venue and I just had the chance for a chat with those really nice guys during the ride. As we arrived at the venue, Mattias started with his work and I had a look around the venue. Especially the outdoor stage looked really nice and it was fantastic to be out in the sun when it was such a nice weather. Later on I helped to put the drinks for musicians and crew into fridges in the different backstage rooms and preparing them for later rehersals and relaxation. After that I had time to talk to some of the artists and watch the sound checks. It was pretty cool to hear just most of the set of "Saft" before the others or to have a glimpse at the new songs of "Covenant". Also seeing the sound check and cool stage installations of "Howard Jones" was amazing. I started looking forward the concerts even more.
Later on we were asked to take some pics of the preparations. Sure! Just as the doors were open, but not yet the doors to the main stage, they had to rehearse the awards ceremony. It was cool to see the award presentations on a very big screen over the stage and listen to the moderations… without the people - besides only a very few (I belonged to them) - knowing the results before.
Finally it was 19.00 and time for the first band!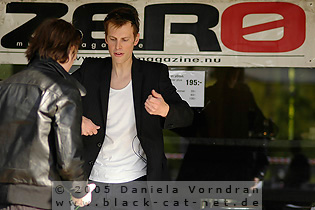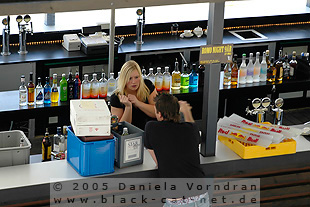 The Concerts

Necro Facility[SE] – Garden Stage


"Straight, hard, raw and direct - four good words to describe the music from this young amazing trio" says the SAMA website. "Necro Facility takes the old hard Canadian "westcoast"-sound of Skinny Puppy, Frontline Assembly and Numb and mix it with their own sound and razorsharp production. A show with Necro Facility is 30 minutes of straight forward energy."
http://necro.e-prom.se
Well, a daring statement that the SAMA guys stated about that band. They had to prove that they are worth to be compared to such great bands within the wide field of electronic music. Skinny Puppy is for sure one of my favourites… and Necro Facility were not fit to hold a candle to that band. Sure, they had short moments of nice sounds. But all in all I think they were not very good. A silly performance combined with such clothes and make up. Not my taste. But there seemed to be people that really liked it. Good that tastes are different.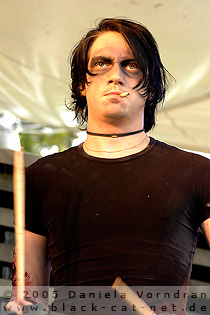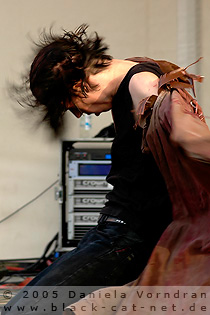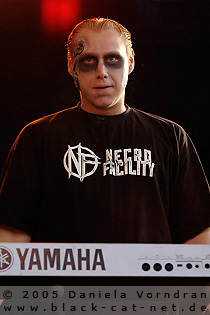 Stisch [SE] – Main Stage


Gothenburg based Tommy Spaanheden aka Stisch was entering the main stage with exclusive guests Magnus Carlson (Weeping Willows) and Nina Natri (ex-Homy, ex-Fidget), to perform songs from his yet untitled debut album, due this spring. Electropop for the future with two of the most personal voices in modern time!
http://www.subspace.se/default.asp?artist=stisch
Due of a lot of overlappings I wasn´t able to see the whole set. But the stuff I had seen did not sound too bad. The different singers added a lot and the two girls on stage were surely an eye catcher. Magnus Carlson later on performed a solid and beautiful version of the "Beauty in me" single. They also had some stunning background projections. I wanted to see Dupont, so I rushed out before their set was over. But due to some delay on the outdoor stage I had a chance to have glimpse into the restaurant stage and listen to one of the "Top gun" songs.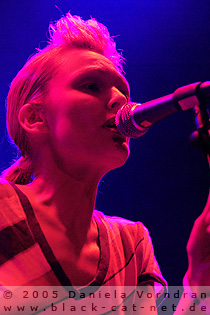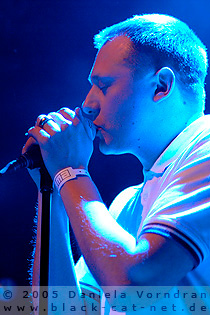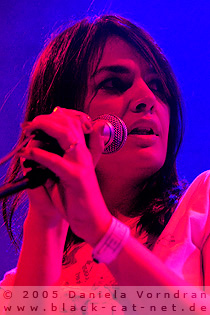 Top Gun [SE] – Restaurant Stage


Members include Tony Svensson (Romo Night) and Magnus Johansson (Diskodiktator). "The music is electronics at its best. All influences are clear, the typical Kraftwerk beats and vocoder voices, pure EBM trance. This is futurepop with having respect for anything that's been done in the past." This is a quote from the netzine Dreams Never End. Misleading or correct? I tried to find out during the SAMA 2005 show.
Unfortunately I had only one song to get an impression what wasn´t really enough. So I don´t dare to give a rating about their show and music.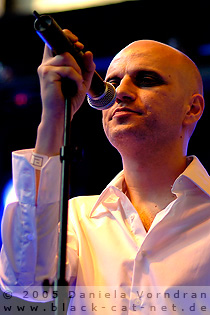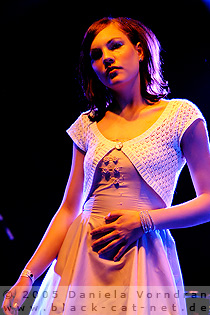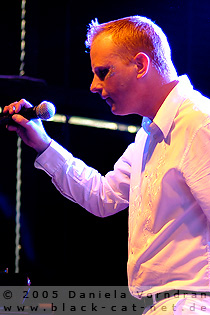 Dupont [SE] – Garden Stage


Dupont didn't settle with starting the whole new wave of old school EBM bands, but has developed far beyond with their new sound, but ever faithful to their roots. The new album "Intermezzo" has been well received with immediate entry on the NAC and top reviews all over Europe. Dupont has been around since 1999 and has filled the dance floors across the globe with club stompers like "Behave", "Money", "Solid Life" and now; back with a fistful of hits once more.
http://www.dupont-online.net
My friends of Dupont were one band I really wanted to see. I liked their first album "Ukraina" a lot and also their new release "Intermezzo" is brilliant. Due to the fact that former singer Johan left the band (he was celebrating that gig in the audience anyway), Rickard took over his part now. Daniel – again behind one of the keyboards – was wearing a fancy Cowboy hat. The new second keyboardist was wearing a smart suit with a deep red tie. Rickard is on stage much calmer than Johan was… not running around but singing with passion and mostly closed eyes. Of course they performed some songs from their new album as well as some of their older hits. I did enjoy that gig outside in the sun together with lots of other people.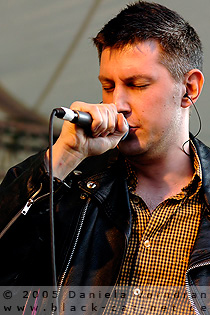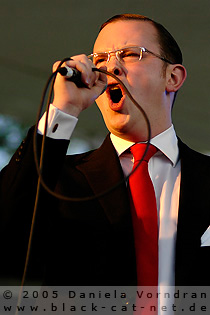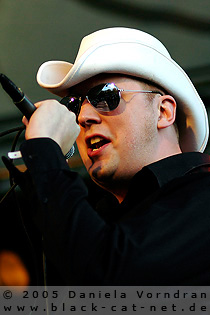 Saft [SE] – Main Stage


Swedish hit maker Saft (Swedish for lemonade) had a short but intense carrier from 1997-2000 with two full length albums, a string of singles and a bunch of crowded live shows in Sweden. The threesome from Örebro/Stockholm also won the award for Best Artist at SAMA 2000 as well as for Best Song in both 1998 ("Underbar") and 1999 ("Ditt namn i min mun"). On Friday 13th May, Saft was re-uniting for an exclusive showcase at SAMA, playing only their greatest hits!
And I was looking so much forward their gig. I had never seen them before and they are one of my favourite synth pop bands. Unfortunately the gig was much too short… but powerful and the audience went mad. Of course the played hits like "Superstjaerna", "Ditt namn i min mun" or "Undantag" and made some kind of come back with a crowded main stage. People were singing, clapping and dancing along with the band and the three guys on stage obviously enjoyed their gig. I really hope that they come back somewhen with new songs and more live appearances. Some may have found that greatest hits set a bit boring, but me and most of the people in front of the stage had fun and really enjoyed it.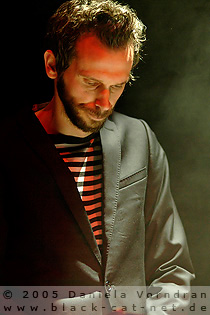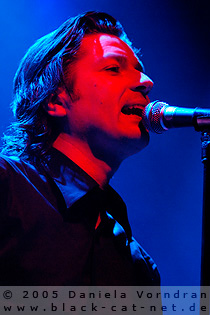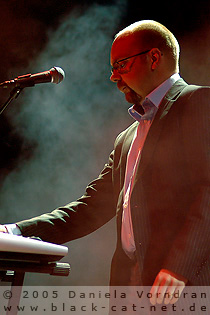 Covenant [SE] – Garden Stage


Yes, there was a new stage at SAMA this year called the Garden stage. And the SAMA favourites Covenant were headlining the Garden stage. This super duper very exclusive show has seen the WORLD PREMIER of tracks from the upcoming album "Skyshaper" mixed with super rare stuff and Covenant's biggest hits!
http://www.covenant.se
Covenant were once again the main reason for me to attend another SAMA. I simply love that band! So I rushed out right after Saft were finished, had a short talk with the Melotron guys on my way to the stage and immediately hunted to the first row when the first sounds of the intro appeared. I got the setlist earlier that evening from Eskil and could hardly wait until the concert started.
The three guys came out on stage once again dressed very smart in dark suits and Clas looked somehow like a dressman pinstripe-suited and with his new styled hair. They started with an older song – "Shelter" – where Eskil had smaller sound problems. But these were solved very soon and an exciting set started, that nearly everyone outside seemed to love. The three new songs sounded brilliant to me and I am now looking forward even more to the release of the new album in autumn. The three had another surprise with them: Playing "Superluminal" and "Consumer". Especially the latter one is perhaps only something for die hard fans. After Joakim once said that they didn´t like "Superluminal" that much, I never expected to hear that song live. It was a great thing for me and surely as well for most of the others too, if I interpreted the cheers and clapping right. As second last song they presented their club hit "Stalker" in a new brilliant live version that no one else had heard before. With "Call the ships to port" they got the crowd mad during the end of the set. Unfortunately they couldn´t play the planned encore ("One world, one sky" or "Dead Stars") because they were a little late and due the regulations of the park the outdoor concerts had to be finished by 10 o´clock. It was a bit strange to see the band outside during sunset at the Garden Stage and not on the Main Stage, without a big show and lights and video screens. But according to Joakim they wanted a reduced intimate show. And that worked very well and so the band released a very satisfied and enthusiastic audience.
Setlist
1. Intro/Shelter
2. 20Hz (new song)
3. Brave New World (new song)
4. Superluminal
5. Consumer
6. Beat the Noise (new song)
7. Stalker (909 live!)
8. Call the Ships to Port (remix)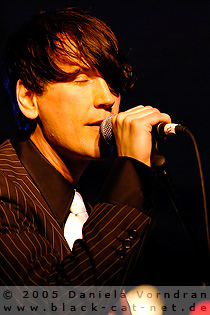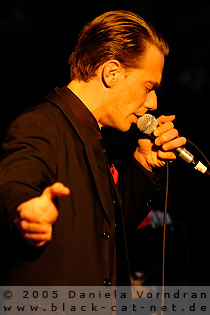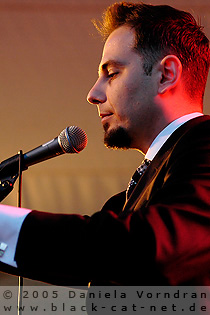 Strip Music [SE] – Restaurant Stage


Strip Music emerged from the wreckage of much-loved cult band Yvonne, named after a Swedish winner of Miss Universe 1984. Henric was the founder and frontman, while Christian played bass. Strip Music was originally an Yvonne side project with a concept - for Christian (by now playing synths) and Henric to make "really minimalistic music" unlike Yvonne's Joy Division-meets Kraftswerk synth goth assault.
http://www.stripmusic.tk
After the absolutely great Covenant show I had the chance to see a few songs of the Strip Music performance. And I was very positively surprised! The description of the band didn´t promise too much… with their sounds sounding a bit like The Cure, Joy Division or Interpol combined with electronic influences they hit the nerve of the audience. Great stuff that I surely will have a closer look at. I really regretted later on that I didn't have a chance to see the whole set.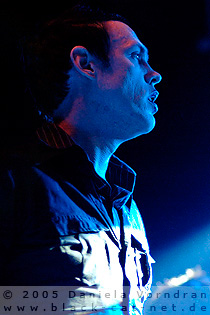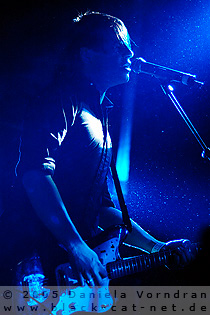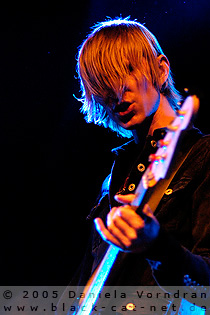 Melotron [DE] – Main Stage

The threesome were coming with their fresh new single "Wenn wir wollten", taken from the upcoming album "Cliché" (27th June). At SAMA I was among the first to hear this new stuff live!
http://www.melotron.de
I must say that Melotron isn´t totally my kind of taste and because I wanted to see Colony 5 (I´ve never seen them before), I only looked at a few songs of Melotron. Again they presented a very solid performance even though Andy´s voice was not at it´s best. People were presented new songs accompanied of course with some older hits. A bit sad that you couldn´t see the band on stage that well because of low lights and a lot of smoke. Andy´s excessive dance style deserves some better lightening. People in the audience seemed to like that performance very much anyway and clapped and singed along with the band even though German isn´t their native language.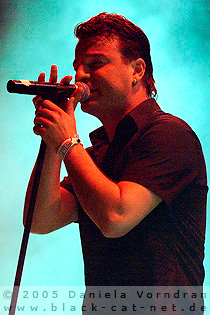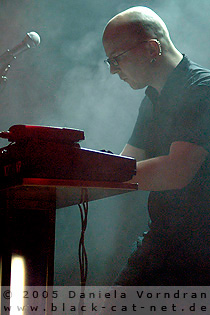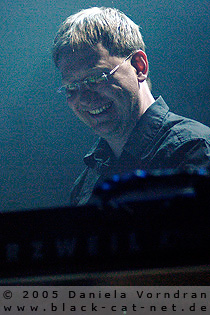 Colony 5 [SE] – Restaurant Stage

Colony 5 were returning with their new album "Fixed" this spring. So it was a good idea to invite this dance friendly act to SAMA, to present some of their new stuff. And mix it with some of their old too. Their melodramatic techno-esque futurepop caused quite a stir at SAMA 2003, and was certainly making the crowd go bonkers this time also!
http://www.colony5.com
I missed Colony 5 at SAMA 2003 and this time I really wanted to see them because I like their music on CD a lot. So I headed from the Main Stage to the smaller Restaurant Stage after the first 3 songs of Melotron. The 2 guys of Colony 5 presented a solid electro show where the main attention was of course on the singer, who was very close to the celebrating audience. The man behind the keyboard gave his best as well and was singing the second voice full of passion. Perhaps they were a bit more expressive than usually because the whole show was filmed. Songs from the new album "Fixed" were mixed with some older stuff like the club hit "Accelerate".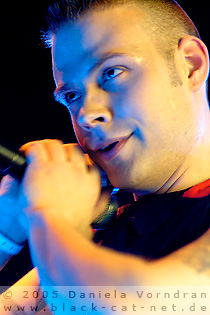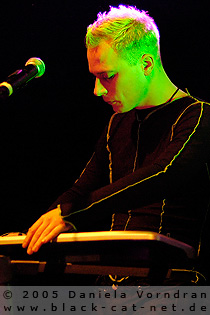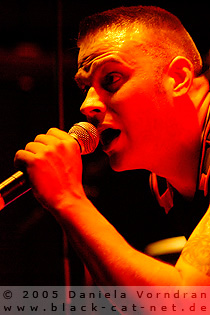 Howard Jones [UK] – Main Stage

More than 20 years since the debut single, "New song", and almost as long since the last appearance in Sweden, it was finally time for Howard Jones to play live for the Scandinavian audience again! Since the past times, Mr Jones has released an array of albums and has toured extensively with different line-ups in Europe, the USA and Japan. In 2005, Howard Jones is back with a great new album and an exclusive show at SAMA.
http://www.howardjones.com
Howard Jones – hero of the 80s – was surely one of the highlights of the evening. I was never a big fan of him in the 80s but his stunning show during SAMA really impressed me a lot. Before the show started, Howard´s manager made a little advertising for some of the recent releases. The stage itself was filled with a lot of electronic-synthesizer-keyboard installations which were really impressive and let us expect a firework of electronic music. The stage crew of Howard consisted of another keyboard player and a guitar player. Howard himself played keyboard too besides doing his vocal part.
The show started with "Conditioning" taken from the album "Human´s Lib". A perfect opening I would say. While singing, Howard switched from one of his five synths to another. The next two songs were taken from his new album, scheduled for release in September, and they were fitting perfectly with all the older stuff. Songs like "Like to Get to Know You Well", "Pearl in the Shell" or "New Song" were celebrated by the audience which even got wilder during the last song of the main set "What is love". Howard had to come out again for an encore and released a happy audience which was lead back to the 80s.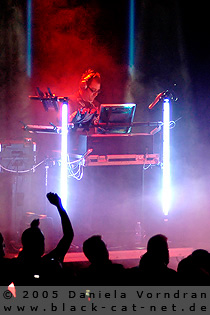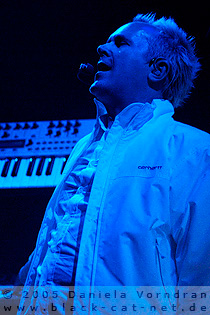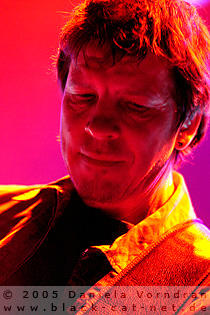 Lowe [SE] – Restaurant Stage

The music of Lowe can be described as emotional electronic pop, contrived with acoustic elements. Their first two singles "The Vanishing" and "Ahead of our Time", quickly earned them the reputation as "the new hope for Swedish electro pop". The band has been compared to such artists as Depeche Mode, New Order, Keane and A-ha.
http://www.lowe.st
Started as a side project of Statemachine, one of my favourite Swedish synthpop bands, they now became a fulltime project. I had to see at least some songs of this band so I left the Howard Jones show for a short glimpse. Unfortunately 2 songs were much too short for a real impression of the music. The three guys on stage – guitar, keyboard and vocals – had charisma. And the music sounded like described. Some day I surely have more time to see a full live show.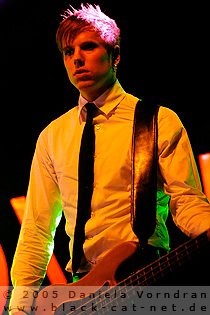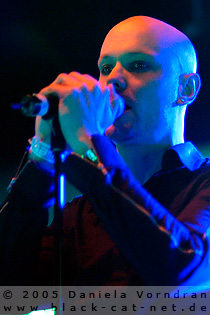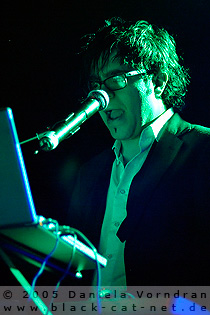 Fixmer/McCarthy [FR/UK] – Main Stage

Douglas McCarthy, the voice of legendary EBM band Nitzer Ebb, joins forces with techno producer Terence Fixmer to create Fixmer/McCarthy - a project that combines both their strenghts. Fixmer is in charge of the music, bringing his energised analogue sequences, and McCarthy is in charge of the vocals, bringing his own unique energy and powerful voice. On stage, the duo presented songs from their praised debut album "Between the devil..." as well as some classic Nitzer Ebb tracks and some very new so far unreleased tracks.
http://www.fixmermccarthy.com
Douglas McCarthy is one of my heroes from past EBM times. And the show of Fixmer/McCarthy during SAMA was definitely the third highlight besides Covenant and Howard Jones. Due the fact that it was past 12, people seemed a bit tired. But they woke up immediately when the beating sounds of Fixmer/McCarthy arose. Really unknown new songs were mixed with songs from the debut album "Between the Devil" like the powerful "Splitter". Of course some Nitzer Ebb songs were performed as well and people only seemed to wait for those songs. The audience went totally mad for the first time during "Join in the Chant" and you had the impression that they really see Doug as their own god. All people who were still in the hall were dancing and clapping.
Douglas seemed to enjoy that thankful Swedish audience and was shaking hands several times and even went down to the pit to have a closer contact to his fans. While Douglas was running over the stage like the devil himself, Terrence Fixmer was standing behind a table and fiddling around on his machines the whole show long. As the last song "Let your body learn" begun, I had to leave my camera with Mattias and go down the stage into the partying people to dance close to the band. It was a really fantastic and powerful performance that was presented during that night.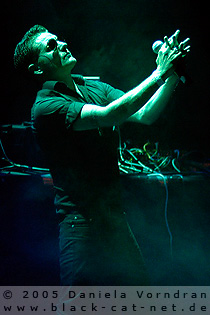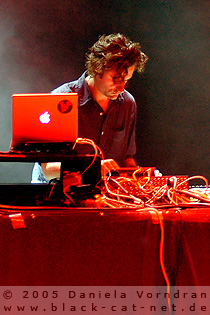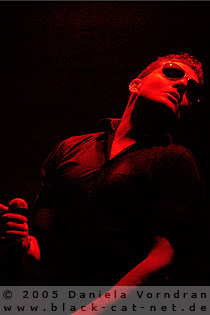 The Awards

Even though most of the evening is reserved for the concerts, the main issue are still the awards that were presented by Jon Josefsson, chief editor of "Zero Music Magazine", and an additional musician or celebrity. For 2 awards (best club/festival and best album) S.P.O.C.K´s Alexander Hofman was on stage as well for some jokes that I of course not quite understood because of my lack of knowledge in the Swedish language. Good that I had my personal interpreter there ;)
Best newcomer 2004


NOMINEES:
Bodies without organs
Bodies without Organs is the latest brainchild of Alexander Bard, the man behind the disco giants of the nineties, Army of Lovers. Bard and Hansson began working together on songs and were soon joined by Martin Rolinski, a young technology student who discovered he had an excellent voice. Pet Shops Boys-spirit is never far away, and Bard's feel for a strong pop melody provides BWO with a sound base for its sound. The band has already reaped the rewards of success, particularly in Russia, and the debut album "Prototype" contains strong singles "Living in a fantasy", "Conquering America" and Sixteen tons of hardware". BWO are Martin Rolinski [vocals], Alexander Bard [keyboards], Marina Schiptjenko [keyboards], Anders Hansson [production].
http://www.bodies-without-organs.com
Lowe
Lowe was formed in 2002 by Statemachine members Jörgen "Leo" Josefsson (vocals/guitar) and Rickard Gunnarsson (bass) plus Mehdi Bagherzadeh (keyboards). Their music can be described as emotional electronic pop. Lowe's first two singles, "The vanishing" and "Ahead of our time", quickly earned the trio a strong reputation among the electropop fans. Just recently, Lowe released the debut full length album "Tenant".
http://www.lowe.st
Strip music

Strip Music offer a cascade of keening vocals and sheet-metal guitars and synths, heart-stopping drama and epic atmospherics, as relentless and glittering as a rainstorm. Some songs are anthemic enough to call to mind mid-eighties U2, while others have the shadowy, trance-like qualities of The Cure. There's a strong industrial element in there somewhere too, while the icy purity of singer Henric de la Cour's voice gives Strip Music a strong flavour of their native Scandinavia.
http://www.stripmusic.tk
This fish needs a bike
Sweden's Eddie Bengtsson, the famous songwriter of all hits from S.P.O.C.K. and Swedish Synthpop acts Page, Sista Mannen På Jorden, etc., is back with a surprising full-length album of pure Synthpop with smart English lyrics. Catchy analog Synthpop with that nice retro feel. This is for the fans of Human League, OMD, and early Depeche Mode. An album that stays faithful to the old-school soundscapes en vogue again these days.
http://www.tfnab.tk
WINNER:
Lowe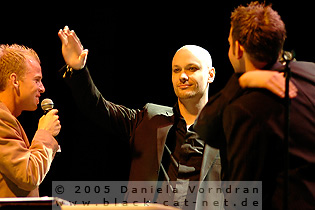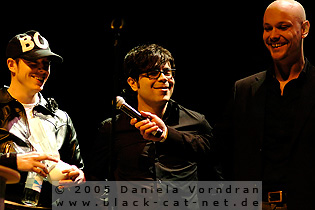 Best club/festival 2004
NOMINEES:
Arvikafestivalen
This Swedish mecca for goths and punks has been going since 1992. This is not a festival for the faint hearted! These guys take their music and festival going seriously! You'll have to contend with travelling to a site in the middle of nowhere and camping through the freezing cold nights but it's all worth it! Oh yes, they just keep coming back for more!
http://www.arvikafestivalen.se
Klubb Crush
http://www.klubbcrush.se
Romo Night

Romo Night started back in June 1996, bored with the nightlife in Gothenburg - just euro-disco, techno and bad 80´s everywhere. Many plans were made that summer, they found the name Romo and added Night [RO=Romantic Mo=Modernists], romo was a clubthing going on in London at that time, based on the new romantic era back in the early 80´s. So finally that club started 1996 and is still standing.
http://www.romonight.com
Tinitus

Tinitus - Scandinavias premier electronic music event.
http://www.tinitus.com
WINNER:
Arvikafestivalen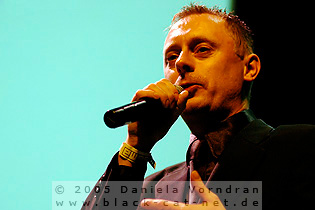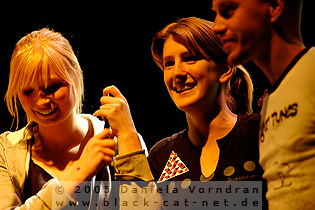 Best song 2004
NOMINEES:
Interlace – Master
As the clear-cut electronic soundscapes of Frontline Assembly and Clock DVA blend with the distorted fury of Skinny Puppy and NIN, a new machine is born. Throbbing with intensity and aggression, it constitutes the merging point of ancient insights, a disillusioned present and the unfolding veils of tomorrow. It is a foundry for intelligence and instincts, for reason and lust, for the stark reality and that which lies beyond man's comprehension. It is an essence of progress. It is Interlace.
http://www.designforanewbreed.com
Lowe - Ahead of our time
http://www.lowe.st
Slagsmålsklubben - His morning promenade

Slagsmålsklubben (Swedish for Fight Club), create poppy electro music that sounds like "Pluxus", but more melodic from old synths.
http://www.smk.just.nu
Spetsnaz - Perfect body
The hard hitting EBM duo Spetsnaz was formed in Örebro, Sweden in the autumn of 2001 by Stefan Nilsson and Pontus Stålberg. With the powerful vocals, frenetic pounding bass lines and relentless rhythmic assault, Spetsnaz has the aggression and the melody to be the missing link between the heavy scene and the pop scene.
http://www.spetsnaz.se
WINNER:
Slagsmålsklubben - His morning promenade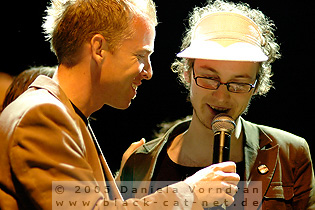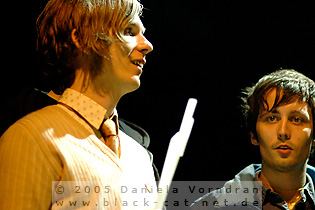 Best album 2004
NOMINEES:
Backlash – Heliotrope
They started out as Niklas Lundqvist and Oskar Lygner from Lidköping, Sweden. They´ve been playing together since 1998. In 2000 they were joined by Malin Andersson on vocals. After the release of their first album "Impetus" Malin decided to leave the band and were replaced by Erik Thorstensson. Now Backlash is back with the new album "Heliotrope" where they continue to deliver great electropop. Backlash creates both innovative electropop with intelligent programming and engineering as well as perfect, beautiful electronic soundscapes.
http://www.backlashmedia.se
Lowe – Tenant
http://www.lowe.st
Sophie Rimheden - Miss
Sophie Rimheden started to make songs before she started school. At her home, in south of Sweden (a village called Bjärnum, close to Hässleholm), she sat by an electric organ where she could have beats to the chords she was playing. In summer 2004 she released her second album, Miss, which contains 20 tracks. 10 longer tracks with vocals, and 10 short tracks with sounds recorded in a forest in the south of Sweden. She also works with the producer Håkan Lidbo, and has released an EP with him 2004 that contains a cover of the Tears For Fears song Shout.
http://www.sophier.tk
Universal Poplab - Universal Poplab
In January 2002, vocalist Christer Lundberg and producer Paul Lachenardière shook hands over a couple of beers and a vegetarian meal, making plans to create a shimmering spectacle of synthpop art. Two years later, their debut album "Universal Poplab" is released by independent record label SubSpace Communications.
http://www.universalpoplab.com
WINNER:
Universal poplab - Universal poplab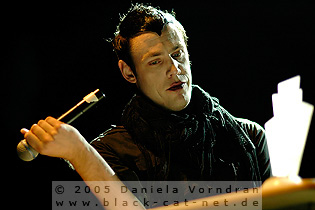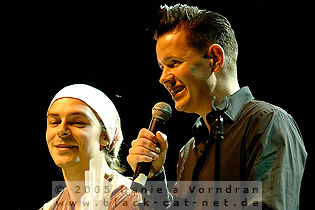 Best artist 2004
NOMINEES:
Slagsmålsklubben
http://www.smk.just.nu
Sophie Rimheden
http://www.sophier.tk
Spetsnaz

http://www.spetsnaz.se
Universal poplab

http://www.universalpoplab.com
WINNER:
Slagsmålsklubben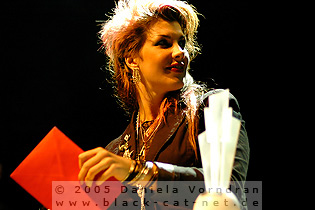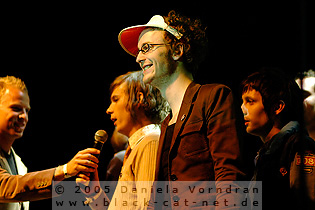 The day after

After all the concerts and award ceremonies we stayed a while longer to have a few drinks and finally have some chats with friends. We went back to the hotel totally exhausted but happy at around 3.30. The next morning we went up around 10 to finally have some breakfast even we were still totally tired. During breakfast we met some of our friends and artist again and had the chance for a few words and a short good bye. Our little rented bus brought us back to Malmö at afternoon and another SAMA was over.
Thanks to all the people that made another unforgettable event possible: the organisers, technicians, artists, friends and all the people creating such a good mood while attending the show. I´ll be back next year!
More pics on
Black-Cat-Net