Page 1 of 2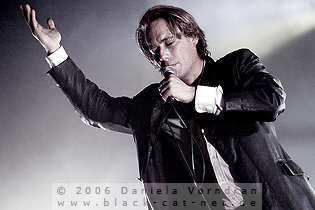 Hannover / Cologne / Dortmund / Hamburg, Germany
February 2006
Covenant, Client, Rotersand

In February 2006 central Europe had the pleasure to get a very exciting live package. Swedish heroes 'Covenant' hit the road for the first leg of their Skyshaper 2006 Tour and brought two very special guests for their shows in Germany, the Netherlands, Switzerland, Austria and Italy - German Electro shooters 'Rotersand' and 'Client', the all-girl band from Andy Fletcher's ('Depeche Mode') label 'Toast Hawaii'. Enough reasons to attend a total of four shows and share this experience with all of you.
Rotersand


Formed in 2002, this is the latest project of 'The Fair Sex'-member Rasc and his long-time collaborator Gun. 'Rotersand' was introduced to the public on the Legends United-Tour, where they opened for 'Invincible Spirit', 'Psyche' and Rasc's main band 'The Fair Sex'. On stage they were joined bei Krischan E. Wesenberg who soon became a full-time member of 'Rotersand'. With their first releases like the club hit 'Merging Oceans' the track record for 'Rotersand' began…
http://www.rotersand.net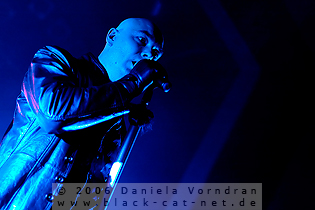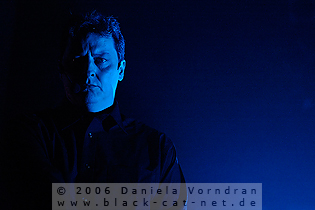 Music
'
Rotersand' often describe themselves as "the Scooter of Electronic Body Music" – of course a tongue-in-cheek remark. Nevertheless 'Rotersand' have its moments where they produce simple dance music just for the sake of it, just for a little fun. Actually not the moments when I like them best but thankfully 'Rotersand' has more to offer. 'Merging Oceans' was already a great pop tune with a techno approach, and 'Exterminate Annihilate Destroy' is a real noise bastard which would kick the shit out of this stupid and commercial act called 'Scooter'. With these two songs we have most of the elements which make 'Rotersand' remarkable. They have a pop feel and dancy techno beats – do I hear the words "Future Pop"? – but also hard and dark stuff in best EBM tradition as well as ballads. But most of 'Rotersand's' music is quite energetic and perfect for the dancefloor and live shows.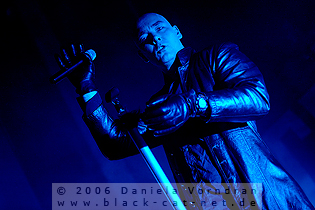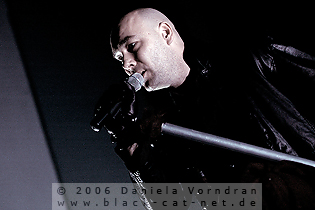 Performance
'
Rotersand' were never intended as a mere studio project. Performing live has always been essential to Rasc, Gun and Krischan, you might speculate if most of their songs are even designed to be played live? Anyway, 'Rotersand's' energetic, pounding songs are excellent to get a crowd going, so it was a good choice to place 'Rotersand' as the opener of the 'Skyshaper' shows. Some were surprised that 'Rotersand' were the first band each night as they seem to be already a bit more popular than 'Client', the second band of the night. That 'Rotersand' have been quite present at the dancefloors recently showed effect, they drawed a good number of own fans to the 'Skyshaper' gigs.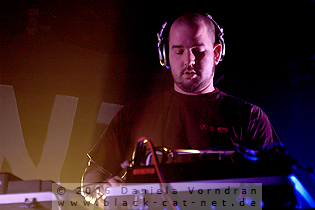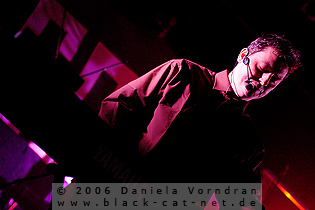 Already at my first 'Skyshaper' gig in Hannover it striked me that there were quite a few people dancing at 'Rotersand's' gig. Didn't quite feel like a support act! But in the end it made perfect sense to let 'Rotersand' play first, followed by 'Client'. They started with a bang choosing 'Merging Oceans' as the first song – very good to catch the crowd's attention! Singer Rasc obviously does enjoy being on stage and did his best to impersonate Mr. Showman. Sometimes over the top, but when done with some sort of humour and self-irony absolutely okay. His presence and the very upbeat setlist made 'Rotersand's' gig quite entertaining. A big surprise came when they performed 'Electronic World Transmission' – in the middle of the song they used samples from 'Covenant's' brandnew single 'Ritual Noise', including the trademark robot voice, and created some sort of medley of the two songs. A strange step on one hand, on the other side a nice tribute to the night's headliner. And the fans loved it, too!
The bottom line: 'Rotersand' once again proved on this tour that they are an entertaining and energetic live act, and I guess their profile benefited a lot from the mutual tour with 'Client' and 'Covenant' as it was a great chance to introduce their music to many new fans.
Setlist:

1. Merging Oceans
2. Almost Violent
3. Lifelight (Redestructed)
4. Electronic World Transmission (with Ritual Noise samples)
5. Exterminate Annihilate Destroy
6. Undone
7. The Last Ship
(same setlist for all shows)
Rating

Music: 7
Performance: 8
Sound: 8
Light: 6
Total: 7 (7.3)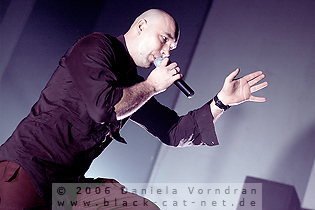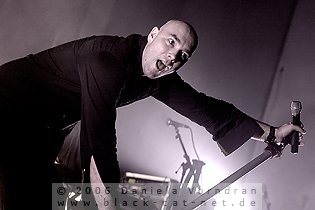 Client


Oh yeah, those lovely girls from 'Client'. This duo, recently turned into a trio by adding 'Client E' to the line-up, has gained some fame within a short time. A certain part of the high profile of the Electro-Pop band is owed to Andrew Fletcher of 'Depeche Mode'. 'Client' are the one and only act on his own record label 'Toast Hawaii', and of course this drawed the attention of a good part of the huge 'Depeche Mode' fan community towards this all-girl band. This provided good promotion for 'Client' from the start but with two excellent albums and numerous singles 'Client' proved absolutely that they live up to expectations and the attention they attracted.
http://www.client-online.net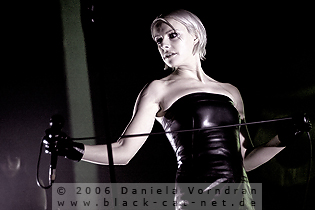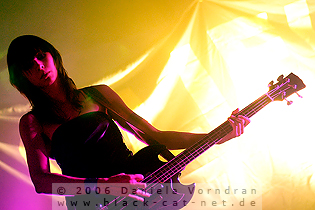 Music
With their self-titled debut album, released in 2003, and the album 'City' (2004) the band 'Client' established an electronic pop sound which has a quite strong retro touch. Many 1980s Synth Pop heroes like 'OMD', 'Soft Cell', and especially early 'Human League' shine through, as well as a certain 'Joy Division'-esque darkness. Despite all retro-ness 'Client's' sound still feels modern and contemporary as they also embrace 21st century electronica. Some critics rather compare 'Client' with the likes of 'Miss Kittin' than nostalgic heroes. On their last album 'City' 'Client' had a few guests on the microphone – Martin Gore ('Depeche Mode') delivered some haunting backing vocals for the track 'Overdrive', and Pete Doherty and Carl Barat from 'The Libertines' gave their voices for two different songs. These musical guests perfectly resemble the anchor points of 'Client's' sound: 80s electronics and contemporary Indie (albeit in a purely synthesized form).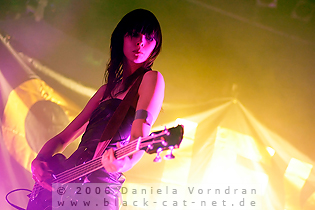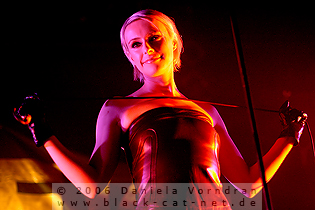 Performance

I saw 'Client' two times live before the 'Skyshaper' tour, both times at very very small clubs with almost a living-room atmosphere. Both times it was quite enjoyable and the charm and erotic undertone of the ladies in uniforms really came through. But supporting 'Covenant' they looked at times a bit lost on the bigger stage – although it wasn't exactly a stadium gig but still a club show. 'Client' don't move much, their live show fascinates with subtle gestures of singer 'Client A' (aka Sarah Blackwood) and the subdued, distanced but sexy presence of the girls. This does probably not work for you when you're stuck with 1,000 other people in a medium-sized venue, especially when you're more in the back. Still their music is quite appealing, and 'Client' had their hardcore fans in the first rows who hailed their heroines. It's amazing how 'Client' have built up a very loyal and strong fan base with only two albums up their sleeves. But not everyone seemed to be overly impressed with their show; especially in Cologne the reception was rather calm and polite than euphoric, to say the least. I would say that 'Client' got the best crowd reaction in Hamburg.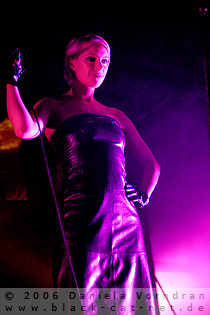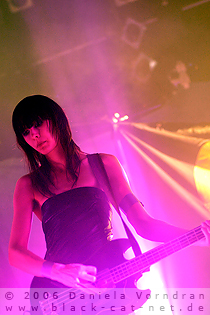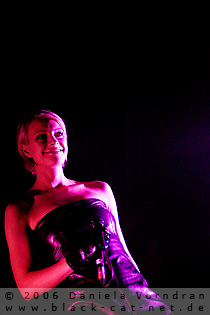 As mentioned before 'Client' have a new live line-up. Before the 'Skyshaper' tour they had a male keyboarder, who stood hidden behind a pile of synthesizers and gear, as an additional live musician. As the recent press photos revealed, 'Client' has now been joined by 'Client E', another leather-clad lady, who played the bass guitar on stage. Or at least it looked like she was playing the bass as the bass guitar wasn't audible, at least to me, and the live sound of the band was the same as ever. I might be wrong, though. Some cynics remarked that 'Client E' perhaps only joined the band because three ladies look better on-stage and in pictures than two. ;-)
'Client' also have a new outfit. Instead of uniforms with short skirts they are now covered all in leather and latex, which gave them a much more fetish-like look. Image and style is obviously important to the band. And they have a very female approach to building up an image, so to speak. It's not just as they want to build up a certain image merely for commercial reasons, for being recognizable – it's part of their artistic self-expression, and they simply care for such things.
With 'Client B' behind her keyboard on the right, 'Client E' and her bass on the left, and 'Client A' in the centre of the stage the set-up looked the same each night. 'Client' changed their set of songs each night, though, but mostly started with 'Radio', the hit single off their second album. A good mix from their two albums and even a few single b-sides every now and then followed. It's great that 'Client' have some variation in their setlists so that each night is unique. In Cologne the audience even got the song 'Pills' with a German line – "Gib mir mehr, mehr, mehr" instead of "Give me more, more, more". Much to the pleasure of 'Client's' fans. Singles like 'Price Of Love', 'Rock And Roll Machine' and 'In It For The Money' of course had a permanent stay in the setlist, and 'Client' closed their show with their UK chart hit 'Pornography', which originally is a duet with the 'Libertines' singer but was of course performed by 'Client A' alone on stage.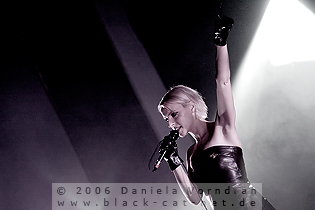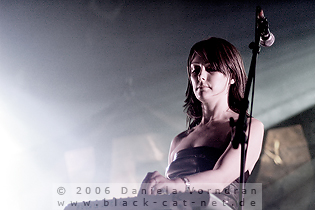 'Client's shows supporting 'Covenant' were good but actually not on par with their solo shows at smaller clubs. In fact it surprised me how lost they look as soon as stages get a little bigger. Their live concept is better suited for a more intimate setting at very small clubs. Venues of the size which 'Covenant' plays at require a little more dynamic and energetic performance. The fact that only a certain part of the 'Covenant' audience was familiar with 'Client's' output didn't help much, either.
The bottom line: I still like 'Client' a lot but it's somehow sad that I didn't enjoy their shows supporting 'Covenant' as much as I hoped. Don't get me wrong, it was still okay, but perhaps my expectations based on the solo gigs I saw were a little too high. When 'Client' will perform again somewhere I will definitely go and give them another chance. If they play at a small club it will be cool, I guess.
Setlists and Rating


Hannover 3rd Feb 06
Cologne 5th Feb 06
Dortmund 7th Feb 06
Hamburg 19th Feb 06

Setlist
1. in it for the money
2. radio
3. down to the underground
4. tuesday night
5. price of love
6. here and now
7. overdrive
8. client
9. rock and roll machine
10. pornography



Rating
Music: 8
Performance: 5
Sound: 8
Light: 7
Total: 7 (6.95)




Setlist
1. radio
2. in it for the money
3. down to the underground
4. price of love
5. here and now
6. pills
7. overdrive
8. client
9. rock and roll machine
10. pornography



Rating
Music: 8
Performance: 6
Sound: 9
Light: 7
Total: 7 (7.4)




Setlist
1. radio
2. in it for the money
3. down to the underground
4. price of love
5. here and now
6. overdrive
7. diary of an 18 year old boy
8. client
9. rock and roll machine
10. pornography



Rating
Music: 8
Performance: 6
Sound: 6
Light: 7
Total: 7 (6.95)


Setlist
Setlist not available



Rating

Music: 8

Performance: 6

Sound: 8

Light: 7

Total: 7 (7.3)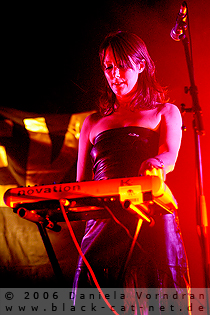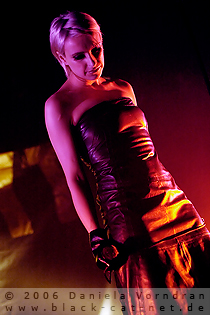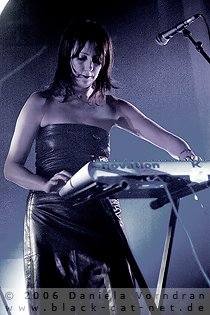 Covenant


I have always said that headlining club tours are the moments when 'Covenent' live is at its best! For festival gigs and such the Swedish band most of the time delivers their simple setup - that is, their synths, their suits and lots of good music. When they do a full tour through the clubs of the world, the visual element is much more prominently featured, with lots of videos, TV screens and an excellent light show, directed by long-time collaborator and light engineer Stefan Aue. The 2002 'Northern Light Tour' was visually one of the best club shows I have ever seen – up there with 'Front 242's' 1991 'Tyranny' tour or 'Front Line Assembly's' shows in the 1990s, and only topped by 'Skinny Puppy' (who are a league on their own anyway) – and huge acts who can afford even more lights and effects like 'Depeche Mode' or 'Massive Attack'. So I was really curious what 'Covenant' had to offer this time. The fact that they went on the road to present an album which wasn't even released yet seemed to be a bit tricky but still the first leg of the 'Skyshaper' tour was of course something I looked forward to. And it was worth it!
http://www.covenant.se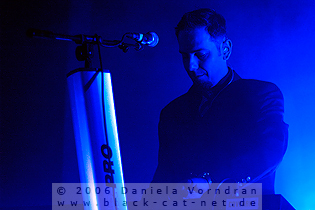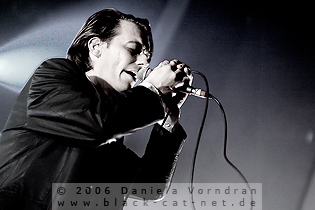 Music
Many things have already be said about
Covenant's music
on Reflections of Darkness - so the band doesn't need much of an introduction. 'Skyshaper' is their first release in four years, following 2002's 'Northern Light' which spawned the hit singles 'Call The Ships To Port' and 'Bullet' and further club hits like 'We Stand Alone'. It's been a
problematic time
for the band since then, including the search for a new label after the demise of their label K2 and internal struggle about the artistic direction of the new material. 'Skyshaper' is an album which shows that the band did not just survive the peck of trouble but that they even were able to come back with a very good album which reflects many elements of 'Covenant's' earlier outputs as well as reaching out cautiously for new musical ground. Probably the best album the band could have made at this time. Our dear readers may remember that I wasn't too happy at first with 'Covenant's' new album but that my views changed a lot by-and-by. 'Skyshaper' is definitely an album which takes its time and challenges the listener. Moments of imperfection may be irritating when it comes to a perfectionist band like 'Covenant'. But the more you comprehend the concomitant circumstances of making 'Skyshaper' and the internal functionality of the band, the more you understand that moments of imperfection belong to the statement that 'Skyshaper' is and that they are actually part of the beauty of the album. 'Covenant' rebooted their system to open a new chapter, and 'Skyshaper' may be the prelude where they subsume components from the past and hint at possible new directions. On a more ordinary and trivial note – when someone who considers himself a huge fan had to give 'Skyshaper' a few listens before he could actually fully appreciate the quality of the album - how would an audience react which hears the new stuff for the first time at the concerts?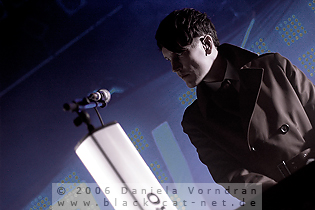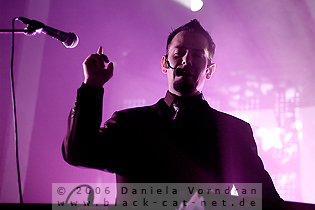 Performance
'Covenant's show started with a very cool countdown, some sort of insider joke and I'm not sure if everyone in the audience got it. As some may know (by reading 'Covenant' interviews, hehe!), 20 Hertz is the limit of human hearing, frequencies below that are not audible for the human ear. So the intro countdown started with computer voice saying "180 Hertz", followed by a sound of exact this frequency. 100 Hertz, 80 Hertz, 60 Hertz and so on followed, and after 20 Hertz the song of the same name followed instead of a single sound. Very clever done, boys!
Compared to the huge setup at the 'Northern Light Tour' the stage looked rather empty. No video or TV screens, just the two keyboard rags of Clas Nachmansson and Joakim Montelius and a huge banner with the Covenant logotype as the backdrop. But during the third song the banner has been dropped to make a huge LED display appear! And this thing was really able to work wonders! I think 'Covenant' were quite right to decide against a show which uses video screening again, as so many other bands use screens these days. The LED display was simple, yet effective and, together with the usual excessive light show full of spotlights and laserscanners, quite impressive.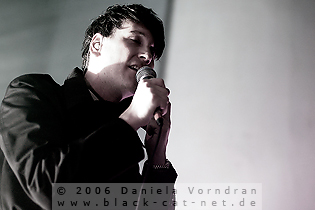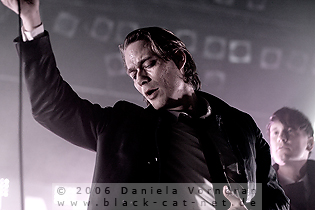 The show at the 'Capitol' in Hannover was the second gig on the tour, and the first one of my 'Skyshaper' shows. The 'Capitol' was quite packed, I would say at least near sold-out, with a pretty mixed crowd. Of course the band still has its strongest fan base in the Goth/EBM scene, so most people where covered all in black ("black swarm" anyone? ;-) ) but there were also people you would rather expect sitting in front of their MTV as well as Metal-heads, who probably came simply because of the energy 'Covenant's' music has, and people who look like they'd want to go some Techno Rave. A quite nice mishmash – also age-wise, ranging from the teenage girl who just discovered the band to the 30-something who's a long-time follower. It's nice to see that a band attracts such a variety of people.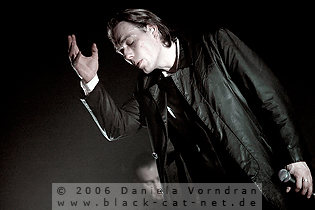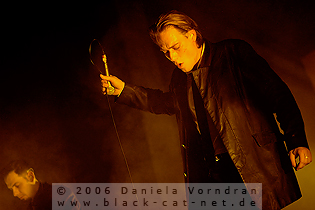 'Covenant' is a band that varies their setlists from gig to gig a bit to make each show a unique experience. The opener '20Hz' including the great intro was of course a fixed point. Usually they let another song from 'Skyshaper' follow. In Hannover the second song was the crispy 'Sweet & Salty' with its heavy, pondering beats. A perfect track to get people moving, although the response was still a little reluctant. Well, after all people didn't know the song as the release of the album was still a month ahead at the time of the gig. But I guess this song could become quite a crowd pleaser, especially when it is played later in the set when everyone is already in dancing mood. The massive club hit 'Bullet' from 'Northern Light' followed. After two songs which were unknown to most fans it's a clever move to let one of the band's hits come so early, and the mid-tempo 'Bullet' was a perfect choice for that - the crowd gave it a very warm welcome! This was also the point in the show where the huge backdrop came down to reveal the LED display. A real eye-opener! The successive 'Leviathan# from 1998's 'Europa' album was a little surprise for me, and although the song is live either hit or miss it worked just fine this time. 'Covenant' remixed it a bit for the live shows, if I remember correctly, and it sounded great. After another new song, 'Pulse', the band's biggest hit in Germany to date made everyone cheer – 'Der Leiermann'! Fans were pleased, even though singer Eskil mixed up a few lines of the lyrics. Well, it was only the second show of the tour and there was still a certain wobbliness noticeable throughout the show. After all it's a live show and I think no one cared too much about it, if they even noticed. New and old songs alternated now, and an extended version of 'The Men' with a long intro was one of the musical highlights for me – why the heck didn't they include this version on 'Skyshaper'? Sounded awesome! 'Stalker', Covenant's first club hit from 1996, was the punch line of the main set and of course left the audience in high spirits and urging for more. After only 11 songs and approx. 60 minutes I found the main set a little short but 'Covenant' offered a bulk of more songs for the encores.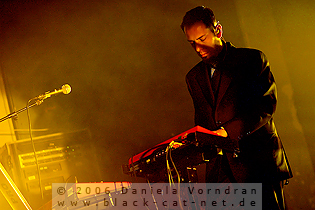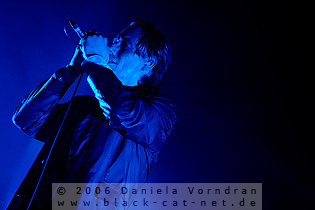 Coming back on stage, Eskil announced that they will do now "something daring" – he was talking about 'Happy Man', an unusual ballad with lots of analogue synth sounds. Not exactly may favourite off 'Skyshaper' so I was surprised that the song actually got a good response. Perhaps I will lose my
bet
[Link to Interview] and a bottle of Jägermeister. ;-) 'Dead Stars' was long-awaited and the crowd pleaser as always. The band left the stage once more just to come back and play two more songs. 'Brave New World', a true Synth pop anthem, will be the next single from the new album and was live an instant hit which was much appreciated by everyone. 'Call The Ships To Port' followed and everybody who ever witnessed a 'Covenant' show knows what this track can do to an audience – pure euphoria! The whole auditorium was dancing and singing along – great! After this highlight people certainly wanted more, and the band came back to play an awesome and noisy version of the band favourite 'Babel'. In fact one of the best renditions of the song I have witnessed live. In the end Joakim Montelius was laying on the floor, wallowing and screaming into his microphone, with Eskil Simonsson kneeling over him and Clas Nachmanson jumping around on stage. Pure energy!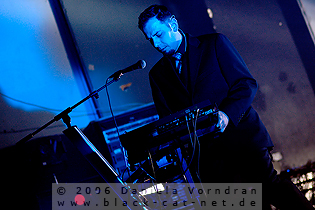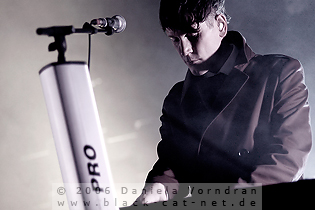 After a show in
Amstelveen, Netherlands
, the show in Cologne was of a very special importance to the band. With a lot of operating expenses the forthcoming live DVD was shot there. The 'Live Music Hall', easily twice as big as the 'Capitol' in Hannover, was full to bursting! Very promising conditions for a great show, especially as 'Rotersand' as the opener of the night already rocked the boat and made people at the front dance. There were lots of cameras all over the place to film 'Covenant's' performance. There was even a swiveling crane with a camera to film the audience from top view. Guess the DVD will look awesome!
I really hoped for a mindblowing gig before it started but it turned out to be "only" good. Although the club was packed parts of the audience were quite lames, in particular in the back. Perhaps it was just too crowded so that nobody could actually move a lot but the Cologne audiences also have a reputation of not being the most sultry and loudest ones – unless it's carnival! *lol* Well, nevertheless everyone enjoyed the show and during the encores people finally woke up and partied hard. However, in my opinion it was not the perfect choice for filming a DVD, another city and a show not that early into the tour would have been better. 'Covenant' had a bit of bad luck as there were some technical problems, too. Due to that, the second song 'Sweet & Salty' had to be cancelled, and 'Pulse' was played as an encore instead of in the middle of the set. I guess the band, as the perfectionists they are, were a bit razzed by the problems. All in all a gig with some problems but in the end I quite enjoyed it. And
the clip the Subspace site
filmed at this show is very, very promising! The upcoming DVD should be blast and a must for every fan, I guess.
After a day off the three bands headed to Dortmund to perform at the 'Soundgarden'. A quite nice and big location but the place looked a little emptier than the previous shows. One reason may be that the show in Cologne was basically in the same area, and the fact that Goth legend 'Bauhaus' played at the same day didn't help much either. But the upper tiers of the venue were blocked which helped to make the place look a bit more crowded. 'Covenant' again altered the setlist and 'Spindrift' was performed for the first time ever. Excellent song! 'I Am' from 1998's 'Europa' was also dug out from the vaults and made people jump around. Still a great live song which should get played more often! The classic album track 'Helicopter' and the 1998 single 'Go Film' were also re-introduced to the set. After a few shows things really were in place finally and 'Covenant' delivered an excellent, yet improved set that worked perfectly. The only grievance was the acoustics of the venue, especially in the back of it. But I guess every band hast to struggle with this. Apart from a few sound problems with the microphones – guess mixing them in this location was hell for sound engineer – this was the show which was most fun so far. Unfortunately after 'Call the Ships To Port' the lights went on so the we missed 'The World Is Growing Loud' and 'One World One Sky' as a third encore.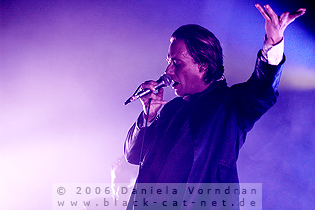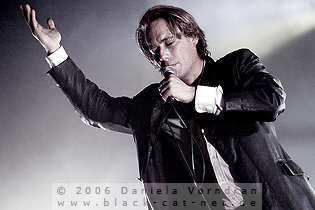 Almost two weeks later the final show of the 'Skyshaper' tour took place at the legendary 'Markthalle' in Hamburg. The club is brilliant for live shows as it is shaped like a little indoor amphitheatre, with ascending levels at the sides so that a perfect view for everyone is guaranteed. The attentive reader may have noticed that I always find something to nag about even if I enjoyed it as a whole. ;-) This time – nothing! I really can't find a single thing, the final show of the first leg of the 'Skyshaper' tour was just flawless! Okay, it was a bit too hot in the club. ;-) The audience was really into it from the start, the sound was just perfect, and the 'Markthalle' was the place where 'Covenant's' lightshow looked best. One really felt like being covered in light, specifically during 'Dead Stars' where the LED light were almost blinding me. Clas, Joakim and Eskil seemed to enjoy the show a lot too, and in particular Eskil delivered his best performance of the tour. Wonderful! I had the impression that more people than on the previous concerts were familiar with the yet unreleased new songs – either they all got the promo, or they downloaded it illegally. Bastards! ;-) Highlights for me were 'Go Film' (everyone was pointing at the stage and shouting out "Go film!!" – cool!), 'The Men', 'Call the Ships To Port' and 'Ritual Noise', which was performed in the 'Version S' from the EP. I guess this songs will remain a favourite on future 'Covenant' shows.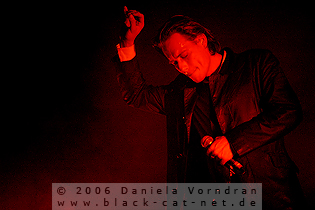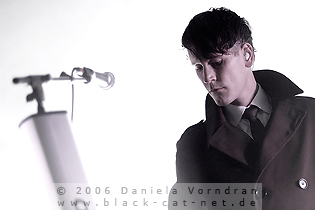 The Hamburg show also had this nice "final gig of the tour" feeling, and during the encore the girls from 'Client' entered the stage with flowers and some drinks to thank 'Covenant' for the good time they had together on tour. Surely a happy moment for the bands. The audience was rewarded with a third encore with the party burner 'One World One Sky', which got everyone shouting out loud, and another great performance of 'Babel' as the final song.
The bottom line: It was a great experience to attend four shows of the tour. It started with a good show, and ended with an amazing and brilliant show. It's been interesting how the show developed from gig to gig and more and more unfolds its full glory. I guess the second leg of the 'Skyshaper' tour in April and May and the summer shows will be excellent, so check out
Covenant's homepage
to check if they will play in a city near you!
Setlists and Rating


Hannover 3rd Feb 06
Cologne 5th Feb 06
Dortmund 7th Feb 06
Hamburg 19th Feb 06

Setlist
01. 20 hz
02. sweet & salty
03. bullet
04. leviathan
05. pulse
06. der leiermann (edit)
07. prometheus
08. the men (ext.)
09. we stand alone
10. ritual noise
11. stalker
---
12. happy man
13. dead stars
---
14. brave new world
15. call the ships to port
---
16. babel



Rating
Music: 10
Performance: 8
Sound: 9
Light: 10
Total: 9 (9.3)




Setlist
01. 20 hz
02. bullet
03. leviathan
04. der leiermann (edit)
05. prometheus
06. the men (ext.)
07. we stand alone
08. ritual noise
09. stalker
---
10. happy man
11. dead stars
---
12. brave new world
13. call the ships to port
---
14. pulse
15. babel

Rating
Music: 10
Performance: 7
Sound: 8
Light: 10
Total: 9 (8.8)




Setlist
01. 20 hz
02. spindrift
03. bullet
04. go film
05. der leiermann (edit)
06. helicopter
07. i am
08. the men (ext.)
09. we stand alone
10. ritual noise
11. stalker
---
12. happy man
13. dead stars
---
14. brave new world
15. call the ships to port

Rating
Music: 10
Performance: 8
Sound: 6
Light: 10
Total: 9 (8.8.)





Setlist
01. 20 Hz
02. spindrift
03. bullet
04. go film
05. der leiermann
06. the men (ext.)
07. helicopter
08. i am
09. we stand alone
10. ritual noise
11. stalker
---
12. brave new world
13. call the ships to port
---
14. happy man
15. dead stars
---
16. one world one sky
17. babel



Rating
Music: 10
Performance: 10
Sound: 9
Light: 10
Total: 10 (9.9)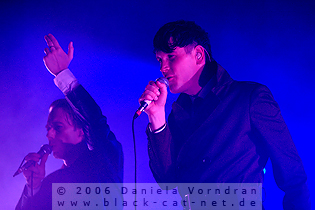 All pictures on this page are from Hannover. More pics on page two and on
Black-Cat-Net
.


{jos_sb_discuss:22}