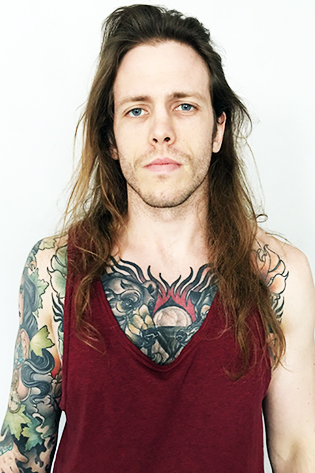 The new year started and we are back again with many new interviews, stories and, of course, beautiful tattoo pictures. We were not lazy during the holiday time, we have made plans and searched for some new participants. One thing we can promise you: this year will be more metal. First proof for this direction is our today's guest from England, the voice of
CONFESSIONS OF A TRAITOR
. Since 2013, these five guys are playing Metalcore and Hardcore music. The work of the band stayed not unnoticed by famous colleagues and currently in January, the guys are supporting
CRAZY TOWN
on their tour. So, enjoy this interview.
Reflections of Darkness [RoD]
: When did you get your first tattoo and what was it? Did it take much time until you decided to get it done?
Stephen
:
I got my first tattoo in November 2015. It was my chest piece. It took me eight years to decide what I really wanted. I knew at that stage that I was going to be into what I got for the rest of my life.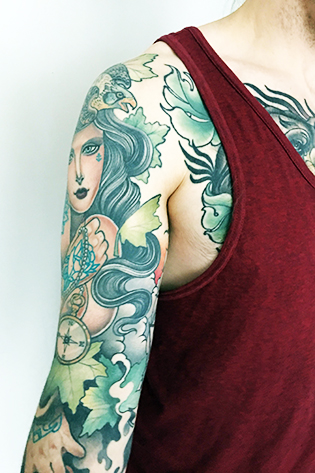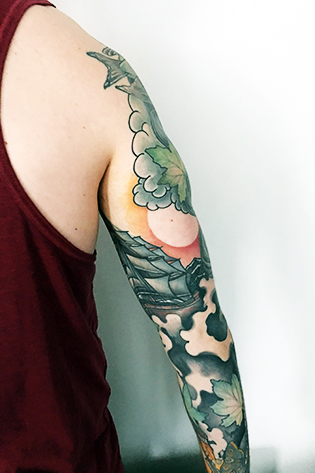 RoD
: How many tattoos do you have? Could you please tell us their story?
Stephen
:
I have two tattoos, I started big. I want only very large pieces that cover my body. Each of them depicts certain stages of my life. How I was feeling and what I was doing at that point. The chest piece with the hour glad represents not waiting for things to happen but grabbing and seizing the moment. The lantern on my wrist represents positivity with the skull on the other the forearm representing knowledge of my own mortality.
RoD
: Have you already got all the tattoos that you wanted or will you get some new ones in the future?
Stephen
:
I will be getting my left leg done next up to my stomach. I really want to get a neck piece.
RoD
: Have all your tattoos been done by one tattoo artist or by different ones? How do you choose the tattoo artist? In addition, who draws your sketches?
Stephen
:
They have been done by two different ones, my chest by Kat Abdy and my sleeve by Jean LeRoux. I picked them because of their neo traditional style. I found them all on Instagram.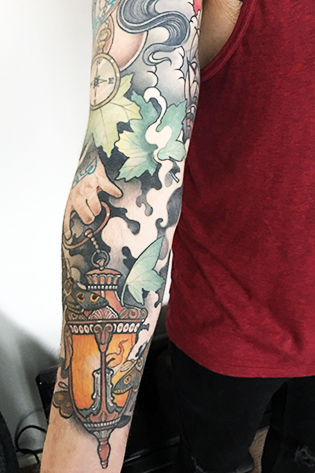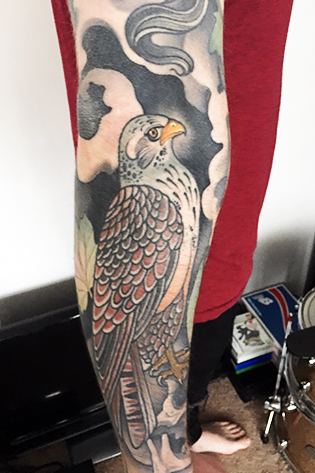 RoD
: Getting tattooed hurts, how do you cope with the pain during the sessions?
Stephen
:
I have a high pain threshold and during my very first session done on my chest, I was under the needle for seven hours. If I have committed to something I will follow through with it.
RoD
: Do you regret getting tattooed sometimes?
Stephen
:
No, I feel it is a part of me now and I'm proud of every one I have. I intend to tell more of my personal story on my body as time goes by. I have so much more room, a blank canvas for more artwork.
RoD
: What is your taboo in terms of tattoos? What kind of tattoo would you never get done and don't like to see on other people?
Stephen
:
I would never get my face tattooed, but I love seeing it on other people. There is nothing I don't mind seeing on people. I love artwork and everyone has a story.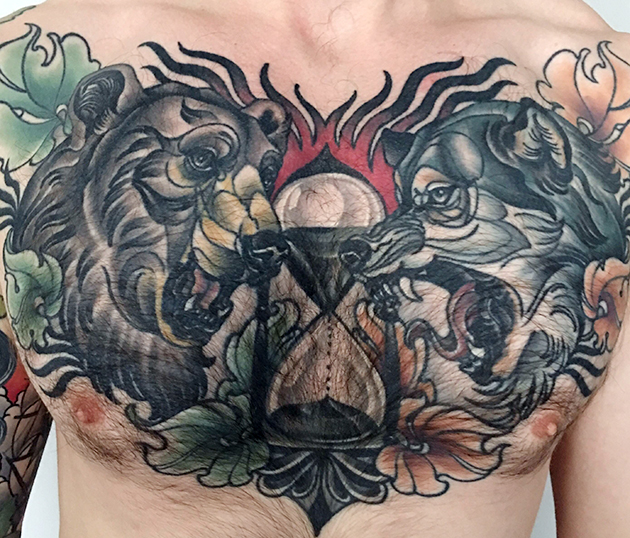 RoD
: Some people say that the drive to acquire body art is addictive while others say it fails to meet the true definition of an addiction, simply calling it a passion. Is it really impossible to stop?
Stephen
:
It's not impossible but it is very hard. I Love the thought of what I'm going to get next and thinking about the next designs. That is very addictive. I get envious of people who have got a new tattoo and that makes it hard not to walk into a tattoo parlour but I do resist as I have a plan of what I want them to look like.
RoD
: Currently, tattoos are a new trend; many people do not care about the meaning, they just want to have something coloured on the skin, to be in trend. Those people often just go into a tattoo salon and ask which drafts they have. Tattoo artists are not artists any more, they produce consumer goods. Not all of them, of course. How do you feel about this situation?
Stephen
:
Personally it doesn't affect me as long as people are happy with what they get. I have my own reason for collecting them. The artist and the artistic style and my own personal message behind them… each of them means something to me. But if someone likes a tattoo or an art style and wants it who am I to say anything. I think the growth in popularity is pushing the industry to create new and innovative styles and it's also becoming more accepted in society which I think is a great thing.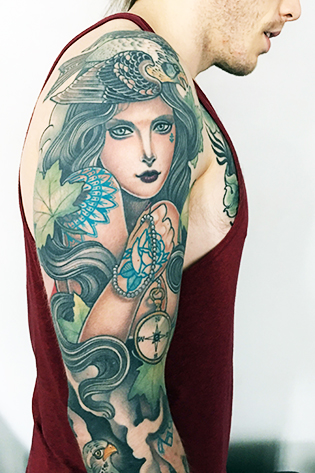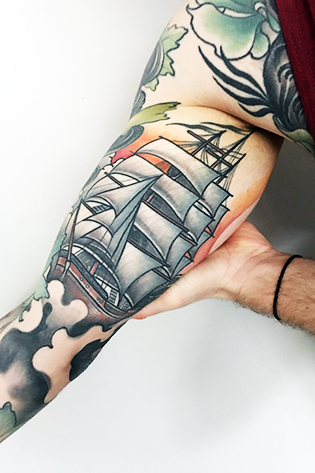 RoD
: I would like to talk about the social aspect of tattoos, too. Previously, many people believed that if you have a tattoo, you will be never be successful and will not find a "good" job. Have this state of mind and people's perceptions changed or are these prejudices still alive?
Stephen
:
As I mentioned above it is still frowned upon. However I believe this society is starting to open up its mind to them especially in the UK. I get more compliments now then funny looks. There are still some industries in the professional world of working that are a little archaic in their views. I do believe that there is still room to improvement however we are moving in the right direction.
RoD
: Which advice would you give to people who are going to get their first tattoo? How to choose a tattoo artist? Colour or black and white? Any practical advice?
Stephen
:
Do your research and make sure you invest. Don't go for one just because they are cheap. Save up because it will be on your body for the rest of your life. Pick what you like and find a style you like then the artist. Ultimately get something you want and you are into not what other people are. Make it individual to you. Get what you want and love it.
Project by Daria Tessa and Daniela Vorndran, Interview by Daria Tessa
Pictures by Julia Hope