Leipzig, Germany
18th to 21st Lay 2018
27th Wave-Gotik-Treffen with All Gone Dead, Black Line, Die Kammer, Dive, Elegant Machinery, Front Line Assembly, Merciful Nuns, Mr. Kitty, Rome, Seigmen, Solitary Experiments, The Jesus And Mary Chain, Trisomie 21, Vomito Negro, Zeromancer, [:SITD:] - and many more

More than twenty-five years ago, two Gothic people from Leipzig had an unusual idea: They didn't want to create yet another dark music festival but rather a supra-regional gathering of like-minded fellows for relaxed meeting, chatting and celebrating. When the 1st Wave Gotik Treffen took place in 1992 at the edge of Leipzig with about 2,000 visitors and just a handful of bands, it was unlikely that anyone imagined that within a few years the WGT would become the world's largest meeting of the Gothic tribe, taking possession of a whole city every year at Whitsun. By now, the WGT has been in existence for a quarter of a century... This year, like every year, once again more than 20,000 Gothics from all over the world are expected to come together again in Leipzig, Germany, to celebrate the jubilee of Wave Gotik Treffen as THE international gathering of the dark family.
All over the city, there will be about 200 bands performing, projects and single artists covering the whole wide range of Gothic music: from Electro-Pop to Goth-Metal, from EBM to Neofolk, from medieval music to Post Punk. Apart from famous bands of the scene, you are invited for new discoveries with several less-known, real underground bands or artists from the edge of the Gothic music universe. The concerts and events take place at more than 50 venues spread throughout Leipzig, for instance in the vaults of the Moritzbastei, in the splendid neo-antique cupola hall of the Volkspalast, and in the historical public bath Stadtbad, as well as in large concert halls. As always, there will be an enjoyable and diverse program in addition to all the concerts. Details will be published soon here: http://www.wave-gotik-treffen.de/english/prog/programm.php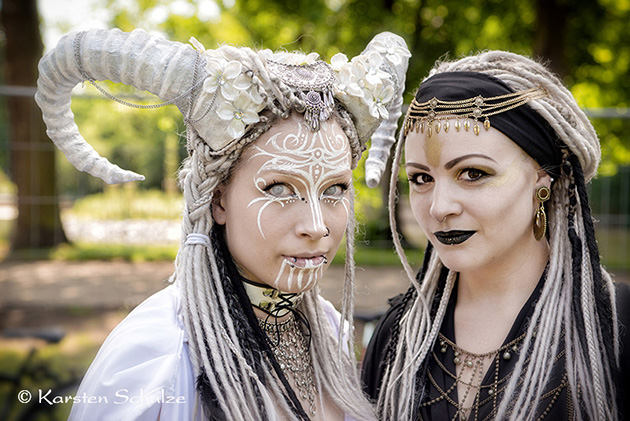 From its beginning the Wave Gotik Treffen has been much more than a music festival: its guests may step back to the romantic atmosphere of ancient times at the medieval market place at the Pagan Village (Heidnisches Dorf). They will present author readings and unusual theatre, cinematic performances will take place. People in historic clothing will gather for a Victorian Picnic in a park. For four days a large hall at the agra-Messepark will be transformed into the biggest Gothic-wares marketplace in the world. In numerous clubs DJs from all over the world will invite you to dance until dawn. There will also be a large fetish party where entrance is only possible by following a strict voluptuous dress code. A stroll through the winding passages of city centre of Leipzig with its historical buildings of the Renaissance, Baroque and Jugendstil (Art Nouveau) eras is especially worthwhile for art and culture lovers: the entrance to several of Leipzig's museums is free for WGT-guests.
Cheap and entertaining accommodation is available at the huge Treffen camping ground. To enter, you need a special ticket (called Obsorgekarte). This time, the Obsorge ticket does not include the extensive WGT-program-book titled "Pfingstbote", however, you can purchase the book for a price of 15 EUR both at the box offices and the central WGT merchandise stall at the Agra market hall. Public transport in the city is free for all WGT-guests from Friday morning until noontime Tuesday. The inhabitants of Leipzig have become familiar with the Treffen over the last two decades – there are no longer any prejudices and the Gothic guests are very welcome here. The most fascinating aspect of the Wave Gotik Treffen is surely its unique magic atmosphere that covers the whole city. Gothics from all over the world celebrate their gathering in a peacefully relaxed manner, turning Leipzig into a diverse wave of black. Once a year about twenty thousand Gothics come home: to the Wave Gotik Treffen.
Bands

Currently there are 111 artists confirmed (per 19th March 2018):
A Projection (S) - Actors (CDN) - Aeon Rings (USA) - Aeverium (D) - All Gone Dead (USA) exclusive European reunion show in 2018 - Arcana (S) - Ash Code (I) - Ataraxia (I) - Autobahn (GB) - Beinhaus (D) - Black Line (GB/USA) - Bootblacks (USA) - Boy Harsher (USA) - Buzz Kull (AUS) - Centhron (D) - Cesair (NL) - Confrontational (GB) - Crisis (GB) - Crying Vessel (CH) - Dageist (F) - De/Vision (D) - Dead Leaf Echo (USA) - Detachments (GB) - Die Kammer (D) - Dive (B) - Drifter (S) - Eden Weint Im Grab (D) - Einar Selvik (N) - Elegant Machinery (S) - Ext!ze (D) - Fabrik C (D) - Fairytale (D) - Formalin (D) - Frank The Baptist (USA) - Front Line Assembly (CDN) - God Module (USA) - Grave Pleasures (FIN) - Grendel (NL) - Greyhound (D) - Guerre Froide (F) - Hekate (D) - Heldmaschine (D) - Hexheart (USA) - Illuminate (D) - Imminent & Synapscape (B/D) - Imperium Dekadenz (D) - Ingrimm (D) - Japan Suicide (I) - Jo Quail (GB) - Joy/Disaster (F) - Kaizer (D) - Kiew (D) - Les Discrets (F) - Merciful Nuns (D) - Model Kaos (D) - Mono No Aware (D) - Monolith (B) - Mr. Kitty (USA) - Nachtsucher (D) - Oberer Totpunkt (D) - Ost+Front (D) - Paddy And The Rats (H) - Palast (D) - Phil Shoenfelt & Southern Cross (GB/CZ) - Phosgore (D) - Principe Valiente (S) - Pyogenesis (D) - Raison D'être (S) - Randolph's Grin (USA/A) - Rapalje (NL) - Readership Hostile (USA) - Rome (L) - Sardh (D) - Sarin (IR) - Scarlet And The Spooky Spiders (I) - Schandmaul (D) - Scheuber (D) - Second Still (USA) - Seelennacht (D) - Seigmen (N) - Silent Runners (NL) - Siva Six (GR) - Solitary Experiments (D) - Spark! (S) - Stahlr (NL) - Still Patient? (D) 30th anniversary show - Sturm Café (S) - Suir (D) - Svartsinn (N) - The Beauty Of Gemina (CH) - The Crimson Ghosts (D) - The Fright (D) - The Jesus And Mary Chain (GB) - The KVB (GB) - The Last Cry (GB) - The Other (D) - Then Comes Silence (S) - Tiamat (S) perform songs from the albums "Wildhoney" and "Clouds" - Totus Gaudeo (D) - Traitrs (CDN) - Traumtaenzer (D) - Trepaneringsritualen (S) - Trisomie 21 (F) - Undertheskin (PL) - Unterschicht (D) - Vogon Poetry (S) - Vomito Negro (B) - Xenturion Prime (N) - Zanias (AUS) - Zeromancer (N) - [:SITD:] (D)
For more information on the confirmed artists, there is a list of their official webpages here: http://www.wave-gotik-treffen.de/english/bands.php. On the WGT website, a newsletter quickly informs you about the latest program updates.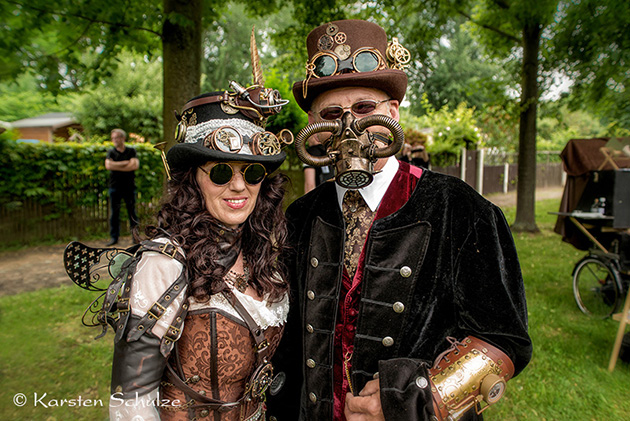 Tickets

Event Ticket

4-days tickets for all events during the 27th Wave Gotik Treffen 2018 are available for 120 EUR on pre-sale (incl. pre-sale charges).
Parking Vignette
In order to use the parking places on the Treffen Area, a parking vignette for 15 EUR (incl. pre-sale charges) for the whole time of the festival is necessary. Important! Without a vignette you're not allowed to park at the area.
Camping

Possible with "Obsorge Ticket", limited up to 9,999 tickets for 25 Euro (includes advance sale charges), contains the following service-package: Camping at the Treffen-Campground (agra-fairground)
Important!: Without an Obsorge Ticket the entering and the use of the camping grounds is not possible. The Obsorge ticket is only valid in combination with an event ticket and has to be bought for each person separately.
You can order your tickets here
http://www.wave-gotik-treffen.de/karten.php (Germany)
http://www.wave-gotik-treffen.de/english/karten.php (foreign countries)
Official WGT program book "Pfingstbote"

The book will be available for a price of 15 EUR both at the box offices and the central WGT merchandise stall at the Agra market hall.
Additional festival information
Further information will follow soon and are always available at http://www.wave-gotik-treffen.de/english/
WGT on Facebook: https://www.facebook.com/WaveGotikTreffen/
Event on Facebook: https://www.facebook.com/events/483028515397351/
Location
Leipzig, eastern Germany (at about 40 venues, spread all over the city); camping site and main venue at the edge of town at the "Agra-Messepark" Markkleeberg; for information on the city you may check http://en.wikipedia.org/wiki/Leipzig or the official city website http://www.leipzig.de/int/en; overview of where events will take place: http://www.wave-gotik-treffen.de/english/info/orte.php.
Music styles

All kinds of dark music: Gothic; EBM; Industrial; Ambient; Neofolk; Synth-pop, Goth-Metal etc.
Expected number of visitors

About 20,000
Info line

0049-341-2120862 / Email:
This email address is being protected from spambots. You need JavaScript enabled to view it.
WGT-app

The useful and free app WGT-Guide can be downloaded in the app stores of Google Play, iTunes or Amazon.
"Low emission zone" in Leipzig

Since March 2011 about 60 percent of the urban area of Leipzig has been declared a "low emission zone" to protect the environment from air pollution. Therefore, within this zone only vehicles which have an official green sticker placed on the front windscreen are allowed. To obtain such a sticker, the vehicle must meet certain standards (i.e. age, type of fuel, diesel particulate filter etc.). This regulation is also valid for foreigners who travel to Leipzig by car. If you cannot show a valid sticker during a traffic check, you will have to pay a fine of 80 euros. The stickers are available for about 5 euros at most car repair shops in Germany or via internet, e.g. the website of TÜV-Nord (6 euros): https://www.tuev-nord.de/en/private/traffic/car-motorcycle-caravan/emissions-sticker/order/. ATTENTION: The agra-area with parking lot and camping site can be reached via A38 / B2 without having to enter the "low emission zone"! That means it is possible for visitors to park their vehicle at the agra-parking lot (you will need a WGT parking ticket in this case, which can also be obtained on location) and reach all other locations by public transport. Please use the following links to find more information: https://www.tuev-nord.de/de/privatkunden/verkehr/auto-motorrad-caravan/umweltplakette / http://www.leipzig.de/umwelt-und-verkehr/luft-und-laerm/umweltzone / www.lowemissionzones.eu