Details

Parent Category: News
Published on Tuesday, 05 March 2013 07:53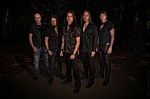 Legendary Seattle rockers QUEENSRŸCHE are poised to regain their place as hard rock/heavy metal royalty in 2013. The band has just signed a new label deal with Century Media for the release of their latest studio album. The album is slated for release on June 10th, 2013 in Europe (June 11th in North America) and marks the debut album from the lineup comprised of Todd La Torre (Vocals), Michael Wilton (Guitars), Parker Lundgren (Guitars), Eddie Jackson (Bass) and Scott Rockenfield (Drums). The band premiered a snippet from a new song called "Redemption" from the upcoming release which can be viewed at http://youtu.be/P8iaNZBUK9c. QUEENSRŸCHE join Century Media's diverse roster comprised some of music's most recognizable talent including In Flames, In This Moment, Lacuna Coil and Arch Enemy to name a few.


"QUEENSRŸCHE is excited to begin writing this next chapter of our career with Century Media. Their passion and love for music has been apparent since early discussions and we are pleased to call them partners on this journey," states bassist Eddie Jackson. "We are also thankful for all of the fans who have supported us from day one and helped us get to where we are today. Todd, Scott, Parker, Michael and I wouldn't be here if it wasn't for each and every one of you."

QUEENSRŸCHE will also be heading out on their RETURN TO HISTORY World Tour this March and April. The tour kicks off on March 5th in Dubuque, IA and makes stops in 9 different countries wrapping up on April 26th in the Netherlands. The band will also be taking to the high seas on this year's Monsters Of Rock Cruise and Sweden Rock Cruise. The 23 date trek will make stops in New York, Tennessee and Florida as well as in Canada, United Kingdom and Germany amongst others. Tickets for all shows are currently on sale.

QUEENSRŸCHE first burst onto the music scene in 1982 with the release of their self-titled 4 song EP "Queensrÿche". They very quickly gained international recognition and performed to sold out audiences around the world. With the follow up first full-length album "The Warning" in 1984, and the ground breaking 1986 release of "Rage For Order", QUEENSRŸCHE continued to prove their worldwide dominance as one of the most respected and creative bands of the 80's. In 1988 the band turned out yet another monumental album "Operation: Mindcrime", which would go on to become one of the TOP 10 best-selling concepts records of all time, and set the stage for continued sold out performances around the world. With the release of the critically acclaimed and commercially successful "Empire" in 1991, the band earned multiple Grammy Award nominations and won the MTV "viewers choice" award for the #1 chart topping hit "Silent Lucidity". During the next ten years, the band continued to release albums and tour the world to sold-out audiences. QUEENSRŸCHE has sold over 30 million albums worldwide and have continued to break new ground and push their creative process.

RETURN TO HISTORY WORLD TOUR 2013
Mar 5 Dubuque, IA Diamond Jo Casino
Mar 7 Toronto, ON Phoenix Concert Theatre
Mar 8 Englewood, NJ Bergen Performing Arts Center
Mar 9 Jim Thorpe, PA Penn's Peak
Mar 10 Patchogue, NY The Emporium
Mar 12 Nashville, TN Wildhorse Saloon
Mar 14 Biloxi, MS Hard Rock Hotel & Casino
Mar 15 Tampa, FL Ritz Ybor
Mar 16 Fort Lauderdale, FL Monsters Of Rock Cruise
Mar 22 Orlando, FL House Of Blues
Mar 23 Raleigh, NC Longbranch
Mar 30 Uncasville, CT Mohegan Sun Casino
Apr 6 Regina, SK Casino Regina Show Lounge
Apr 11 Stockholm, SWE Sweden Rock Cruise
Apr 13 Oulu, FIN Club Teatria
Apr 14 Mons, BEL Power Prog & Metal Festival @ Lotto Mons Expo
Apr 15 London, UK O2 Academy
Apr 17 Nottingham, UK Rock City
Apr 18 Manchester, UK The Ritz
Apr 19 Dublin, IRE The Academy Dublin
Apr 20 Duisburg, GER Gluckaufhalle
Apr 21 Ludwigsburg, GER Rockfabrik
Apr 23 Aaburg, SWI Moonwalker
Apr 24 Munchen, GER Theaterfabrik
Apr 26 Eindhoven, NET Effennar

Other Confirmed 2013 Tour Dates
Jul 18 Oshkosh, WI Rock USA Festival
Jul 19 Springville, IN ABATE of Indiana "Boogie"
Jul 20 Erie, PA Roar on the Shore Biker Rally
Aug 2 Sturgis, SD The Sturgis Buffalo Chip


Source: Century Media



Event Calendar
Search Event Tickets