Details

Parent Category: News
Published on Friday, 21 December 2012 20:00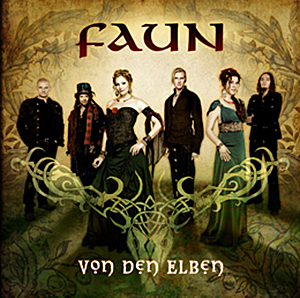 The last few years, FAUN did nearly everything themselves. They were musicians, producers, had their own label, own publishing company, and much more. A lot of things they did right, some things they didn't get it right, but for sure it was a lot of work, sometimes too much work. Therefore the band anounces that they are very happy, that they have found two companies recently, that will help FAUN with a lot of things from now on: VALICON is a label and team of producers from Berlin, that did amazing productions in the last years and did produce for example: Silbermond, Silly, Lena, and many more. Besides, UNIVERSAL MUSIC will be their new label and distributor. FAUN says: "We are very happy to have a lot less administrative duties from now on and to have more time for the thing, that we want to do and can do the best: MUSIC"


NEW CD "VON DEN ELBEN" - Release 25th Jan. 2013
With the above big help and support the band has been very creative the last few weeks. "VON DEN ELBEN" contains songs about elves, sirenes, minstrels and other-worldly places and will lead the listener deep into the rich and colourful world of german faerie-tales and poetry. In 2012 FAUN performed with a most amazing singer SONJA DRAKULICH from USA / California. Right now Sonja is back in the West Coast, recording a CD with her band STELLAMARA. At the same time, FAUN have had all this amazing material of german songs laying around which their new producers were enthusiastic to produce "VON DEN ELBEN" from. Therefore the band did work for this CD together with the german singer Katja Moslehner. Also Katja will do most of the festival shows 2013 together with FAUN. You can have a first glimpse of her beautiful voice at this clip of her former band "Lai Quendi": www.youtube.com/watch?v=2ayFPG4vwOU

FAUN ACOUSTIC TOUR - "THE MEDIEVAL SPRING"
But no worries, the fans of Sonja Drakulich can see her performing with FAUN in February 2013 at the West Coast USA and at the FAUN ACOUSTIC TOUR in March and April 2013 in Europe. Also Sonja will be joining FAUN on a few festival dates, and as the vocalist on the new version of their "ANDRO" on the upcoming CD. The upcoming FAUN ACOUSTIC TOUR will be called "The Medieval Spring" and will focus on romantic ballads. With many medieval instruments, like bagpipes, the celtic harp, hurdy-gurdy, different types of lutes and enchanting multi-layered male and female vocals this concert program will tell stories about lovers, minstrels and (from nowadays point of view) sometimes obscure traditions of courting in the medieval times. Swedish and Celtic instrumentals will fuse with the sounds of old instruments and FAUN's very own style to give the old tunes a driving power. Tickets are now available via: www.extratix.de

TOURDATES
Thu. 14.3. München - Freiheiz
Fri. 15.3. Langen - Neue Stadthalle
Sat. 16.3. Heidelberg - Providienzkirche
Sun. 17.3. Würzburg - St. Stephan
Wed. 20.3. CH-Zürich - Xtra
Thu. 21.3. Freiburg - Jazzhaus
Fri. 22.3. Kaiserslautern - Kammgarn
Sat. 23.3. Bochum - Christuskirche
Sun. 24.3. NL-Amsterdam - Melkweg
Fri. 12.4. Regensburg - Antoniushaus
Sat. 13.4. Köln - Kulturkirche
Sun. 14.4. Nürnberg - Der Hirsch
Thu. 18.4. Leipzig - Werk 2
Fri. 19.4. Berlin - Passionskirche
Sat. 20.4. Hameln - Sumpfblume
Sun. 21.4. Hamburg - Grünspan

Source: Newsletter



Event Calendar
Search Event Tickets