Details

Parent Category: News
Published on Monday, 25 February 2013 09:17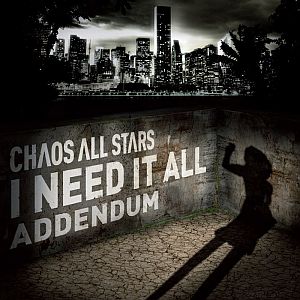 In 2012 Chaos All Stars released the CD "I Need It All", a CD that got lots of praise from the critics. Some even claimed it to be one of the best releases in the genre of 2012. Still, some also noticed that the CD was somewhat a bit short to be an album of modern days. Chaos All Stars now, one year on the day since "I Need It All" was released, give you the addition: "I Need It All – Addendum". It is not to be considered a new album or a sequel, rather another chapter. "I Need It All – Addendum" is released digitally only for the masses. It will also printed in a physical limited edition and sold only at live-concerts.


"I Need It All – Addendum" contains 6 tracks. First out is the new song "Who Are You" followed by the song that many wondered why it wasn't on the first "I Need It All": "Autumn Nights" (also the debut-video for Kari Berg as vocalist in the band). "Forsaken" is the third song on the release, an uptempo duet, followed by the popular track "Defenses", here in the long version from the video released. The two last tracks are remixes of the dancefloor smasher "We Are The Sinners", this time from electro act Naggaroth Nightmares and a dubstep version by Sande.

Chaos All Stars have a history of releases not really following the norm and here is yet another. – We release things the way we feel fit at the time, not the way the industry expects us too, says OlkK, producer and founder of Chaos All Stars. –We didn't have room for all this on the first CD simply due to the limitations of the CD format and therefore we divided the releases. We also felt that the second chapter of "I Need It All" deserved to reach a wider audience, so we decided to do this one digital, enjoy.


More about the tracks from "I Need It All - Addendum"

Who Are You
A culture sometimes attracts people who believe they might find answers or a haven, shelter from the outer world. Sometimes these people also carry a hidden agenda of trouble or simply do not fit in, looking for a romanticised version of reality that, simply, isn't there to be found. The turnout of these things are usually that conflict rises, that people are being used or abused and that the newcomers bring an agenda of death, destruction and filth along. The subculture scene are usually also an inspiration to the mainstream world, an ever ongoing relationship of give and take, where there are always those claiming to having the answers.. "Who Are You" question the scenario and outcome of these phenomena. Chaos All Stars ask the question.

Autumn Nights
Kari Berg performs "Autumn Nights", a personal and intimate song where something is threatening, like walking in an alley hearing chains being dragged behind you. The music combines the orchestral arrangements with industrial samples and electro-atmosphere, a blend that is usually found in the soundscapes of Chaos All Stars.

Forsaken
If being let down, if being somewhat neglecting someone you care of, the song "Forsaken" takes on the feelings you encounter. Musically it takes on where tracks like "I Need It All" left off but reflects of the two sides in a conflict, portrayed by vocalists Nik and Kari Berg who blend and crashes together in this track.

Defenses (Video version)
The praised dark ballad from "I Need It All" in a longer version, done for the video for the song. "There is a thin line between madness and genius, between sane and insane, in our society of today… " Chaos All Stars here address the feeling of all those people who where and are treated wrongly in a system that only deals in black and white… Musically a powerful duet with low and vicious dark vocals contrasting with high pitched opera melodies and soft whispers…


INFO

LABEL: CAS/Epos Music, Sweden
RELEASE DATE: February 24, 2013
VIDEOS: Defenses (released december 22 2012), Autumn NIghts (2011)
DIGITAL DISTRIBUTION: Spotify, I-tunes, Bandcamp
MUSIC STYLE: Electro/EBM/Industrial/Crossover…? You name it.
MORE INFO: www.chaosallstars.com


Source: Press Release



Event Calendar
Search Event Tickets