Details

Published on Monday, 11 February 2013 19:58
Written by Daniela Vorndran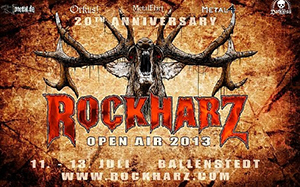 DRAGONFORCE - It's the first time: The band were an hour only lasts fourty minutes! The band were the guitarist is done ten minutes earlier! The band who has shown a new standard on Guitar Hero! Experience the fastest confirmation in the ROCKHARZ history: Here is DRAGONFORCE!


AUDREY HORNE - Who connects Norway only with Viking- and Black Metal is only right in a partly right: Indeed all members of AUDREY HORNE are originated in this genres but with their curent band they are on the dignified way of Classic- or Hard Rock. You can get a taste of their musical developement on the current album "Youngblood" which is availabe since February 1st.

We welcome this interesting combination for the first time at ROCKHARZ OPEN AIR! For more information about the Rockharz 2013 please visit www.rockharz-festival.com. This festival service is provided by http://www.metal-promotions.de.

Source: Newsletter


Event Calendar
Search Event Tickets