Details

Published on Friday, 01 March 2013 08:44
Written by Daniela Vorndran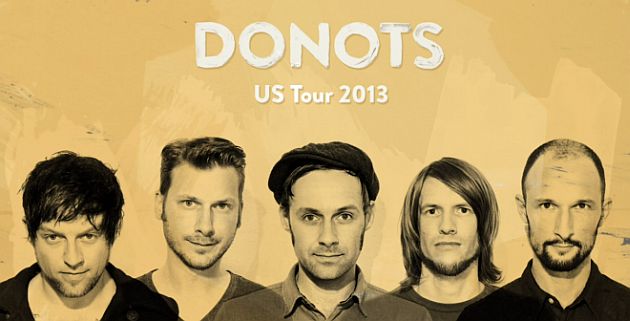 Newly updated with more east coast dates, the Donots have released their newest tour trailer. Now added to their east coast tour are dates in NYC and Long Island! Have a look at the new dates below. You can check out the trailer below and catch the band on tour in March! Along with the tour, the band's new limited edition US tour screen prints now available for purchase. The posters are beautiful, four color screen prints. Only 500 were printed in this collectible and limited edition. Printed in Minneapolis, MN by Burlesque Designs, the posters measure 13″ by 20″ and are printed on 100 lb cover weight cougar white paper. They are available while supplies last at all Donots shows during their 2013 US tour and also on our website.


Here are all dates:
March 2nd Hollywood — Whisky a Go Go (with Monte Pittman and more) ***NEW SHOW***
March 7th San Diego, CA — House of Blues (with Flogging Molly)
March 8th Pomona, CA — Fox Theatre (with Flogging Molly)
March 9th San Francisco, CA — Fox Theatre (with Flogging Molly, Mariachi El Bronx)
March 11th Portland, OR — Roseland Theatre (with Flogging Molly, Mariachi El Bronx)
March 12th Seattle, WA — Paramount (with Flogging Molly, Mariachi El Bronx)
March 14th Boise, ID — Revolution (with Flogging Molly, Mariachi El Bronx)
March 15th Salt Lake City, UT — Saltair (with Flogging Molly, Mariachi El Bronx)
March 17th Tempe, AZ — Tempe Beach Park (with Flogging Molly, Anti-Flag, Pepper and more)
March 18th Hollywood — Troubadour (with Anti-Flag, Dead To Me, Chotto Ghetto)
March 19th Hollywood- Troubadour (with Anti-Flag, Dead To Me, Destruction Made Simple)
March 22nd Long Island, New York — Sinclair (with Special Guests TBA) ***NEW SHOW***
March 23rd New Jersey — The Saint (with Special Guests TBA) ***NEW SHOW***
March 24th Brooklyn, New York — Saint Vitus Bar (with Special Guests TBA) ***NEW SHOW***
March 25th New York — Webster Hall (with Special Guests TBA) ***NEW SHOW***


Tour Trailer




Source: Press Release



Event Calendar
Search Event Tickets