Written by Daniela Vorndran Monday, 06 March 2006 16:54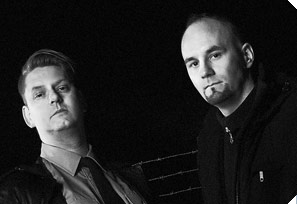 They are presenting old school EBM at it´s best just like their great idols Nitzer Ebb.
Biography

(As published on
http://www.subspace.se/
)
The hard hitting EBM duo Spetsnaz was formed in Örebro, Sweden in the autumn of 2001 by Stefan Nilsson and Pontus Stålberg. With the powerful vocals, frenetic pounding bass lines and relentless rhythmic assault, Spetsnaz has the aggression and the melody to be the missing link between the heavy scene and the pop scene. Being fans of the electro genre for many years, both Stefan and Pontus felt there was an emptiness in the EBM scene when the classic bands were replaced with newcomers performing a more technofied EBM called futurepop. The old school style was underrepresented and the new school didn't exactly excite the boys. Having performed, both together and separately, in different projects like Octoberland, Volvo 242, Destin Fragile, Lazer Stefanz, Wärk, and PAF, Stefan and Pontus decided to form Spetsnaz and give it 100%.
Inspired by pioneering artists like Nitzer Ebb, Front 242, Die Krupps, and DAF, the duo started to work in studio Downstairs and after a few months, the first four track demo was presented to Swedish labels and promoters. At the same time Spetsnaz launched its official website and interest in the band started to grow. Spetsnaz performed live in some of the major cities of Germany and Sweden respectively, including Gothenburg and the Scandinavian Alternative Music Awards (SAMA). The live show of Spetsnaz's has been reported to be as intense and energetic as the music, with Pontus moving all over the stage, screaming on top of his lungs, and Stefan fiercely beating his drum pads.
The duo's debut album "Grand design" - completed with assistant producer Jouni Ollila (ex Pouppée Fabrikk) and mastering guru Andreas Tilliander - will be released by SubSpace Communications on 28th April and holds 12 tracks of nothing but classic, old school EBM.
Line-up
Stefan Nilsson – vocals
Pontus Stålberg – drums, programming
Photos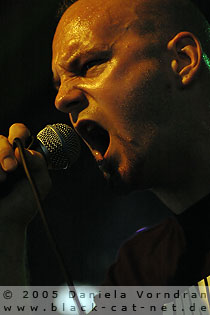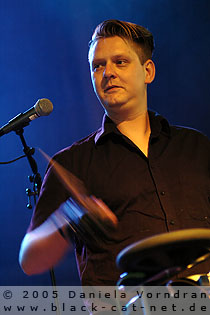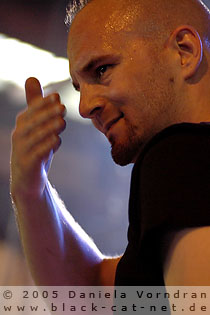 Please remember that the pics are protected by copyright!
Discography


2005 Totalitär CD
2005 Degenerate Ones CDM
2004 Perfect body CDM
2004 Grand design (Re-designed) CD
2003 Grand design CD
Tourdates

Tour dates can be found through this link:
http://www.spetsnaz.se/
Section: Live
Website

http://www.spetsnaz.se
Contact address
General info

-
Band members
Stefan Nilsson: -
Pontus Stålberg: -
(tour)management

Website:
Email:
Record company

Out of Line
Nikolaistraße 16,
04109 Leipzig,
Germany
Fon: +49 341 21 20 20
Website:
http://www.outofline.de/
Email: This e-mail address is being protected from spambots. You need JavaScript enabled to view it
Sweden:
SubSpace Communications AB
Box 4587
SE-203 20 Malmö
Sweden
Website:
http://www.subspace.se/
Email: This e-mail address is being protected from spambots. You need JavaScript enabled to view it