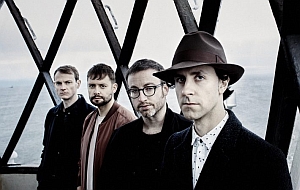 Alternative pop experts Maxïmo Park today announce the forthcoming release of their sixth studio album, 'Risk To Exist', available on Daylighting/Cooking Vinyl from April 21st. 'Risk To Exist' sees Maxïmo Park on blistering form, bringing together their trademark hook-laden melodies and sense of urgency with off-kilter rock, soulful grooves and pop sensibilities. Informed by the dire state of world affairs in 2016 and crumbling political systems, their latest body of work is a vital record for our times.
Frontman Paul Smith says:
'The album is, ultimately, about empathy. Some songs are simple messages of solidarity and others are fuelled by anger at the elitist, established order of British society. There's a questioning of power throughout and a feeling that there must be a different way of structuring our society in order to alleviate inequality. Musically, the songs reflect more soulful and groove-based influences, allowing more space in the arrangements than ever before. The central idea is to align great pop melodies with songs that reflect the state of the nation."
With 1,500,000 albums and four UK Top 10 albums under their belt to date, Maxïmo Park have once again shifted seamlessly into a higher gear. They have expertly crafted an infectious pop album for our time, confronting the crucial issues track by track, one monstrous hook at a time.
Tracklisting
01. What Did We Do To You To Deserve This?
02. Get High (No, I Don't)
03. What Equals Love?
04. Risk to Exist
05. I'll Be Around
06. Work And Then Wait
07. The Hero
08. The Reason I Am Here
09. Make What You Can
10. Respond To The Feeling
11. Alchemy
Listen to the firs single 'Risk To Exist'
HERE
!
Source: Press Release