Details

Published on Wednesday, 23 January 2013 19:02
Written by Daniela Vorndran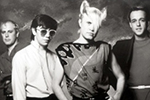 Luxor, Cologne, Germany
26th March 2013
A Flock of Seagulls

A FLOCK OF SEAGULLS is an English New Wave band originally formed 1979 in Liverpool by brothers Michael "Mike" Score and Alister "Ali" James Score under the name TONTRIX. They were very active until 1986 and then split up. Mike Score formed a new band under the name A FLOCK OF SEAGULLS in 1989 again, just to release one more album in 1995, 'The Light at the End of the World'. The band was touring with various line-ups in the following years.


A FLOCK OF SEAGULLS had several international hits like 'I Ran (So Far Away)', 'Space Age Love Song', 'Wishing (If I Had a Photograph of You)' and 'The More You Live, the More You Love'. Even though there was no new album for a long time, the band is back now on stage, currently consisting of Michael "Mike" Score (vocals, keyboard, guitar), Joe Rodríguez (guitar), Pando bass) and Patrick Dommer (drums). Wanna go back to the 80s? To your youth? Don't miss this show then!

Additional concert info
Doors: 7:00 pm
Start: 8:00 pm
Ticket fee: 25 EUR plus Charges
Tickets: Eventim
Information: http://www.concertteam.de/



Event Calendar
Search Event Tickets