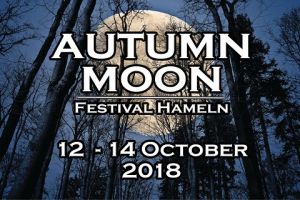 Autumn Moon is pleased to announce you their second headliner and three more beads. FIELDS OF THE NEPHILIM will headlining Autumn Moon and play one of their rare shows in Hameln! Furthermore, the festival is expanding the line up with VROUDENSPIL, a Medieval Rock Folk Pirate Party band! THE ESSENCE will take you to the 80s at the heyday of the Dark Wave. And finally KOJ will enchant you with melancholic indie pearls and dark Electro Pop experiments as one of the newcomers to discover, guaranteed to be one of the secrets of the festival.
The unique Autumn Moon Festival in Hameln enters the fourth round and started with a brilliant Early Bird pre-sale. The early bird tickets are all sold out by now and the regular pre-sale is running. Tickets can be bought for 75 euros via
http://bit.ly/2zg9AaZ.
Source: Press Release