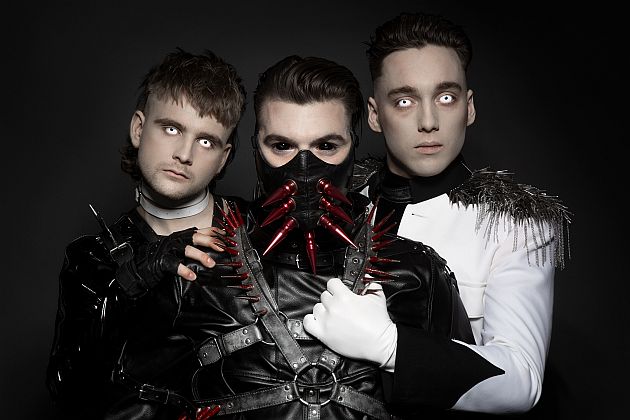 It's not so easy to leave an impression at the Eurovision Song Contest. Such a mixed crowd of queer, bright, singing, screaming, dancing, and languishing people is hard to find somewhere else in European TV. The Icelandic trio HATARI competed in Israel and stood out from all the pop songs with their apocalyptic and capitalism-critical single 'Hatrið mun sigra' that ranges between Industrial Pop and Gothic.
HATARI were dressed in fancy "Mad Max goes to a SM party" outfits and filled the stage with crazy moves. Their further musical output proves that HATARI are not a typical ESC one hit wonder. Their single 'Spillingardans' for example may be liked by Trent Reznor, and their latest release 'Klefie / Samed' is a cooperation with the Palestinian musician Bashar Murad. After a club show in Germany in August, there will be further shows in spring 2020.
German Tour Dates

02 Feb 2020 – Hamburg, Gruenspan
03 Feb 2020 – Berlin, Astra Kulturhaus
24 Mar 2020 – Cologne, Die Kantine
Today, we are giving away 1x2 tickets for each of the above mentioned concerts of the tour. If you wanna take part in the raffle, please send an email with YOUR FULL NAME and the CITY you want to go to until 31st December 2019 with the headline "Hatari" to
This email address is being protected from spambots. You need JavaScript enabled to view it..
Good luck!