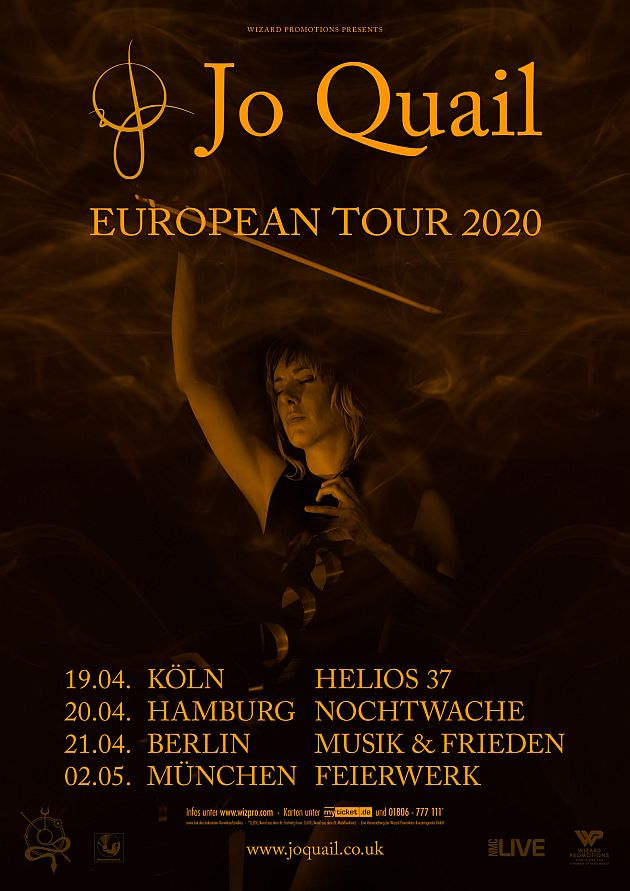 Cello virtuoso JO QUAIL in Germany for four concerts in Cologne, Hamburg, Berlin, and Munich! Critics celebrate the Englishwoman for her innovative play. Current album 'Exsolve' (Adder Stone Records) available in stores. JO QUAIL is an internationally recognized composer and masterly cellist from London. No matter if solo on stage, with bands, or in cooperation with choir and orchestra - she combines the virtuoso play of her instruments with innovative loop techniques. Come to the below mentioned cities to experience the spectacular musician live on stage!
Inspired by both visual art and other composers, JO QUAIL praises sculptor Barbara Hepworth and painter Georgia O'Keeffe as main influences. She then names musicians like DEBUSSY, ARVO PÄRT, TOOL, and TRENT REZNOR. With every concert, she freely crosses genre borders, awakes emotions of the listeners, and takes the audience to new grounds. Her opulent, festive performance style created a fan base consisting of lovers of contemporary classic music and lovers of Post Rock, Metal, and Electronica.
Since her appearance as solo artist in 2010, JO QUAIL released four albums, three EPs, and one live DVD. Her fourth album 'Exsolve' (Adder Stone Records) was produced by Chris Fielding and was released in November 2018 together with a double vinyl edition. Even for an artist who understands to harmonize experiments and elegance, 'Exsolve' is a progress and a breakthrough for Jo on so many levels. The critical acclaim was unanimously: "A work of complexity, beauty, and tension" (The 405); "For the first time, the long-time influence of classic music has a mutual effect on Metal" (Metal Hammer); "Breathtakingly impressive" (Echoes and Dust).
The recognition of Jo's work is also present live on stage. She performed several festivals all over Europe, two concerts at the Queen Elizabeth Hall at the invitation of Robert Smith for his Meltdown Festival, and several tours as opener for MONO, AMENRA, BORIS, MYRKUR, BATTLES, CASPIAN, JOEP BEVING, and others.
On stage and in studio, JO QUAIL cooperated with artists like FM Einheit (EINSTÜRZENDE NEUBAUTEN), Eraldo Bernochhi, and Poppy Ackroyd. She is a creative character with wide-range skills. Already as a young person, she started to study music, and later she led master classes and interactive workshops about composing, performance, looping, effects, and sound shaping. She wrote several plays that are intended specifically for a diverse combination of instruments. Those plays she performed together with a series of ensembles nationally and abroad. In April / May 2020, the creative cellist will present her impressive composing and instrument skills on German stages. More information here: www.joquail.bandcamp.com
Concert dates

April 19, 2020 - Cologne / Helios37
April 20, 2020 - Hamburg / Nochtwache
April 21, 2020 - Berlin / Musik & Frieden
May 2, 2020 - Munich / Feierwerk (Orangehouse)
General ticket presale started on Thursday, Dec 12, 2019 at 10:00 a.m. via www.myticket.de, by phone at +49 (0) 1806 - 777 111 (20 cents/call, mobile max. 60 cents/call) and at all known ticket shops.
Further information about tour and artist: https://wizpro.com/jo-quail / http://www.joquail.co.uk / https://open.spotify.com/artist/6GvPPPN2Ph0WrBndU8dNWh
For EACH show, we are giving away 1x2 tickets. If you wanna take part in the raffle, please send an email with YOUR FULL NAME and the CITY you want to go to until 22nd March 2020 with the headline "Jo Quail" to
This email address is being protected from spambots. You need JavaScript enabled to view it..
Good luck!