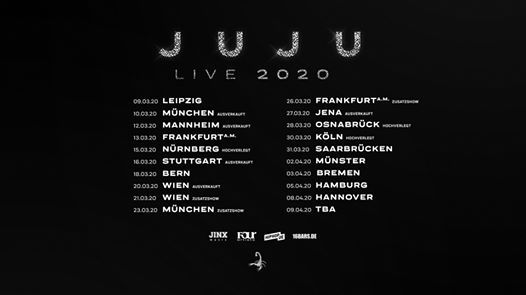 Eventarena, Saarbrücken, Germany
8th March 2021
Juju - Live 2020

Attention: due to the Corona crises, this concert is rescheduled from April 2020 to March 2021!
2019 could not have gone better for JUJU: No. 1 in the single charts and her latest "Bling Bling Tour" 2019 was largely sold out six months before the start, after high demand in all cities. Due to this high demand, the Berlin-girl has now announced an extended tour for spring of 2020 as well as further rescheduling dates in Dresden and Vienna.
Un-adapted, opinionated and original – that's how the rapper's tracks sound. Her previous single releases already offer a promising foretaste of her debut album 'Bling Bling'. Whether antisocial and aggressive as in the release 'Live Bitch' or melancholic and deep as in 'Vermissen' feat. Henning May - JUJU continues to focus on rap and knows how to convince. She is currently one of the best rappers and lives up to this status live. Before her first solo tour started in November, JUJU performed at several festivals last summer. Among them were the Frauenfeld Open Air, Splash! Festival and the FritzFestival: Irgendwas mit Rap, in Berlin. From March 2020, JUJU will be on extensive tour through 17 cities and plays solo headline shows in Austria and Switzerland for the first time.
Additional Concert Info

Doors: 18:00
Start: 19:00
Tickets: SOLD OUT!
Info: https://www.facebook.com/events/382983418969302/