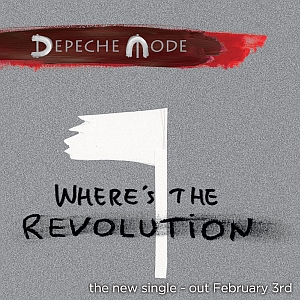 The official Facebook page reports today: Depeche Mode to release single 'Where's The Revolution' on February 3rd. New studio album 'Spirit' available globally on March 17th on Columbia Records.
Depeche Mode will release their much anticipated new single 'Where's The Revolution' on Friday, February 3rd. The track, which Depeche Mode teased during their highly viewed press conference in Milan this past fall, is the first new music from theband in four years and the first offering from their impending 14th studio album, 'Spirit', which will be released globally on March 17th on Columbia Records.
'Spirit' marks the band's first collaboration with producer James Ford of Simian Mobile Disco (Foals, Florence & The Machine, Arctic Monkeys) and serves as the follow up to the band's blockbuster 2013 album 'Delta Machine' which debuted at #1 in 12 countries. The album has already garnered critical acclaim in early previews, with Q Magazine calling Spirit "the most energized Depeche Mode album in years". Listen to 'Where's the Revolution' here:

'Spirit' Tracklist:
01. Going Backwards
02. Where's the Revolution
03. The Worst Crime
04. Scum
05. You Move
06. Cover Me
07. Eternal
08. Poison Heart
09. So Much Love
10. Poorman
11. No More (This is the Last Time)
12. Fail
Deluxe-Version:
13. Cover Me (Alt Out)
14. Scum (Frenetic Mix)
15. Poison Heart (Tripped Mix)
16. Fail (Cinematic Cut)
17. So Much Love (Machine Mix)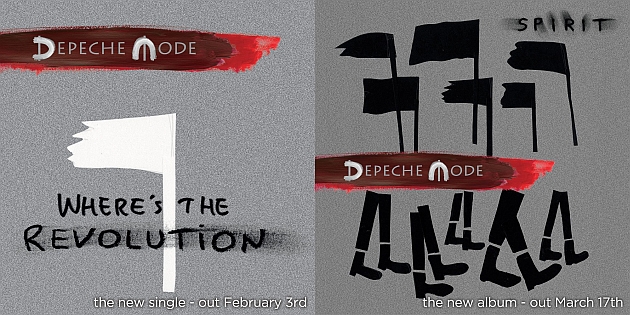 Cover art: Anton Corbijn
Depeche Mode will support the release of the LP with an extensive world tour, giving both new and lifelong fans alike a chance to experience the band's stunning live shows. The first leg of the Global Spirit Tour, on sale now, will see the band play to over 1.5 million fans at 34 shows in 21 countries throughout Europe. The tour kicks off May 5th in Stockholm, Sweden and will stop at stadiums across Europe before continuing beyond summer with shows in North and South America. For the full summer tour schedule and to sign up to receive announcements about upcoming tour dates, please visit
www.depechemode.com.
German Tour Dates
27.05.2017 Leipzig - Festwiese
05.06.2017 Köln - RheinEnergieStadion
07.06.2017 Dresden - Ostara Gehege
09.06.2017 München - Olympiastadion
11.06.2017 Hannover - HDI-Arena
12.06.2017 Hannover - HDI-Arena (additional Show)
20.06.2017 Frankfurt - Commerzbank-Arena
22.06.2017 Berlin - Olympiastadion
04.07.2017 Gelsenkirchen - Veltins-Arena
Source: Press Release