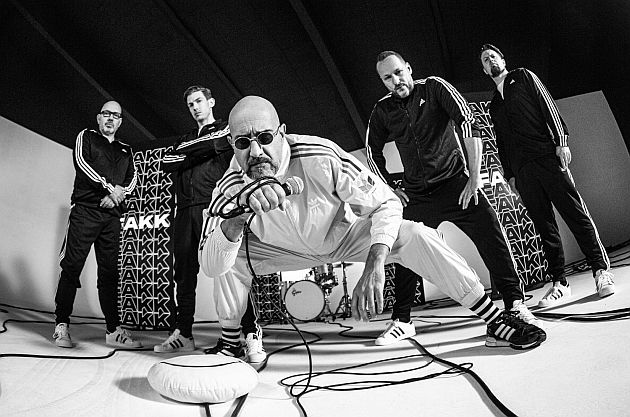 It's getting cold again. On March 12th, EISBRECHER's eighth studio album, 'Liebe Macht Monster', will be released. With the title 'FAKK', the first single and the accompanying video will be released today.
Three and a half years after the number one album 'Sturmfahrt' (2017), singer Alex Wesselsky and guitarist, producer / programmer Noel Pix have readjusted all the adjusting screws of the unmistakable EISBRECHER sound and put every little detail to the test in order to create a monster with love to present gripping and versatile new work. Wesselsky: "For us it has always been the case: only what knocks you down can blow away others! And so, it just started... Bamm! The first steps: cigarette on, brain on, heart on, computer on, phone on, door open, cigarette on, cigarette off, microphone on... next song!"
The first single from 'Liebe Macht Monster' is provocatively called 'FAKK' and is released on January 15, 2021, including an unmistakable video. "Check dein Limit, Alter, komm mir nicht mit Scheiß, dein Credit, deine Skills, dein Ding, dein Hype" ("Check your limit, don't give me shit, your credit, your skills, your thing, your hype"), Alex Wesselsky begins his rabid frontal attack in 'FAKK' against all weirdos, agitators and pseudo-political sectarians, from whatever milieu they may come from. In the chorus he explains bluntly what he thinks of these "non-understanders". At the same time, EISBRECHER are firing musically from full pipes and give more than just an idea of what 'FAKK' and also about 'Liebe Macht Monster' in general are all about. Wesselsky: "A typical EISBRECHER bloodline between Rock / Metal and Electro-Industrial-Pop." Unique in the German rock circus!
Tour Dates

18.03.21 Innsbruck (A) | Music Hall
19.03.21 Zurich (CH) | Xtra Limmathaus
20.03.21 Antwerp (B) | Trix
21.03.21 Eindhoven (NL) | De Effenaar
23.03.21 London (UK) | O2 Academy Islington
25.03.21 Paris (F) | La Machine du Moulin Rouge
26.03.21 Strasbourg (F) | La Laiterie
27.03.21 Lyon (F) | CCO Villeurbanne
28.03.21 Barcelona (ES) | Razzmatazz2
30.04.21 Losheim am See (D) | Hexentanz (Headliner)
04.06.21 Wolfhagen (bei Kassel) (D) | Kulturzelt (Headliner)
17.07.21 Niedergörsdorf (D) | 30. Motorcycle Jamboree (Headliner)
18.07.21 Augsburg (D) | Sommer am Kiez (Headliner)
25.07.21 Cologne (D) | Amphi Festival (Headliner)
19.08.21 Dinkelsbühl (D) | SummerBreeze (Headliner)
21.08.21 Busdorf (D) | Baltic Open Air (Headliner)
18.09.21 Neu-Ulm (D) | Volle Kraft Voraus Festival (Headliner)
05.11.21 Bochum (D) | RuhrCongress
06.11.21 Dresden (D) | Alter Schlachthof
07.11.21 Berlin (D) | Columbiahalle
11.11.21 Fürth (D) | Stadthalle
12.11.21 Hanover (D) | Swiss Life Hall
13.11.21 Munich (D) | Zenith
19.11.21 Vienna (A) | Gasometer
20.11.21 Leipzig (D) | Haus Auensee
26.11.21 Hamburg (D) | edel-optics.de Arena
27.11.21 Ludwigsburg (D) | MHP Arena
28.11.21 Wiesbaden (D) | Schlachthof
Source: Press Release