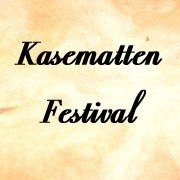 Sandstone Cave Langenstein, Halberstadt, Germany
13th & 14th April 2018
Kasematten Festival 2018 with Blind Passenger, Das Ich, Der Blaue Reiter, Die Krupps, Empathy Test, In The Nursery, Klimt1918, Lebanon Hanover, Leæther Strip, Me The Tiger, Neuroticfish, Selofan, Spetsnaz
Due to security reasonst in the cave, the festival is postponed to 2019! More info soon!
Taking place in a cave makes the Kasematten Festival without any doubt a truly special event within the dark scene. In 2015, the festival took place for the very first time at the sandstone cave Langenstein in Halberstadt and about 1,000 folks had a great black celebration together. This year, the line-up once again calls for a successful festival with headliners DAS ICH and DIE KRUPPS.
Don't miss this unique "underground" fest in Halberstadt! On the festival's website you can find all info you need, such as how to get there and which bands will be playing when, and get your day or combi-tickets.
Running Order

Friday
17:00 Doors
Blind Passengers
Me The Tiger
Empathy Test
Leaether Strip
In The Nusery
Das Ich
Aftershowparty


Saturday
15:00 Doors
Klimt 1918
Selofan
Spetsnaz
Der Blaue Reiter
Lebanon Hanover
Neuroticfish
Die Krupps
Aftershowparty
Additional Festival Information

Tickets: Day tickets are available for 44.00€, weekend-tickets for 59.00€ and parking ticket for 10.00€ at http://www.ht-events.de/festivals/kasematten-festival.htmland via
EVENTIM
Info: http://www.kasematten-festival.de / https://www.facebook.com/events/146375252768809/