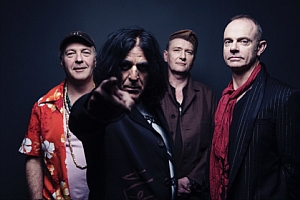 25 shows including'THE GREAT GATHERING' - a special London event on November 4th
Following an appearance at the Rockaway Beach Festival (UK) on October 8th, Killing Joke will embark on an extensive headline European tour over the autumn / winter period; a 25-date run of shows starting in Ireland on October 30th and concluding in Belgium on December 5th, taking in 16 different territories along the way.During the tour – on Friday, November 4th – the band will head the cast of a special London show at the O2 Academy in Brixton; this anticipated event will take place under 'The Great Gathering' banner, with carefully selected support acts to be announced in due course…
Tickets for 'The Great Gathering' are on sale now via:
http://bit.ly/KJbrixton
.
Tickets for Rockaway Beach @ Butlin's, Bognor Regis are on sale now via:
http://www.rockawaybeach.co.uk/killing-joke-1/
In preparation for their return to the road, Killing Joke have unveiled the apocalyptic 'New Cold War' video directed by long-term associate / designer, Mike Coles:
https://www.youtube.com/watch?v=FDwx9JOy4LU
'New Cold War' is taken from Killing Joke's 16th studio album, 'Pylon', which entered the UK charts at No. 16 giving the band their highest official chart entry in 21 years and third highest ever.
As always with the Joke, 'Pylon' is very much music as ritual – raw, uncompromising and precisely-targeted lyrically; proof that Jaz Coleman, Geordie, Youth & Big Paul, the original KJ personnel, are currently delivering the best and most relevant material of their career, with no mellowing or softening of the edges getting in the way.
With collective nostrils flared and righteous anger carried torch-high, Killing Joke continue to take their music of resistance to fresh levels, and a new single / video (from the 'Pylon' album) will be released in advance of the tour.
The full list of European headline shows is as follows
OCTOBER 2016
30 – Dublin, the Academy (Ireland)
31 – Belfast, the Limelight (UK)
NOVEMBER 2016
4 – London, Brixton Academy (UK – 'The Great Gathering')
6 – Karlsruhe, Substage (Germany)
8 – Utrecht, Tivolivredenburg (Holland)
9 – Paris, Elysee Montmartre (France)
11 – Zurich, Dynamo (Switzerland)
12 – Geneva L'Usine (Switzerland)
13 – Milan, Live Club (Italy)
15 – Rome, Orion (Italy)
16 – Bologna, Zona Roveri (Italy)
17 – Vienna, Szene (Austria)
19 – Munich, Theaterfabrik (Germany)
20 – Prague, Palac Akropolis (Czech Republic)
21 – Krakow, Kwadrat (Poland)
23 – Hamburg, Fabrik (Germany)
24 – Copenhagen, Pumpehuset (Denmark)
26 – Stockholm, Debaser Medis (Sweden)
28 – Helsinki, Tavastia (Finland)
30 – Oslo, Rockefeller (Norway)
DECEMBER 2016
1 – Malmo, KB (Sweden)
3 – Koln, Kantine (Germany)
4 – Berlin, SO 36 (Germany)
5 – Hasselt, Muziekodroom (Belgium)
Source: Press Release