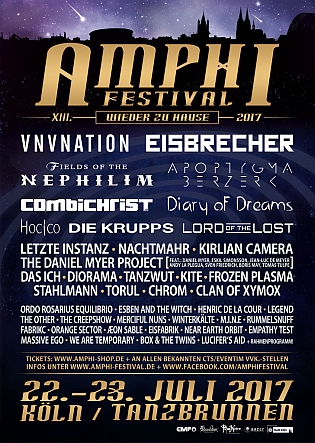 As on 22. & 23. July 2017 more than 12.000 members of the goth-scene from all over the world flock again to Tanzbrunnen Cologne, the Amphi Festival opens its portals for the thirteenth time. Successing last summer´s highly acclaimed return to its long-term venue and being awarded a silver star for its first decade of collaboration with the Tanzbrunnen, Amphi Festival 2017 content-wise spans a bridge between tradition and modern zeitgeist.
Taken as a whole, a wealth of 42 bands wait to please the crowd with magnificent shows, including the two thrilling headliners VNV NATION and EISBRECHER, both behemoths of live-entertainment and yet so different. Electronic enthusiasts will equally be served as the fans of chunky riffs! Outright the same goes for the rest of the programme, which, among many more, hauls the deeply rooted British goth-rock instance FIELDS OF THE NEPHILIM to Cologne. Leading acts like APOPTYGMA BERZERK, COMBICHRIST, HOCICO, DIARY OF DREAMS, LORD OF THE LOST and EBM- / industrial rock pioneers DIE KRUPPS herald of what might be regarded as the strongest Amphi line-up yet.
Concurrently the promoters focus on expanding the festival's future legacy. More than one third of the programme consists of bands and projects to make their first Amphi appearance in 2017. Among them Swedish synthpop shooting stars KITE, epic-electronic rockers LEGEND from Iceland, British postrockers ESBEN & THE WITCH and dreampop formation BOX & THE TWINS from Cologne, who take the honor of opening the stage at MS RheinEnergie on Saturday afternoon. Only introduced last year, the KD fleet's flagship becomes Amphi Festival's swimming venue again, ranking to the phalanx of Tanzbrunnen's open-air stage and the Theater am Tanzbrunnen, ready to provide various concerts (indoor), a well-praised gastronomical offer and the enjoyable lavish sun deck as the picturesque chill-out area in front of the historic city panorama.
Of course a successful Amphi Festival won't miss out on the fabulous beach club "km 689", nor the mead lounge, located at the center fountain construction. Festival guests may also look foward to a wealth of assorted merchants, autograph sessions with the stars and after-show parties.
Enthusiasts might want to join the beautifully textured dark extravaganza even on Friday, 21.07., as this preceeding day holds a couple of interesting pre-festival activities worth attending. For example premium ticket owners embark on the next edition of the opening event "Call The Ship To Port" at MS RheinEnergie. Starting 8:00 pm, the atmospheric trip cruises along the Rhine, exclusively waiting on with Belgian EBM groundbreakers FRONT 242, NEUROTICFISH and SCHEUBER, arriving back approximately 00:30 am. Pre-selling for this special event is yet well advanced, interested partakers should be aware of currently only 100 tickets left available! These remaining tickets are offered exclusively at www.amphi-shop.de.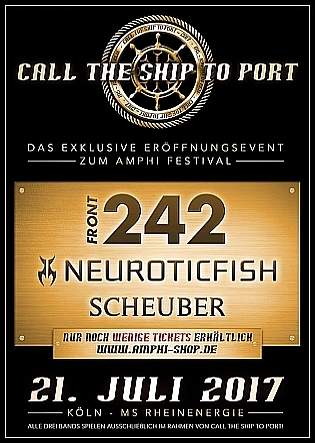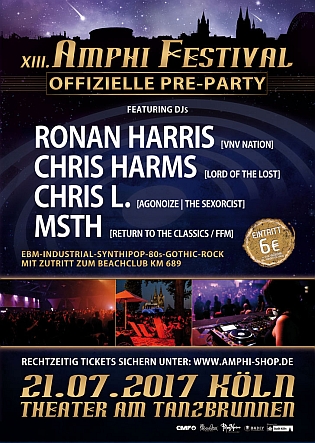 Also on Friday, starting 10:00 pm, the official Amphi Festival pre-party at Theater am Tanzbrunnen presents DJs RONAN HARRIS (VNV NATION), CHRIS HARMS (LORD OF THE LOST), CHRIS L. (AGONOIZE) and MSTH. Tickets for this party are available at www.amphi-shop.de,
www.eventim.de
and all nationwide CTS/EVENTIM box offices.
Free admission however is granted to the fan-organised dark romantic picnic "Jardin de Belle Époque". The enjoyable meeting already begins 4:00 pm at Friedenspark Cologne. Partakers are asked for dresscode compliance: dark romantic, goth, baroque, steampunk, uniform etc...
For further Amphi Festival info please visit
www.amphi-festival.de
or www.facebook.com/amphifestival.
Original Amphi Festival weekend tickets as well as the final 100 premium tickets for "Call The Ship To Port" are exclusively available at Amphi shop at www.amphi-shop.de! Furthermore festival tickets are available at all nationwide CTS/EVENTIM box offices, at
www.eventim.de
, www.oeticket.com, www.ticketcorner.ch, www.eventim.nl and as PRINT@HOME edition.
XIII. AMPHI FESTIVAL 2017 - 22. – 23. July 2017 GER – Cologne | Tanzbrunnen
VNV NATION | EISBRECHER | FIELDS OF THE NEPHILIM | APOPTYGMA BERZERK | COMBICHRIST | DIARY OF DREAMS | HOCICO | LORD OF THE LOST | DIE KRUPPS | LETZTE INSTANZ | NACHTMAHR | KIRLIAN CAMERA | THE DANIEL MYER PROJECT | DAS ICH | DIORAMA | TANZWUT | KITE | FROZEN PLASMA | STAHLMANN | TORUL | CHROM | CLAN OF XYMOX | ESBEN AND THE WITCH | ORDO ROSARIUS EQUILIBRIO | HENRIC DE LA COUR | THE OTHER | THE CREEPSHOW | MERCIFUL NUNS | LEGEND | WINTERKÄLTE | M.I.N.E | RUMMELSNUFF | FABRIKC | ORANGE SECTOR | ÆON SABLE | EISFABRIK | NEAR EARTH ORBIT | EMPATHY TEST | MASSIVE EGO | WE ARE TEMPORARY | BOX & THE TWINS | LUCIFER'S AID + supporting programme under construction!
Source: Press Release