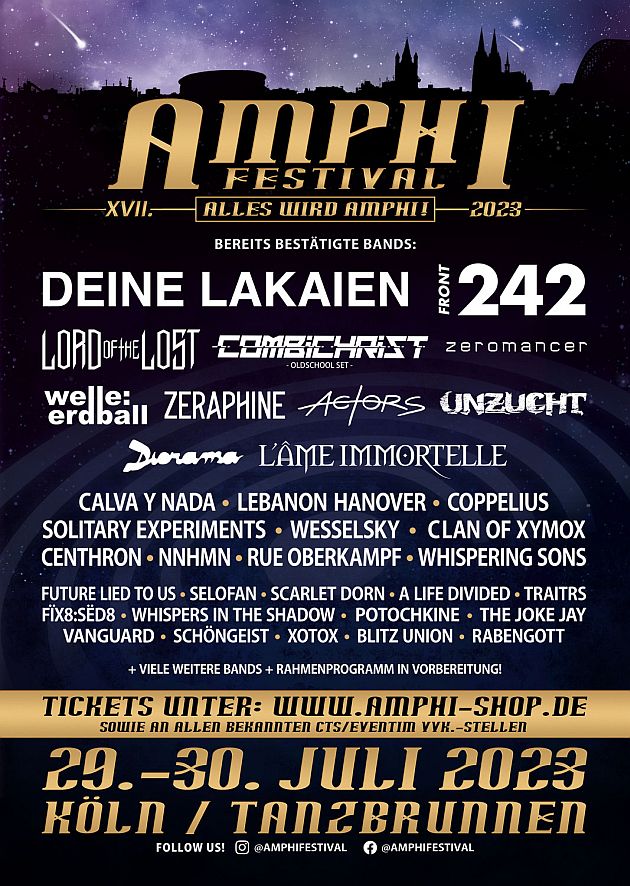 The legend lives! CALVA Y NADA return to the stage after 25 (!) years with an exclusive festival show at Amphi! Be prepared for a journey into the heart of electronic darkness, like only the old days could have brought forth - an uncompromisingly driving, rough school of sounds with delightful edges to it. Come what may, the first CALVA Y NADA show since 1998 will absolutely be a force to be reckoned with! And that was not even all for today! Also look forward to CENTHRON, the dark-electro treat FÏX8:SËD8, refreshing electro-pop by THE JOKE JAY and Prague industrial rockers BLITZ UNION.
So far, the programme now includes: DEINE LAKAIEN * FRONT 242 * LORD OF THE LOST * COMBICHRIST (Oldschool Set) * ZEROMANCER * WELLE:ERDBALL * ZERAPHINE * ACTORS * UNZUCHT * DIORAMA * L'ÂME IMMORTELLE * CALVA Y NADA * LEBANON HANOVER * COPPELIUS * SOLITARY EXPERIMENTS * WESSELSKY * CLAN OF XYMOX * CENTHRON * NNHMN * RUE OBERKAMPF * WHISPERING SONS * FUTURE LIED TO US * SELOFAN * SCARLET DORN * A LIFE DIVIDED * TRAITRS * FÏX8:SËD8 * WHISPERS IN THE SHADOW * POTOCHKINE * THE JOKE JAY * VANGUARD * SCHÖNGEIST * XOTOX * BLITZ UNION * RABENGOTT
Also look forward to many more bands (including a headliner) as well as the supporting programme with various DJs, autograph sessions, the beach club and our popular goth market!
As you see, we have big plans. So, join the festivities by getting your original ticket today, exclusively available at www.amphi-shop.de. Alternatively visit www.eventim.de or the well-known CTS/EVENTIM box offices for regular Amphi tickets! For more festival info simply head over to: www.amphi-festival.de!
Source: Newsletter