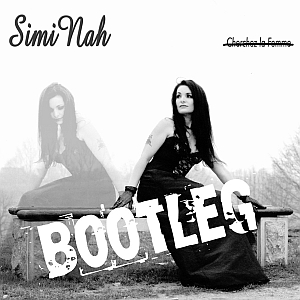 One year after 'Be My Guest', SIMI NAH is back with a new album, 'Bootleg'. For those who do not know her, Simi is an artist of French origin, now based in Oostend, Belgium. During her career she worked in the fashion industry and played bass in various bands, including PRAGA KHAN, COMA, THE CHICKS... Since 2003, she has been developing a very interesting solo project with her "partner in crime", the excellent Belgian musician / producer KGB aka Kenny Germain B.
'Bootleg' offers eight new versions of songs that were already published on Simi's first solo album, 'Cherchez La Femme' ('Look For The Woman'), which dates from 2004. The songs were remixed, re-mastered, even reworked in some cases. The title instrumental track opens the album, stripped and moving. 'Je Joue le Jeu inGénu' ('I Play The Innocent Game') has new drums and a new sound, which emphasizes its "French Pop" touch, reminiscent of Elli & Jacno. Then, 'Sans se voiler la face' reminds us that Simi is perfectly capable of composing real dance-floor hits, here with an electro-EBM aspect.
After a very good, undisguised tribute to KRAFTWERK, 'Le Passé, le Présent, le Futur', SIMI NAH offers us an excellent cover of the classic hit 'Cherchez Le Garçon' ('Look For The Boy') from the French band TAXI GIRL. As for 'L'Ange Je', its dark and symphonic beauty made me think of Mylène Farmer: superb! After the melancholy 'Je cherche encore', 'Bootleg' comes an end in the gothic accents of 'Alice – 2183', the reworked cover of the classic from THE SISTERS OF MERCY.
A must-have for the fans of SIMI NAH but also for those who are addicted to New Wave / Darkwave / EBM!
To buy the album:
http://www.freewebstore.org/why2k-music-store/SIMI_NAH_-__Bootleg__-_Limited_Edition/p1524163_14714698.aspx
Release date: October 22nd, 2015
Production: Simi Nah & KGB
Recording and mastering: AtOMiC studio Belgium
Artwork: Why2k Graphics
Simi Nah:
www.siminah.com
or
https://www.facebook.com/simi.nah.music