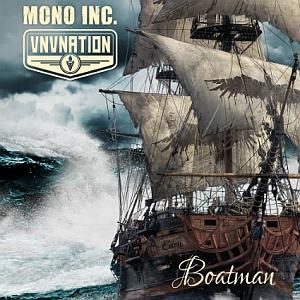 "Take me away, Boatman", this is, what Martin Engler from MONO INC. and Ronan Harris from VNV NATION are singing in the refrain. The two front men of two extremely successful bands give the world a very special song: a poignant song full of wanderlust and longing for freedom, peace and new horizons. This cooperation between MONO INC. and VNV NATION will surprise the world, because to date neither Ronan Harris has ever sung a duet, nor have VNV NATION ever made a video clip. All this changed only by this anthem from the pen of Martin Engler. Deeply touched by the demo version, VNV NATION even interrupted their US tour for studio recordings and the subsequent video shoot in Hamburg.
The result is overwhelming, because Boatman is one of those titles in which everything seems to fit:
Melody, music, message and video script! In the United States the album version already mutated to the club hit, followed up by the worldwide release of the single version.
Linen loose! Come on board and let yourself be carried away ... far, far away!
Tracklisting
1. MONO INC. & VNV NATION – Boatman (Single Edit)
2. MONO INC. & VNV NATION – Boatman (Album Edit)
3. MONO INC. & VNV NATION – Boatman (Unplugged Version)
4. MONO INC. & VNV NATION – Boatman (Piano Version)
Line-up
Martin Engler: vocals
Ronan Harris (VNV Nation): vocals
Katha Mia: drums
Carl Fornia: guitars
Manuel Antoni: bass
Source: Press Release