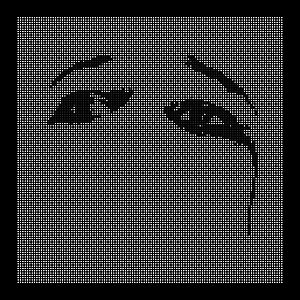 The Grammy-winning, internationally acclaimed band DEFTONES have announced their highly anticipated album 'Ohms' for September 25th. The announcement is accompanied by the massive title track, a new video directed by Rafatoon and a revised website, deftones.com. Pre-order the new album via: http://wmg.click/Deftones_Ohms_Album.
Speculations about the upcoming album have been raging through the media landscape since the band's website and their social platforms suddenly darkened, fuelling the curiosity of fans. The tension increased when DEFTONES revealed the striking album artwork on their side, without any further information. Designed by her long-time creative partner Frank Maddocks (who also designed the iconic 'White Pony' cover), the fascinating album image made of thousands of white pixels appeared cryptically on a billboard in the cultural hotspot Fairfax Avenue in Los Angeles above the famous Canter's Deli restaurant, with the Caption: "This Is Our Time ... We Devour The Days Ahead."
Recorded at Henson Studios and Trainwreck Studios, 'Ohms' is a work from another world that the five-piece band developed with great attention to detail. It's a brilliant feat and the first new album since their highly acclaimed LP 'Gore' (2016). The band made up of Chino Moreno, Frank Delgado, Stephen Carpenter, Abe Cunningham and Sergio Vega has created an atmospherically dense album on which all members harmonize perfectly with each other. In the person of Terry Date, a familiar face accompanied the creative process - after 'Adrenaline' (1995), 'Around the Fur' (1997) and 'White Pony' (2000) it was the fourth collaboration with the experienced producer and sound engineer. All of this formed the framework for 'Ohms': 10 tracks of pure escapism and unparalleled grooves that have made Deftones' sound distinctive for more than two decades.
This year also marks the 20th anniversary of DEFTONES' monumental album 'White Pony'. In a virtual press conference on the 20th anniversary of this ground-breaking work, the band announced the release of an additional remix album entitled 'Black Stallion', an idea that came to them while the album was being made.
Watch the 'Ohms' music video here:
Next year DEFTONES will catch up on their concerts in Germany originally scheduled for 2020. They will also be at Rock am Ring / Rock im Park 2021:
June 11 – 13, 2021 Rock am Ring/Rock im Park
June 28, 2021 Hamburg, Grosse Freiheit 36
June 29, 2021 Berlin, Columbiahalle
Source: Press Release