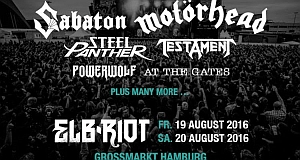 Großmarkt, Hamburg, Germany
19th & 20th August 2016
Elbriot with SLAYER, SABATON, STEEL PANTHER, POWERWOLF, ASKING ALEXANDRIA, TESTAMENT, MASTODON, CARCASS, PARADISE LOST and many more

The loudest Hanseatic festival is waiting in the wings, and since the ELBRIOT was known as an one-day-festival, this time you can enjoy it for two days. But if you only want to rock for one day, it is no problem, because you can also purchase tickets just for the day you like.
Friday will start in the late afternoon with four bands through all metal genres: finest Trash from TESTAMENT, the Glam Rockers from STEEL PANTHER and the two Power Metal Bands POWERWOLF and SABATON as Headliner for the first evening. After you survived this amazing opening day, you are ready for round two.
At the usual time on midday, the doors open again, starting with loudest Hardcore from NASTY, so you can be sure, you will be awake again from the exhausting first day of the ELBRIOT. Death and Dark Metal rounds with FEAR FACTORY, AT THE GATES and PARADISE LOST, ASKING ALEXANDRIA comes around for all the Metalcore fans and of course, the ELBRIOT stays classical and ordered some old-school metal heads, this time with CARCASS. MASTODON, which had unfortunately to cancel the show last year, catch it up this summer. As final headliner, one of the Big Four of the Trash Metal, SLAYER, have the honour to give themselves as the final headliner. In the first year of the festival, they already stood on stage of the ELBRIOT and are very excited, to be there and in Hamburg again.
After each day, the headCRASH in St. Pauli opens its doors 10pm for the official after-show-parties. Just a few steps away, you can also join the Slayer-Special party in the club "Unterm Strich", right at the Reeperbahn. The entry in both locations is free.
Additional Concert Info

Doors: 16:00 pm (Friday) / 12:00pm (Saturday)
Starts: 17:00pm (Friday) / 13:00pm (Saturday)
Ticket fee: Day Ticket Friday 45,90€, Day Ticket Saturday 49,90€, all days 79,90€
Tickets can be bought at the Elbriot Shop
http://elbriot2.merchcowboy.com/
Info:
http://elbriot.de/