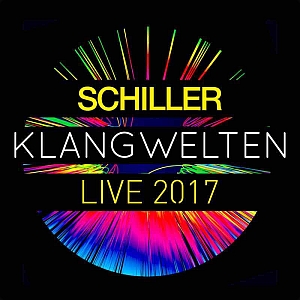 German electronic artist SCHILLER will be touring with his Klangwelten program between 2nd October and 22nd November 2017. The journey goes on. After his celebrated 2016 arena tour, SCHILLER starts his new tour through Germany and Switzerland under the motto "KLangwelten Live 2017 - Pure Electronic". Germany's number one electronic artist plays his dreamy instrumental sounds among others at the philharmonic hall in Munich, at the Gewandhaus Leipzig or at the old opera in Frankfurt.
SCHILLER: "I am very much looking forward to the new Klangwelten Tour. Together with my musical companions I want to take you to an intoxicating journey made of sounds and pictures. There is so much new to explore!"
Klangwelten Live 2017, that's instrumental classics from eighteen years of SCHILLER, pulsating rhythms and artfully arranged spherical sounds.
Dates

02.10. Dortmund, Konzerthaus
03.10. Saarbrücken, Congresshalle
04.10. Gera, Kultur + Kongress Zentrum
05.10. Würzburg, Congress Centrum
06.10. Augsburg, Kongress am Park
07.10. Mannheim, Rosengarten Mozartsaal
08.10. Fulda, Orangerie (Maritim Hotel)
09.10. Stuttgart, Theaterhaus (am Pragsattel)
10.10. Karlsruhe, Konzerthaus
11.10. Düsseldorf, Tonhalle
12.10. Osnabrück, Osnabrück Halle - Europa-Saal
14.10. Flensburg, Deutsches Haus
15.10. Neuruppin, Kulturkirche
16.10. Bremen, Die Glocke Großer Saal
17.10. Wuppertal, Historische Stadthalle
18.10. Frankfurt/Main, Alte Oper
19.10. Worms, Das Wormser
20.10. Lingen (Ems), EmslandArena
21.10. Kassel, Kongress Palais - Stadthalle
22.10. Leipzig, Gewandhaus zu Leipzig
23.10. Cottbus, Stadthalle
24.10. Erfurt, Alte Oper
25.10. Halle/Saale, Georg-Friedrich-Händel Halle
26.10. Jena, Sparkassen Arena
27.10. Zürich (CH), Volkshaus
28.10. Basel (CH), Musical Theater Messe Basel
30.10. Dresden, Konzertsaal im Kulturpalast
31.10. München, Philharmonie am Gasteig
01.11. Bern, Theatersaal National
02.11. Erlangen, Heinrich-Lades-Halle
03.11. Zwickau, Konzert- und Ballhaus Neue Welt
04.11. Chemnitz, Stadthalle, Großer Saal
05.11. Ravensburg, Konzerthaus
06.11. Dresden, Konzertsaal im Kulturpalast
08.11. Essen, Colosseum Theater
09.11. Hamburg, Mehr! Theater am Großmarkt
10.11. Hanover, Theater am Aegi
11.11. Neubrandenburg, Konzertkirche
12.11. Magdeburg, AMO Kulturhaus
13.11. Potsdam, Nikolaisaal
14.11. Kiel, Konzertsaal Kieler Schloss
15.11. Bremen, Die Glocke Großer Saal
16.11. Neubrandenburg, Konzertkirche
17.11. Brandenburg a.d. Havel, Stahlpalast
18.11. Schwedt/Oder, Uckermärkische Bühne
19.11. Gütersloh, Theater Gütersloh
20.11. Neunkirchen/Saar, Neue Gebläsehalle
21.11. Regensburg, Donau-Arena
22.11. Berlin, Admiralspalast-Theater
Tickets are available
HERE
and via
Ticketmaster
Website: http://www.schillermusic.com / https://www.facebook.com/schillermusic/