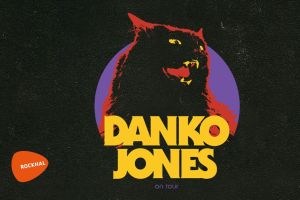 Rockhal, Esch sur Alzette, Luxembourg
3rd May 2018
Danko Jones - "Wild Cat World Tour"

With 'Fire Music' (2015), the predecessor to 'Wild Cat', DANKO JONES reached their highest chart positions to date in Germany, the Netherlands, Austria and Finland and also charted in another handful of key territories. The first single, 'Do You Wanna Rock', peaked at #5 on the Active Rock radio charts in Canada, making it their highest charting single in Canada in their career. The song also received massive airplay around the globe. DANKO JONES have never felt more vibrant or hungry than they are on 'Wild Cat'. The 11-track album is a raw representation of the band's collective musical history and influences, and without a doubt their most solid album yet.
Celebrating 20 years in the Rock'n'Roll game in 2016, DANKO JONES have an impressive resume to show for the past two decades. In addition to sold out headline tours across Canada and the European continent they have also toured the US, Brazil, Japan, Australia and South Africa and done extensive collaborations with a vast number of great artists. The Canadian trio has spent months on the road with GUNS N ROSES, MOTÖRHEAD and VOLBEAT and opened up for THE ROLLING STONES and OZZY. Danko was recently featured as a guest vocalist on the VOLBEAT track 'Black Rose', one of the most streamed songs on their latest album and he also joined Mike McCready (PEARL JAM), Duff McKagan (GNR), and Barrett Martin (SCREEMING TREES) for a session with THE LEVEE WALKERS where he sang on two tracks.
The "Wild Cat World Tour" starts off with two shows in Finland in February and a series of shows in Europe in March and April. A Canadian tour will be announced shortly, with other territories to follow.
Additional Concert Info

Doors: 19:30
Show: 20:00
Tickets: 23€ + 2.30€ presale fee
Info & Tickets: http://www.rockhal.lu/agenda/rock-pop/show/detail/danko-jones-4/
Facebook Event: https://www.facebook.com/events/163228854475640/
More on
Danko Jones