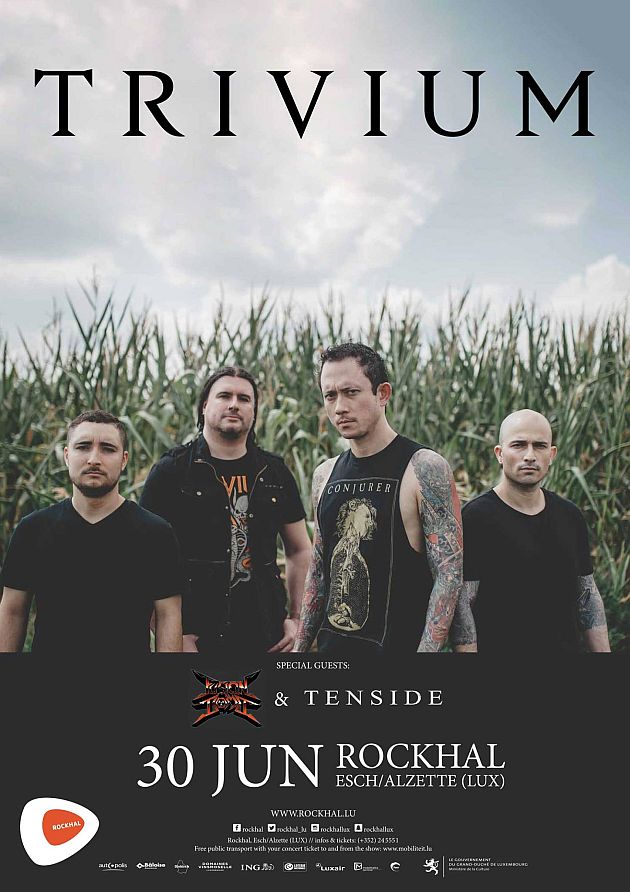 Rockhal, Esch sur Alzette, Luxembourg
30th June 2019
Trivium

In life, two options exist: death or growth. On their eighth full-length offering, 'The Sin and The Sentence', TRIVIUM choose the latter once again. In fact, the record represents an apotheosis of every element that at once defined the Florida group since its 1999 formation. Moments of malevolent melodicism give way to taut technical thrash, black metal expanse, punk spirit, and heavy heart tightly threaded together by the musical union of the quartet - Matt Heafy [vocals, guitar], Corey Beaulieu [guitar], Paolo Gregoletto [bass], and Alex Bent [drums]. Unsurprisingly, these eleven songs resulted from an unquenchable hunger for improvement.
Given their global success, this goal proved nothing short of a tall order. 2015's 'Silence in the Snow' ignited something of a renaissance for the boys. Moving 17,000 copies upon debut, it bowed Top 20 on the Billboard Top 200 and claimed the #3 spot on the Top Rock Albums chart. 'Until the World Goes Cold' arrived as their biggest single to date, achieving the band's first Top 10 at Active Rock and generating a staggering 17.1 million Spotify streams and 14.9 million YouTube/VEVO views and counting. The Guardian, Classic Rock, Ultimate Guitar, and more praised 'Silence in the Snow' as they sold out shows worldwide.
Despite the explosive nature of the previous campaign, the musicians quietly commenced work on what would transform into 'The Sin and the Sentence', collating ideas and assembling songs on the road. Without telling anyone outside of the inner circle, they retreated to the Southern California studio of producer Josh Wilbur [LAMB OF GOD, GOJIRA] for just a month in 2017.
Following the 2003 independent breakout of 'Ember to Inferno', TRIVIUM arrived as metal's hungriest contender on 2005's Ascendancy. Heralded as "Album of the Year" by Kerrang!, it stands out as a 21st century genre landmark. As they went on to cumulatively sell over 2 million units, they scorched stages with idols such as METALLICA, BLACK SABBATH, IRON MAIDEN, and more in addition to regularly making pivotal appearances at Download Festival, Bloodstock, KNOTFEST, and beyond. 'In Waves' and 'Vengeance Falls' both soared to the Top 15 of the Billboard Top 200 as the band staunchly secured its place in the modern metal pantheon. By growing by leaps and bounds, Heafy, Beaulieu, Gregoletto, and Bent become what they were always meant to be - TRIVIUM.
"With this, we wanted to knock everything down and think from the ground up about how we write songs," Gregoletto leaves off. "We enhanced everything we've done." "I want everyone to know we made this with our hearts and souls," Heafy concludes. "It was all or nothing; we gave it our all. We've been through lots of ups and downs and felt like this had to capture that. It had to summarize everything that is TRIVIUM. I feel like we did that." - Rick Florino, August 2017
Additional Concert Info

Doors: 19:00
Start: 19:30
Information & Tickets: https://www.rockhal.lu/events-tickets/metal-heavy/show/detail/trivium-1/
Facebook Event: https://www.facebook.com/events/774248336285838/
More on
Trivium