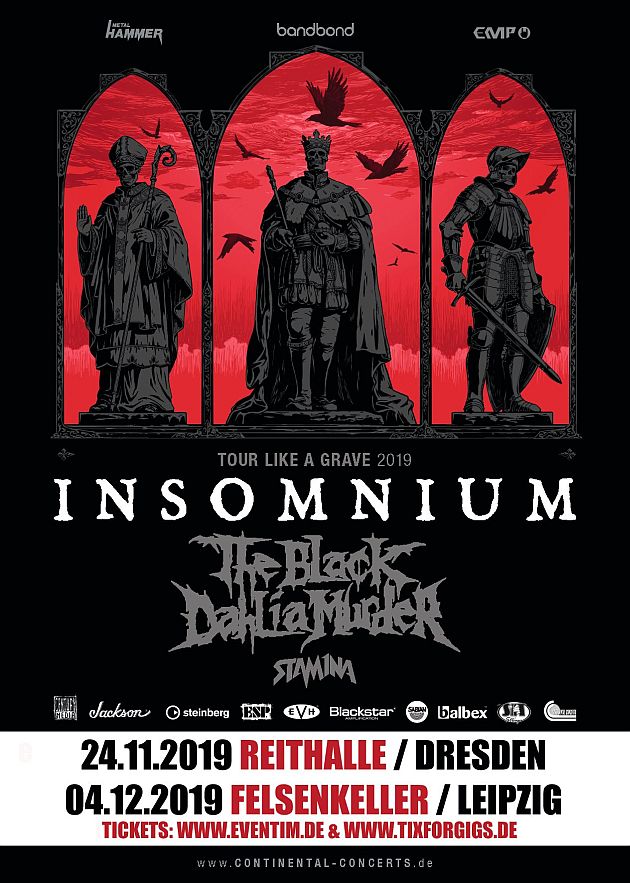 Reithalle Straße E, Dresden, Germany
24th November 2019
Insomnium - "Tour Like A Grave" 2019 - Support: The Black Dahlia Murder, Stam1na

Finland is a rousing country: the mere thought of it conjures up visions of endless darkness, long, cold winter nights and an almost overwhelming desolation. In this icy crater the soul of INSOMNIUM was born. Thier music is as epic as it is melodic, melancholic as majestic and brutal as it is beguiling. Simply calling INSOMNIUM a "Death Metal band" would do them a massive disservice. Their very last album, 'One For Sorrow', was such a diverse fusion of different styles that you would rob the band of their true complexity and ignore the essence of their sound if you place them into a single category.
Founded in 1997 in the city of Joensuu in eastern Finland, INSOMNIUM released two demos that brought them a deal with the UK label Candlelight Records. For their Candlelight debut, founding members Markus Hirvonen (drums), Ville Friman (guitar) and Niilo Sevänen (vocals and bass) then were joined by guitarist Ville Vänni in 2001 and released four more acclaimed albums in the ensuing decade; the youngest album of them, 'Across The Dark' ranked #5 on the Finnish album charts in 2009, earning some awards as "Best Band" and "Best Album" in their home country. Like its predecessor, 'Above the Weeping World', they also supported 'Across the Dark' with a fierce tour plan, crossing both the United States and Europe with colleagues such as AMORPHIS, KATATONIA, ENSLAVED and SATYRICON.
The album circles ended with a co-headliner tour with their friends GHOST BRIGADE and direct tour support for DARK TRANQUILITY in early 2010. In the spring of 2011, INSOMNIUM returned to the studio to record 'One for Sorrow'. INSOMNIUM played the tour to the album without Vänni, because he left the band and was replaced by Markus Vanhala of OMNIUM GATHERUM. This change had no negative impact on the work of INSOMNIUM, as 'Shadows Of The Dying Sun', released in 2014, is once again receiving praise from all sides. In 2016 the band released 'Winter's Gate' and now in 2019 the band released already their new album 'Heart like a Grave'.
Additional Concert Info

Doors: 19:00
Start: 20:00
Tickets: can be bought for 36.35 + charges (pre-sale) via
Eventim
Info: http://www.strasse-e.de/termine.php
Bands: http://www.facebook.com/insomniumofficial /https://www.facebook.com/theblackdahliamurderofficial /https://www.facebook.com/Stam1naOfficial
Facebook Event: https://www.facebook.com/events/725194054582598/
More on
Insomnium
,
Black Dahlia Murder
,
Stam1na