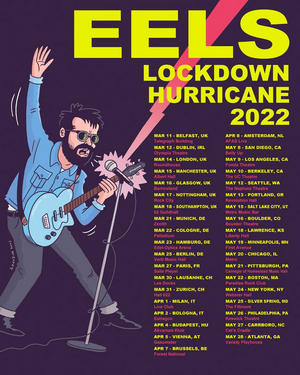 The EELS' 13th album was called 'Earth To Dora' and was released last fall. Actually, the timing was perfect - because all the crap with lockdown and closure started all over again. And Mark Oliver Everett's music was always on good consolation in dark times, because this man himself had to traverse many dark valleys - and made great art out of them, which also allowed sadness, but always cushioned it with irresistible melodies, strong poetry and / or good humour.
The fact that the EELS will finally come on tour in March 2022 to perform 'Earth To Dora' and the dozen other song pearls from their oeuvre live is also perfect timing. Just think about hearing the song 'Are We Alright Again' live. The only song on the new album that Everett wrote amid the pandemic. It says: "Are we alright again? / Are we around the bend? / Am I lucky or brave? / Are you stronger today? / Are we alright again? / Yeah, I think we're alright." A conclusion that we'd like to nod off in front of the stage.
Tour Dates

March 21, 2022 Munich – Zenith
March 22, 2022 Cologne – Palladium
March 23, 2022 Hamburg – edel-optics.de Arena
March 25, 2022 Berlin – Verti Music Hall
Tickets are available exclusively and personalized (limited to 6 tickets per person) on tickets.de from Thursday, July 15th at 12 noon for € 35 (plus fees).
More information and music can be found at:
www.eelstheband.com / www.facebook.com/THEEELS /www.instagram.com/eelstheband