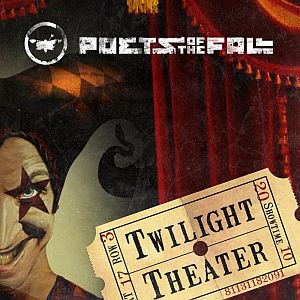 Artist: Poets of the Fall
Title: Twilight Theater
Genre: Alternative Rock / Cinematic Rock
Release Date: 29th October 2010 (Germany, Austria, Switzerland)
Label: Insomniac / Playground




Album Review

Finnish six-piece rock act with a beautiful name POETS OF THE FALL partially could owe their success to the computer game industry as their songs are used in "Max Payne 2" or "Alan Wake". However their music attracts a much wider audience simply being qualitative, diverse, tuneful and accessible supplemented with meaningful lyrics and mesmerizing vocals of singer Marko Saaresto. The band already recorded 4 studio albums including the latest creation 'Twilight Theater' which originally came out in March 2010 and now will be released in Germany, Switzerland and Austria so I finally got a good reason to write a review.
First of all it should be said that the new album comparably differs from its predecessor yet the difference is not as drastic as it may seem because this time the record combines the rich guitar sound so lavishly presented on 'Revolution Roulette' with delicate melodiousness and lyricism typical for the earlier works. As a result we get a chance to appreciate a solid, mature record when all the compositions are united with some inner concept and at the same time each of them turns to be an independent, complete piece of music. The opening track 'Dreaming Wide Awake' gently prepares listeners to the sonic variety that follows and with every sound you immerse into the Poets' world where stories start to unfold. Heartfelt, charming 'War' flows into maybe one of the most interesting musically songs on the album entitled 'Change' with its gliding rhythm and somewhat nostalgic mood.
Another epic track that deserves to be marked out is definitely '15 Min Flame': pomposity and depth created by intense guitar, expressive key parts and Marko's emotional delivery have potential to impress even the most sophisticated listeners. The expressiveness of the songs in whole sometimes even goes overboard arousing a range of feelings that are mostly different facets of melancholy. The musicians themselves describe their style as "cinematic rock" and actually this term has the right to exist and it doesn't just mean that the songs will be fine as soundtracks for different films but even the album may be regarded as a motion picture on its own where the plot arises and develops in the first three compositions gradually increasing tension until everything bursts with '15 Min Flame' which is like a culminating point of the story and then it's time to plunge into one's thoughts or memories accompanied by harmonious, smooth melodies.
In closing ballad 'Heal My Wounds' should mark a kind of "happy end" with its inspiring appeal "don't fall down when it's time to arise" but when the music fades it's getting obvious that the picture is still open-ended. Well, I tried to be objective but this time my inner critic failed as I didn't notice any glaring shortcomings so 'Twilight Theater' is merely good or maybe, it would be great to add more guitar solos yet it's just a matter of taste.
Tracklist

01. Dreaming Wide Awake – 4:24
02. War – 5:05
03. Change – 4:45
04. 15 Min Flame – 5:00
05. Given and Denied – 4:17
06. Rewind – 4:22
07. Dying to Live – 3:47
08. You're Still Here – 3:27
09. Smoke and Mirrors – 5:17
10. Heal My Wounds – 5:55
Line-up

Marko – Vocals
Olli – Guitars
Captain – Keyboards
Jake – Guitars
Jani – Bass
Jari – Drums
Website

http://www.poetsofthefall.com/
/
http://www.myspace.com/poetsofthefall
Cover Picture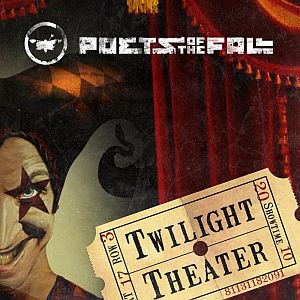 Rating

Music: 10
Sound: 10
Extras: -
Total: 10 / 10
{jos_sb_discuss:19}