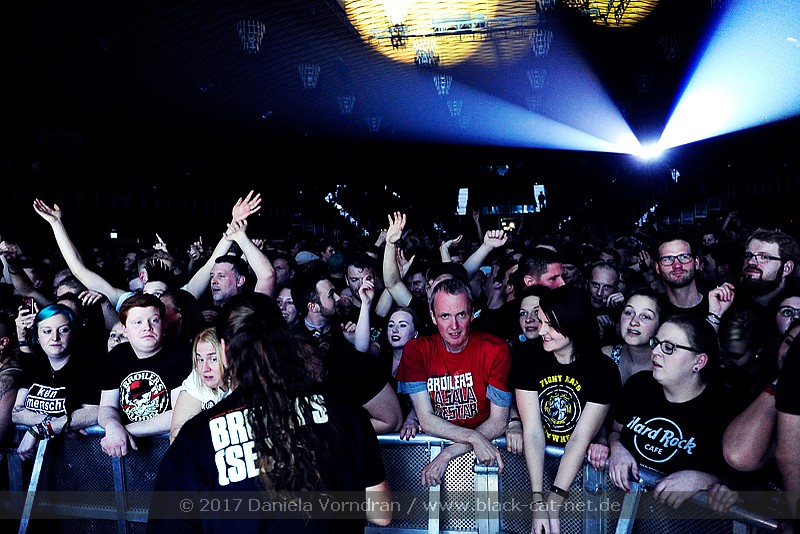 Halle Münsterland, Münster, Germany
3rd March 2017
Broilers & Tiger Army

2017 is a great year for the BROILERS. The band worked on new songs, new ideas and gained new energy. BROILERS are entering the stages again and prove what they are known for: being one of the best live bands of the country, being one of the most successful German bands since the release of their number one album 'NOIR' (2014). The following tour lasted since autumn 2015 and more than 150,000 fans saw the band in lots of sold-out venues.
After a break, BROILERS are now back on the stages again. The firstly announced show in Münster on 3rd March was sold out. There was an additional show the day before, on 2nd March, which was now the official tour opening. On both days in Münster, around 13,000 fans were celebrating the band and their support TIGER ARMY. The audience on the second day which we attended had huge fun. Circle pits, flying beer cups, crowd surfing, loud singing, clapping and screaming - you really got everything you expected from this concert. Please enjoy our pictures from the second day in Münster.
Tiger Army

http://www.tigerarmy.com
/
https://www.facebook.com/tigerarmy
Broilers

http://www.broilers.de
/
https://www.facebook.com/broilers
Setlist from first evening in Münster
01. Preludio: Vanitas
02. Zurück zum Beton
03. Tanzt du noch einmal mit mir?
04. Bitteres Manifest
05. Paul der Hooligan
06. Die Beste aller Zeiten
07. In 80 Tagen um die Welt
08. 33 rpm
09. Wo es hingeht
10. Zu den Wurzeln
11. Harter Weg (Go!)
12. Ihr da oben
13. Als das alles begann
14. Wie weit wir gehen
15. Zusammen (Slime cover)
16. Ich brenn'
17. Meine Familie
18. Nur nach vorne gehen
---
19. Irgendwas in mir
20. Held in unserer Mitte
---
21. Meine Sache
22. Ruby Light & Dark
23. Blume
All pictures by Daniela Vorndran (
http://www.vorndranphotography.com
/
http://www.facebook.com/blackcatnet
)
See also (all categories):