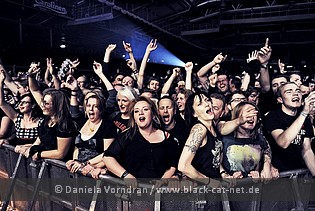 Seidenstickerhalle, Bielefeld, Germany
22nd November 2014
Broilers & Dritte Wahl

With their newest album 'Noir', BROILERS celebrated huge success, even entering German charts on Top position, and played an exciting tour. Demand was high and so, some additional dates in autumn were added. We attended the show in Bielefeld, being supported by German Punk band DRITTE WAHL.
Dritte Wahl

Rostock based Punk band DRITTE WAHL started their career in autumn 1988 and soon were well-known in German punk scene, even though they first mainly played cover versions of bands like DIE TOTEN HOSEN, SEXPISTOLS or DIE GOLDENEN ZITRONEN. But soon, the band realised that making own song is much more interesting. The band always was social critical, especially with songs about the right-wing extremes in their home town. In 2005, the long-time band member Busch'n dies, but It was his wish for the band to move on. So far, the band released nine official studio albums, a double live CD and two live videos. In 1998, the band founded their own label. In 2012, the first three albums of the band were re-released as re-mastered versions. DRITTE WAHL is Gunnar Schröder (guitar & vocals), Stefan Ladwig (bass & vocals), Jörn "Krel" Schröder (drums) and Dietmar (keyboard).
http://www.dritte-wahl.de
/
https://www.facebook.com/drittewahl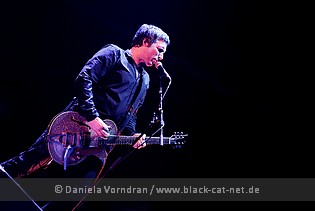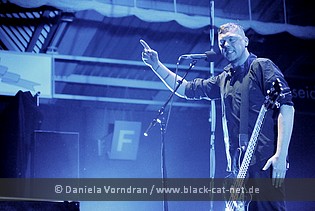 Music & Performance

It was 20:00 when the Punk heroes entered the stage to deliver a short 30 minutes show full off fast, three-chord songs, much to the joy of the audience that very soon started the first circle pits. Soon, Gunnar made some jokes about their man on the keys, Dietmar, as kind of Rainer Langhans (German writer, movie maker and actor) copy. Of course, beer was consumed in masses and soon, also the first full cups were flying. Did anyone care? No, this was Punk! The mood in the hall was very good from the start and when DRITTE WAHL ended their set, they received huge applause and even some encore chants. But the band was not more time given and still they managed to play nine songs in 30 minutes, including even the new song 'Der Schatten'. Good warm-up!
Setlist

01. Und jetzt?
02. Auge um Auge
03. Wo ist mein Preis?
04. Störung
05. Zeit bleib stehen!
06. Der Schatten (new Song)
07. Ich will in die Politik
08. Sonne & Meer
09. Fliegen
Rating

Music: 8
Performance: 7
Sound: 7
Light: 7
Total: 7.3 / 10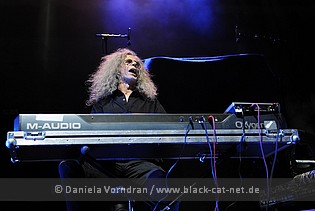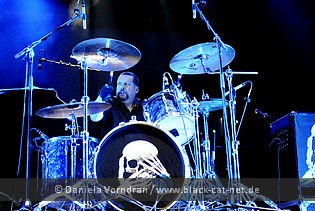 Broilers

What would later become the BROILERS started out as two 12 year old boys, practicing in their rehearsal room. The line-up grew and at some point in 1997, the band released a single called 'Ich schenk dir eine Blume' followed by the debut album 'Fackeln im Sturm' one year later. They took every chance of presenting their music live which became more diversified and open for new influences as time passed. The next album 'Verlierer sehen anders aus' was released then in 2000 on which some of the new influence could be heard already. The popularity of the band as and they've built a good reputation for themselves. T the limited 'Ruby, Light & Dark' EP was out in 2008. Since 2010, the band is constant guest on the big German festivals. In June 2011, the album 'Santa Muerte' was out and climbed up to position sic of German album charts. The studio album was followed by a live album in 2012, called 'Santa Muerte Live Tapes', containing all in all 31 songs being recorded in Dortmund, Leipzig and Bremen. The latest album 'Noir' was released in February 2014 and entered German album charts on top position. It was followed by a tour with lots of sold-out dates and now, the band is on the road with some additional dates to satisfy their fans. BROILERS are Sammy Amara (Vocals & Guitar), Andi Brügge (Drums), Ines Maybaum (Bass), Ron Hübner (Guitar) and Chris Kubczak (Organ & Keys). On tour, they brought two additional live musicians on wind instruments.
http://www.broilers.de
/
https://www.facebook.com/broilers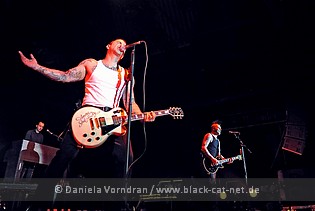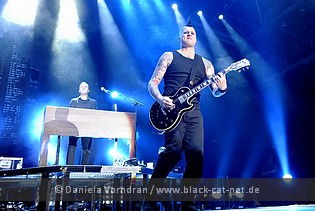 Music & Performance

When the hand of the clock reached 21:00, a white curtain was dropped to cover the stage. Along to the sounds from 'If the kids are united', played from tape, some live pictures were appearing. Loud choirs calling the band's name made absolutely clear that the crowd wanted to see the band rather sooner than later and at best with a doubled playing time. When the moment had come and the band entered the stage to the 'Preludio Vanitas' introduction, the crowd broke out in ecstasy to welcome their favourites. . It was a level of ecstasy they would keep up the whole show wherein the band volunteered their compound of Punk, Ska, Reggae and Psychobilly. Needless to say that band and audience were in best mood from the very beginning. And along with the energetic show, changing backdrops and a fantastic light show accompanied the concert. Well, I already mentioned the beer cups flying during the support, and now, we got the extended version and soon, the floor was very slippery. And yes, of course people were slipping and falling during the mosh pits. But… I already said… that's punk. Speaking of beer, of course the number of drunk people was increasing. And drunk people were the perfect invitation for pickpockets. In fact, a problem nowadays on all bigger concerts. The band even mentioned that fact on stage and asked people be take care of their personal belongings.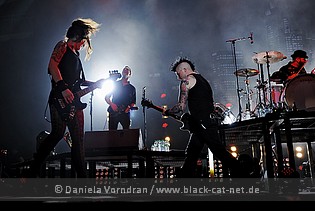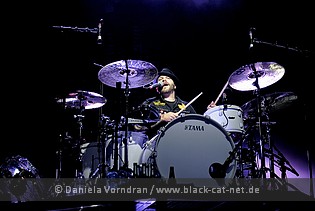 I already mentioned the light show and backdrops, lets come to the music now. First of all, the band brought additional musician on the wind instruments. Lots of different instruments on stage, so I found it little sad that the huge variety was not really audible. The setlist itself was presenting the new album, of course, but also kind of old songs. Well, the band is celebrating their 20th anniversary this year with two concerts in Düsseldorf in December. So there is a lot of material for an extended setlist. The one in Bielefeld was containing all in all 28 songs played in over two hours and was not only compiling own songs, but also included two cover versions: 'One Step Beyond' by MADNESS and the SLIME song 'Zusammen', where you could spot several crowd surfers. Besides I already mentioned the good mood of the band. And so, singer Sammy told some stories from past day. A funny one was when he told how much he is irritated by the advertising banners for Herford Beer, since the band is forbidden to play in Herford. But he told that with a grin…. So no one knows if this was really serious. For their fans, the band had two encore blocs of three songs each in stock. And traditionally the song 'Schenk mir eine Blume' finished the set, releasing sweaty, happy and several drunk people into Saturday night.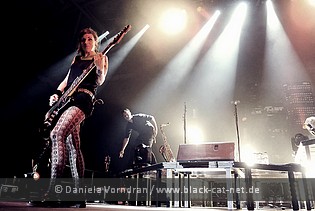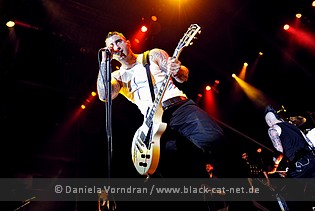 Setlist

00. Preludio: Vanitas (Intro)
01. Zurück zum Beton
02. Heute schon gelebt
03. Wo es hingeht
04. Ist da jemand?
05. Tanzt Du noch einmal mit mir?
06. Harter Weg (Go!)
07. Vanitas
08. Grau, Grau; Grau
09. Ich will hier nicht sein
10. Dein Leben
11. LoFo
12. One Step Beyond (Madness cover)
13. Dumm und glücklich
14. Ich sah kein Licht
15. Die Letzten an der Bar
16. Ich brenn'
17. Wie weit wir gehen
18. Nur die Nacht weiß
19. Zurück in schwarz
20. In 80 Tagen um die Welt
21. Held in unserer Mitte
22. Nur nach vorne gehen
----
23. Ruby Light & Dark
24. Zusammen (Slime cover)
25. Meine Sache
---
26. Singe, seufze & saufe
27. 33 rpm
28. Schenk mir eine Blume
Rating

Music: 7
Performance: 9
Sound: 7
Light: 9
Total: 8 / 10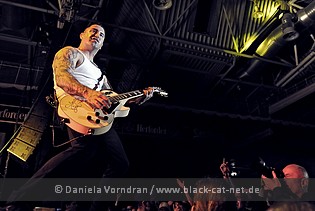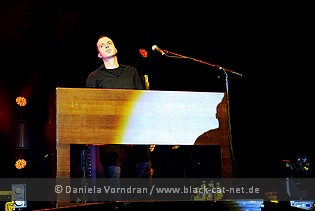 All pictures by Daniela Vorndran (
http://www.vorndranphotography.com
/
http://www.facebook.com/blackcatnet
)
See also (all categories):