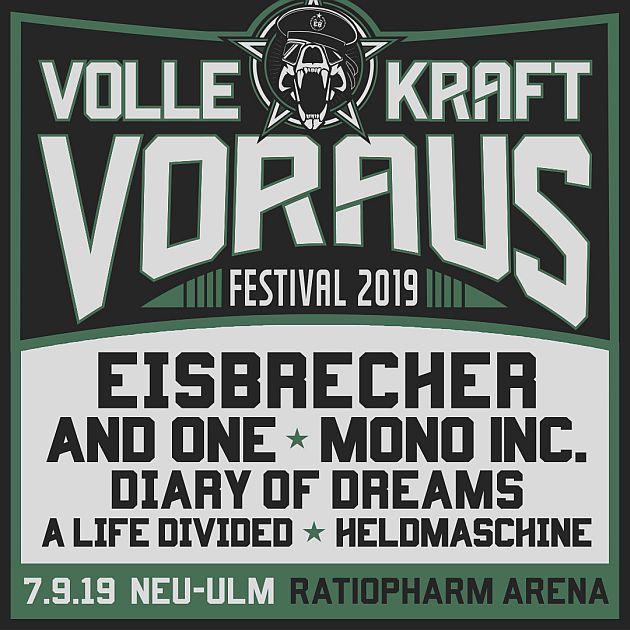 On September 7, 2019, the third edition of the "Volle Kraft Voraus" Festival takes place at the Ratiopharm Arena in Neu-Ulm, and again there is an extensive framework programme: autograph sessions, EISBRECHER flea market, Open Air Chill Out Area, etc.
Besides EISBRECHER as host, there are AND ONE, MONO INC., DIARY OF DREAMS, A LIFE DIVIDED and HELDMASCHINE confirmed! The indoor festival, that recorded an enormous increase in visitors last year and that is established now as a permanent institution of the festival summer, is dominated by the strong personality of EISBRECHER.
There is not only a spectacular headliner show, but also the popular EISBRECHER flea market, where the band sells personal things in favour of good purpose. The EUR 4,132.41 profit made last year was forwarded in full to the charitable organisations "Artists for Kids" and "Der Bunte Kreis - Wir helfen Kindern". In total, in 2018 more than EUR 8,000.00 given by the huge support of the fans was donated by the band. Besides the second flea market edition, again there are autograph sessions and the popular Outdoor Chill Out Area.
Believe it or not, but the co-headliner in Ulm celebrates its 30th anniversary: the Synth Pop band AND ONE celebrated the artistic breakthrough in 1994 with the album 'I.S.T.'. Since then, the front man and singer Steve Naghavi, born in Iran, ranks as hit factory of the scene. During the last months, among others the band toured South America, Israel, and Russia. The tour in Germany was mainly sold out. Also EISBRECHER look forward to the colleagues on stage.
With the "Volle Kraft Voraus", EISBRECHER do a festival from music fans to music fans. That's what the guys around Alex Wesselsky always was and always will be, even if they belong to the most successful national music acts nominated for an Echo. To name some examples of the younger band history: There was #1 chart entry with the current album 'Sturmfahrt', an almost sold-out "Sturmfahrt tour", gold awards for the albums 'Schock' and 'Die Hölle muss warten'. On October 5, the 15-years EISBRECHER work exhibition 'Ewiges Eis' was published!
Festival information overview

III. VOLLE KRAFT VORAUS FESTIVAL 2019
September 7, 2019 | Neu-Ulm / Ratiopharm Arena
Doors open at: 1:00 pm | Start: 3:00 pm
Line-up: Eisbrecher (Fulltime Show!), And One, Mono Inc., Diary Of Dreams, A Life Divided, Heldmaschine
+ Exclusive Eisbrecher flea market
+ Outdoor area (Food + Chillout)
+ Free parking for visitors directly at the Arena
Festival information at:
www.vkv-festival.de
Festival tickets available at: Standing place (original tickets): www.eislandshop.de / Standing place & seat: www.eventim.de and at all
Eventim
ticket shops across the country
Running order

13:00 Doors
15:00 - 15:30 Heldmaschine
15:55 - 16:35 A Life Divided
17:05 - 18:00 Diary Of Dreams
18:30 - 19:30 Mono Inc.
20:00 - 21:00 And One
21:30 - 23:30 Eisbrecher (Fulltime Show!)
Autograph sessions

13:30 - 15:00 Eisbrecher
16:20 - 17:00 Heldmaschine
17:50 - 18:30 A Life Divided
19:10 - 20:00 Diary Of Dreams
Source: Press Release