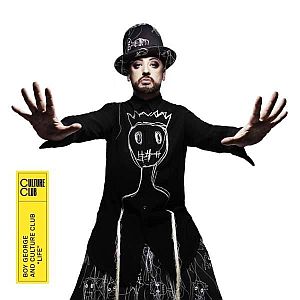 The return of an icon: Pop Bird of Paradise BOY GEORGE is back with its legendary CULTURE CLUB and the first new material for 20 years! The advance single 'Let Somebody Love You' from the comeback album 'Life' is now available! The tour starts in the beginning of November!
'Let Somebody Love You', the eagerly awaited comeback single by pop-eccentric BOY GEORGE and his legendary CULTURE CLUB, is released today. Produced by British producer team Future Cut and composed by Boy George, Roy Hay, Michael Craig, Jon Moss and Ritchie Steven's, it is the first new material from the UK cult band for more than twenty years and it is the first release from the upcoming album 'Life'. The album is available for pre-order via https://bgcc.lnk.to/LIFEPR. At the same time as the album announcement, the band also revealed that the artwork was created by none other than star photographer Rankin.
Since its birth in 1981, CULTURE CLUB has sold more than 150 million units worldwide and with hits such as 'Do You Really Want To Hurt Me?', 'Karma Chameleon', 'Church Of The Poison Mind', 'Victims', 'It's A Miracle' or 'The War Song', they could establish as a Grammy Award-winning pop institution. Led by singer/ songwriter Boy George - one of the most iconic pop stars of all time - Roy Hay, Mikey Craig and Jon Moss will round out the remaining original line-up.
As the very first band with musicians of various nationalities and a front man who openly dealt with his homosexuality, CULTURE CLUB broke countless records and cemented their reputation as one of the most exciting and popular formations within the English Pop culture. After the breakup, the band met in 2014 for two fully sold-out tours that led CULTURE CLUB around the world over the next two years.
In 2018, a new era begins for BOY GEORGE and CULTURE CLUB. With the release of 'Let Somebody Love You' and the album 'Life', the band not only releases the first new material in twenty years - they are currently on a worldwide summer tour, before starting on "The Life Tour" in early November in Europe, where the band also stops in Germany for two gigs. On "The Life Tour", BOY GEORGE & CULTURE CLUB will be joined by two other world-famous 80s favourites: BELINDA CARLISLE and THOMPSON TWINS member Tom Bailey will perform as support acts. "We put together a great show, which is full of hits and great memories," promises BOY GEORGE.
Here are the Germany dates

04.12.18 Köln, Palladium
05.12.18 Berlin, Verti Music Hall
Source: Press Release