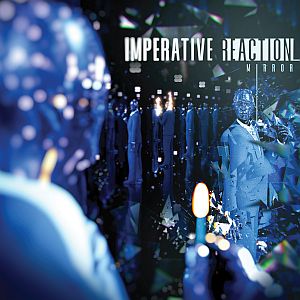 Following a near decade long hiatus, the Los Angeles based Electro-Industrial act IMPERATIVE REACTION are finally set to release their long-awaited seventh album. Featuring eleven new songs, 'Mirror' is out on 15th January 2021 via Metropolis Records. Band co-founder and sole studio member Ted Phelps states that "I've never been as happy with an album as I am with this one, and I do think it is the most diverse album we've released."
IMPERATIVE REACTION was formed in 1996 by Phelps and David Andrecht from the remains of DIGITAL NEURAL ASSAULT. Their debut album, 'Eulogy For The Sick Child', was released in 1999 by Zoth Ommog Records, following which they signed to Metropolis, who issued 'Ruined' in 2002, 'Redemption' (2004), 'As We Fall' (2006), 'Minus All' (2008) and a self-titled album in 2011.
Then, silence. In 2016, the band confirmed on their social media channels that another album was being recorded, but it has taken five more years to see it released. The good news? It's worth it, with 'Mirror' setting a new standard for IMPERATIVE REACTION's blend of emotionally intimate yet anthemic Electro-EBM.
Tracklist

01. Split
02. When Here Is Somewhere Else
03. Glass
04. Alter Ego
05. The Scales
06. Stranger
07. Like Swine
08. Ignite
09. Intertwined
10. Disavow
11. Half Of One
All songs written, produced, mixed and mastered by Ted Phelps at The Composite
imperativereaction.bandcamp.com / facebook.com/imperativereaction
Source: Press Release