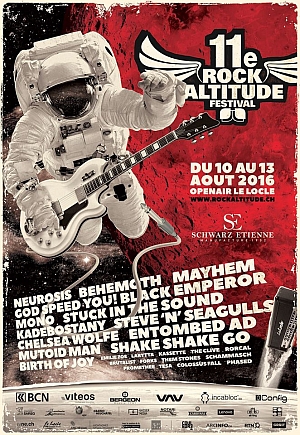 Open Air Area, Le Locle, Switzerland
10th to 13th August 2016
11th edition of Rock Altitude Festival with Mayhem, Behemoth, Entombed, Kadebostany, Minuit, Birth of Joy, Neurosis, Godspeed You ! Black Emperor, Mutoid Man, Colossus Fall, Chelsea Wolfe, Mono, Shake Shake Go and many more…

Since 2006, the Rock Altitude Festival shook the town of Le Locle each summer. In 2015, for the first time, the festival took place over four days, and that will be the case again this year for your enjoyment! The festival team is doing everything possible to offer unique, diverse and high quality programme. Rock, metal, electro, pop, punk, blues...
There will be something for everyone: BEHEMOTH (black/ death metal from Poland), KADEBOSTANY (electro-fanfare from Switzerland), NEUROSIS (rock post core from USA), ERIK TRUFFAZ QUARTET FEAT. ANNA ARON & SLY JOHNSON (jazz/ hip-hop/ trip-hop from Switzerland), CHELSEA WOLFE (gothic neo folk from USA), and many more.
Rock Altitude Festival is taking place in a covered and heated area, so the weather is not an important point. In short, in good weather or bad weather, the Rock Altitude Festival is the place to spend the weekend! No excuses ;) There is possibility to sleep on site, camping is free, and it has showers and toilets. Only tents are allowed! For motorhomes and other vehicles there is camping La Belle Verte. There will be special access for persons with reduced mobility. A ramp leading to a raised area will be placed behind the main bar.
Organizers are promising good variety of food (churros, hamburgers, waffles, grills... as well Chinese and Italian tastes). Concerning drinks, there will be the main bar (opposite the Main Stage) and a second bar in the Tent Course. At the end of each evening, buses will bring visitors FREE and safely home. It is especially useful for the tipsy ones, not to drive their own cars!
Line-up

10th August: Mayhem (NOR), Behemoth (POL), Entombed (SWE), Steve'n'Seagulls (FIN), Rorcal (CH), Schammasch (CH)
11th August: Kadebostany (CH), Minuit (FR), Birth of Joy (NL), Larytta (CH), Kasette (CH), The Clive (CH)
12th August: Neurosis (USA), Godspeed You ! Black Emperor (CAN), Mutoid Man (USA), Colossus Fall (CH), Promethee (CH), Phased (CH), Brutalist (CH), Tesa (LV)
13th August: Special Guest (TBA), Chelsea Wolfe (USA), Mono (JP), Shake Shake Go (UK), Stuck In The Sound (FR), Emilie Zoé (CH), Forks (CH), Them Stones (CH)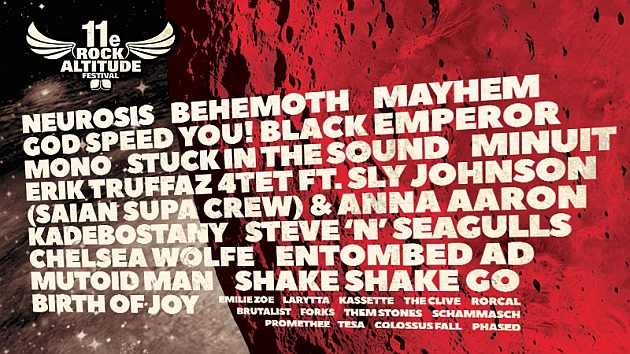 Tickets
Four-day pass is available only in the presale for 130 EUR. One day ticket is 50 EUR in the presale and 60 EUR at the festival gate. The easiest is to purchase your ticket online at
https://shop.rockaltitude.ch
For more information visit the official festival website
www.rockaltitude.ch
or check Facebook page for teaser videos at
www.facebook.com/rockaltitude
. The Facebook event can be found at
https://www.facebook.com/events/1651195178468392
. If any additional questions, please contact:
This email address is being protected from spambots. You need JavaScript enabled to view it.
.