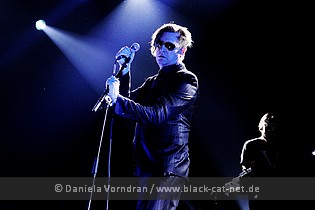 PHILLIP BOA AND THE VOODOOCLUB play independent pop, rock, and avant-garde. Founded in 1985 by Phillip Boa himself, the formation has constantly evolved, playing with styles and genres and delivering thrilling live performances. Based in Germany, influences from British post punk and indie mark the music PHILLIP BOA AND THE VOODOOCLUB carry out into the world.
Nineteen regular releases and as many samplers and live records pave the road on which Phillip Boa and his band have played in the last decades. The latest release, 'Blank Expressions – A History Of Singles 1986-2016', summarizes an outstanding career. Over the years, the Voodooclub has performed with artists like David Bowie, Iggy Pop, Nick Cave and Sonic Youth, to name only a few. While the genres PHILLIP BOA AND THE VOODOOCLUB engage in may vary, Phillip Boa's use of the guitar and the oftentimes melodic choruses are the most remarkable details.
"Blank Expression" Live 2016

To celebrate thirty years of music and entertaining performances, PHILLIP BOA AND THE VOODOOCLUB can be seen on yet another tour. The 'Blank Expression' tour has just started in Osnabrück and has a few dates for the remainder of 2016 in stock. Phillip Boa and his band, complete with a new bassist and female singer, will continue touring in 2017. To check on announcements, dates, and music, visit
http://www.phillipboa.de/
or keep in touch with their Facebook page
https://www.facebook.com/phillipboaandthevoodooclub/
.
PHILLIP BOA AND THE VOODOOCLUB - "Blank Expression" Live 2016 Dates

28.10.2016 – Osnabrück, Rosenhof
29.10.2016 – Worpswede, Music Hall
04.11.2017 – Hannover, Capitol
05.11.2016 – Annaberg, Alte Brauerei
18.11.2016 – Kassel, Philipp-Scheidemann-Haus
19.11.2016 – Karlsruhe, Substage
02.12.2016 – Dessau, Beatclub
03.12.2016 – Dresden, Alter Schlachthof
10.12.2016 – Bochum, Zeche