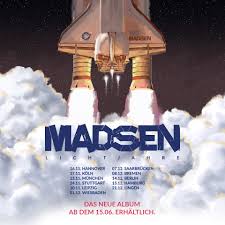 MADSEN are on tour for the new album 'Lichtjahre' starting in November 2018! While reading this news, we recommend turning up MADSEN's single 'Rückenwind' (engl. tailwind). Not only because you have to brace yourself with the massive guitar riff but also it will wake you up and grab your attention. Back in November, Sebastian Madsen announced: "We have a tailwind, we can go anywhere, we are fully tanked, raring to go and just waiting for you!" In other words: MADSEN will expand the tour in the autumn for their new album 'Lichtjahre'.
They recently celebrated with three club shows in Berlin, Bochum and Hamburg. Already at these shows it was obvious that a strong, amazingly rocky album is coming - again, what you expect from MADSEN. While softer German-language music makes in onto the radio, MADSEN have never denied their love for Alternative Rock - and at the same time coupled with tunes and choruses that shout "Hit! Hit! Hit!" It is exactly this mixture of well-measured hardness, strong lyrics and the love for melody that is relatively rare in the German band landscape. Take, for example, a song like 'Sommerferien', which will be released on June 15th. It will inspire the listener to euphoric dance, hands in the air and then even pull out the lighter for a few seconds. It would not surprise us if that happens in November, when the full-throttle truck tour finally starts and Sebastian will sing: "Ich warte eigentlich nur auf dich!" ("I'm waiting just for you!")
Tickets for the tour will be available from Friday, June 1st, 10 am exclusively via eventim.de and via madsenmerch.de (hard tickets). From Thursday, the 7th of June, 10 am there are tickets available for 29.00 euro plus fees at all known CTS pre-sale places as well as from the Hotline +49 (0) 1806 - 853653, on fkpscorpio.com and
eventim.de
.
Tour Dates

16.11.2018 Hanover - Capitol
17.11.2018 Cologne - Live Music Hall
23.11.2018 Munich - Tonhalle
24.11.2018 Stuttgart - Theaterhaus
30.11.2018 Leipzig - Werk 2
01.12.2018 Wiesbaden - Schlachthof
07.12.2018 Saarbrücken - Garage
08.12.2018 Bremen - Pier 2
14.12.2018 Berlin - Columbiahalle
15.12.2018 Hamburg - Mehr! Theater
21.12.2018 Lingen - Emslandarena
Festivals

14.06.2018 Trier - Porta Hoch Drei Open Air
22.06. - 24.06.2018 Scheeßel - Hurricane Festival
22.06. - 24.06.2018 Neuhausen Ob Eck - Southside Festival
28.07. - 30.07.2018 Viersen - Eier Mit Speck Festival
17.08. - 18.08.2018 Georgsmarienhütte - Hütte Rockt Festival
17.08. - 19.08.2018 Großpösna - Highfield Festival
25.08.2018 Langelsheim - Rock am Beckenrand
08.09.2018 Jever - Brauereihoffest