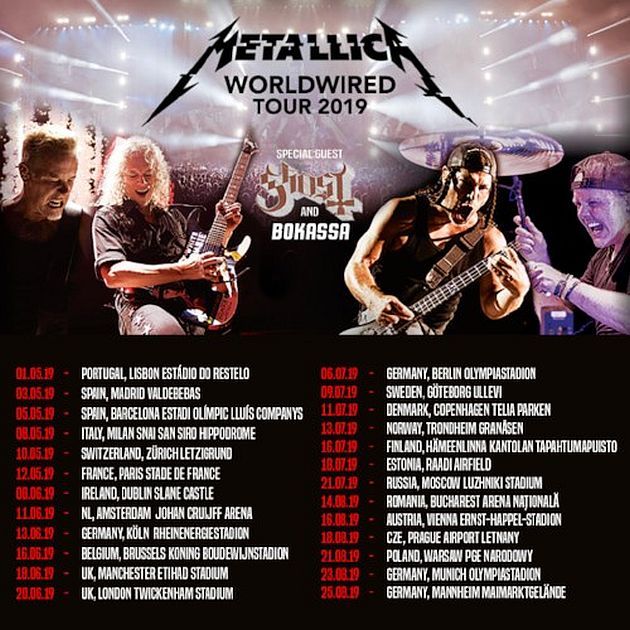 RheinEnergie Stadion, Cologne, Germany
13th June 2019
Metallica - "WorldWired" Tour 2019 - Special Guests: Ghost & Bokassa

METALLICA's "WorldWired" Tour returns to stadiums, parks and even a castle in Europe between May 1 and August 25, 2019. The new dates are METALLICA's first European concerts since their arena tour, which broke public records in 29 venues between September 2017 and May 2018. The 25 newly confirmed "WorldWired" Tour shows, which will kick off on 1st May in Lisbon, will be taking place in 20 countries and visiting over a dozen cities that were not included in 2017 and 2018, including Milan, Zurich, Dublin, Brussels (for the first time since 1988), Berlin, Moscow, Warsaw, Bucharest and Gothenburg, as well as premieres in Trondheim, Norway, Hämeenlinna, Finland and Tartu, Estonia. As special guests, GHOST and BOKASSA will be present on all dates.
With such a number of shows, it is only logical that the "Wherever I May Roam Black Ticket" return: a ticket that gives access to the interior of every METALLICA show of the 2019 European Tour - from A(msterdam) to Z(urich) and all in between. Black ticket holders only have to make an online reservation for the concerts of their choice up to 48 hours before the show. A limited number of 750 Black Tickets are available for 598 euros. Further information: CID Entertainment: https://www.cidentertainment.com/events/metallica-european-tour/.
As with almost every "WorldWired" show, every ticket purchased includes a selection of a standard physical or digital copy of METALLICA's current tenth album, 'Hardwired ... To Self-Destruct'. And once again, all the tickets also include a free MP3 download of the visited show, mixed and mastered by the team behind 'Hardwired ... To Self-Destruct'. The free downloads of the entire concert can be obtained by scanning or entering the barcode on the ticket for each show at LiveMetallica.com/scan. In collaboration with CID Entertainment, there are also three options for an enhanced concert experience - from premium tickets, access to the venue, and access to the "Memory Remains" museum, to Meet & Greets with members of the band available at: CID Entertainment.
Additional Concert Info

Doors: 18:00
Start: 20:00
Tickets: General pre-sale start Fr., 28 September 2018, 10:00 via
Eventim
, www.livenation.de, www.ticketmaster.de, www.ticketmaster.ch, www.ticketcorner.ch, www.ticketmaster.atand www.oeticket.com
More Info: https://www.rheinenergiestadion.de/de/metallica-koeln-konzert-im-juni-2019/
Facebook Event: https://www.facebook.com/events/2111547829163610/
Pre-Sale

Information about the Fan Club Presale, which starts on Tuesday, September 25, is available on https://www.METALLICA.com/metclub/ and for all other presales on https://www.METALLICA.com/worldwired-2019-presales.html. The general presale starts on Friday, September 28th at 10:00.
Fifth Member Pre-Sale: 25 Sep 2018, 10:00 (72 hours)
Telekom Mega Deal: 26 Sep 2018, 10:00 (48 hours) only for Germany: t.de/fWYnuYST
Raiffeisen PRE-SALE: 26 Sep 2018, 10:00 (48 hours) only for Switzerland: www.raiffeisen.ch/memberplus
inOne Moments Priority-Ticketing: 26 Sep 2018, 10:00 (48 hours) only for Switzerland: www.swisscom.ch/moments
Tour Dates

10 May 2019 – Zurich, Stadion Letzigrund
13 Jun 2019 – Cologne, RheinEnergieStadion
06 Jul 2019 – Berlin, Olympiastadion
16 Aug 2019 – Vienna, Ernst-Happel-Stadion
23 Aug 2019 – Munich, Olympiastadion
25 Aug 2019 – Mannheim, Maimarktgelände
Just in time for the 30th anniversary: METALLICA release new edition of '...And Justice For All' (REMASTERED) on November 2nd! METALLICA's fourth studio album, 'And Justice For All', was released 30 years ago to celebrate the band's worldwide breakthrough. On the occasion of the anniversary, METALLICA announces the upcoming reissue of the long-player as a re-mastered edition this week: 'And Justice For All' (REMASTERED) will be released on November 2, 2018 by Blackened Recordings, the band's own label. For the upcoming remake of '... And Justice For All' METALLICA rely on the best possible sound quality at the moment: Responsible for the re-mastering process was Greg Fidelman. Pre-orders of the album, available in various digital and physical formats or configurations, are available at www.metallica.com.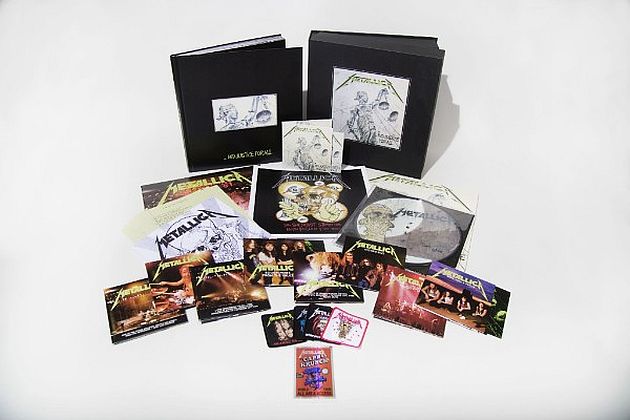 Physically, the new edition of '... And Justice For All' will be released as a standard 2LP (180 gram vinyl) and standard CD as well as an expanded 3CD edition ("Expanded Edition"), as a cassette and as a limited edition Deluxe Box Set. Digitally, it will be available as standard version, as extended edition, as well as digital deluxe box set. The "Expanded Edition" offers a lot of bonus material: i.e. unpublished demos, rough mixes, unpublished live recordings and an exclusive booklet with unpublished photos by Ross Halfin. The Limited Edition Deluxe Box set, which is pressed and produced in this form only once, includes a 180g-2LP of the re-mastered album, a 'One' Picture Disc, and three more LPs from their legendary performance in Seattle in 1989 (remixed by Greg Fidelman), 11 CDs, 4 DVDs, a four-patches patch set, a print by artist Pushead, a laminated tour trailer, various lyric sheets, and a download card for all of the above, including a 120-page deluxe booklet of unpublished photos and stories never told in this form - narrated by those who attended.
Originally the album '... And Justice For All' was released, contrary to other rumours, on September 7, 1988 by Elektra Records. Awarded a total of eight times US Platinum, 'And Justice For All' not only catapulted the band to the next level, it also brought a series of premieres: It was the first album, METALLICA recorded with bassist Jason Newsted and the first album to reach the US top 10. This was followed by the band's first video and the first US Top 40 single ('One') as well as their first appearance at the GRAMMY Awards, their first near-award at the GRAMMYs, as well as the first GRAMMY won. The critics even had more praise for them than for their predecessors, with the US Rolling Stone calling the band's fourth album a "marvel of pinpointed channelled aggression," while Spin celebrated it as "a gem of a double album" and the editors of the Village Voice finally included '... And Justice For All' in the "Pazz & Jop" annual charts.
Founded in 1981 in Los Angeles by drummer Lars Ulrich and vocalist / guitarist James Hetfield, METALLICA has achieved just about anything you can achieve as a musician over the past 37 years. In the meantime, they even have their own whiskey and their own collection of watches. If you want to know more about the band, you can look at Wikipedia where, between many inaccuracies, even truth is. What is certain right now is that the North American stage of their current "WorldWired" Tour started in Madison, Wisconsin a few days ago (September 2nd) and will end on March 13, 2019 in Grand Rapids, Michigan.
More on
Metallica
,
Ghost
&
Bokassa